Known as the Heart of Dixie, Alabama is a state booming with tourism and activities. With six major interstates crossing through the state, traffic is constantly flowing, making the need for auto insurance very strong. However, even without the personal need, auto insurance is a requirement in Alabama as it is in all the states.
Learn about auto insurance in this state and ways you can get the most for your dollar with your auto insurance rates.
About Auto Insurance in Alabama
With so many auto insurance companies in Alabama, drivers have many from which to choose for their coverage. While the Alabama car insurance rates may vary by company, the types of coverage are basically the same at all companies. You'll typically find these types of coverage offered.
While accident forgiveness, a program that prevents your premiums from increasing if you're in an at-fault accident, is not available in all states, it is available through some Alabama insurance companies. Having accident forgiveness can actually save you a lot.
By "forgiving" the accident, your insurance premiums will not increase. Considering that accident claims stay on your insurance record for around five years, the savings can add up over this time period.
What is required for Drivers in Alabama?
While carrying full coverage insurance on your vehicle can provide you with protection in the case of an accident, it is not required in Alabama. The only type of insurance that's required in Alabama is a certain amount of liability coverage. The Alabama Department of Revenue requires that the minimum liability insurance be carried on all self-propelled motor vehicles, including cars, pickups, motorcycles and motor homes.
It also requires that proof of insurance be with the driver in the vehicle at all times and that all drivers in the household be covered under the liability insurance. As an alternative to carrying liability insurance, the driver can instead provide a cash bond of at least $50,000 or have a vehicle liability bond on file with the Alabama Department of Motor Vehicles.
Drives are required to show proof of insurance if they are stopped by law enforcement, involved in an accident or at the time of registration. Drivers caught driving without auto insurance can face the following penalties:
In addition to the fine and suspension, the driver's registration will also be suspended and the owner will have to pay the following:
While some states require drivers to carry uninsured/underinsured motorist coverage, it is not required in Alabama. Drivers are also not required to carry no-fault insurance. States are either "fault" or "no-fault" states.
Alabama is a Tort or fault state, which means that if a driver is at fault, he or she must pay for a victim's accident-related medical expenses. The driver may also have to pay damages for pain, suffering and lost wages if the victim chooses to pursue this.
What are the Minimum Auto Insurance Requirements in Alabama?
Although they do have many choices in auto insurance coverage, the only insurance Alabama drivers are required to carry is liability insurance. Because of the high rate of uninsured motorists in Alabama, the Alabama Mandatory Liability Act (MLI) was enacted; requiring Alabama drivers carry at least the following minimum liability insurance.
$25,000 for accident-related bodily injury; for one person
$50.000 per accident for accident-related bodily injury to more than one person
$25,000 per accident for accident-related property damage
With the rate of auto accident-related lawsuits so high, many people carry higher limits of liability insurance. However, the amounts listed above are the minimum amount drivers can have.
Are Any Auto Insurance Laws Specific to the state of Alabama?
The MLI later had a provision added stating that drivers who let their insurance lapse more than one time will automatically have their registration suspended for four months. In 2013, law enforcement agencies in Alabama began using the State of Alabama Online Insurance Verification System. With this system in force, law enforcement can electronically and instantly verify if the driver has insurance on the vehicle whether the driver is driving or attempting to register the vehicle.
Despite Alabama requiring all drivers to carry insurance, auto insurance companies do have the right to deny coverage to drivers they consider as high risk. These high-risk drivers can purchase their car insurance through the Alabama Auto Insurance Plan.
Most Stolen Vehicles in Alabama
Driving a vehicle known to be attractive to car thieves can increase your insurance premiums. Here is a list of the most stolen vehicles in Alabama in 2016, as reported by the National Insurance Crime Bureau.
2005 Chevrolet Full Size Pickup

1996 Ford Full Size Pickup

1996 Honda Accord

2016 Toyota Camry

2006 Nissan Altima

2005 Chevrolet Impala

2001 Dodge Full Size Pickup

1999 GMC Full Size Pickup

2002 Ford Mustang
Ways to Lower Your Insurance Rates in Alabama
When determining your auto insurance rates in Alabama, insurance companies consider the following things.
Some of the above factors may help your premiums while other may hurt them. Your driving record is one thing that can really affect your auto insurance rates in any state, but especially in the Heart of Dixie. An accident can make your insurance increase 16 percent in Alabama while a speeding ticket can increase it 28 percent.
The amount of coverage and your deductible are two things that you can change. Lowering your coverage and increasing the deductible can lower your premiums.
Car Insurance Discounts
In addition, many discounts may be available to lower your car insurance rates.
Good driver

Multiple vehicle

Driver education or young driver safety course

Good student

Distance student

Senior citizen/retired driver

Safety or anti-theft devices

Multiple policy discounts

Multi-care discount

Professional discounts
Are Requirements Different for Full-Time or Part-Time Residents?
The auto insurance requirements for part-time residents of Alabama are the same as for full time residents. Individuals just moving to Alabama must register their cars within 30 days. At the time of registration, the individual must provide proof of insurance. The registration requirements may be slightly different for full- and part-time residents, but the insurance requirements are the same if you're a licensed driver. All licensed drivers in Alabama must have auto insurance.
Some situations may come into play that can affect the premiums. College students who will be living at least 100 miles from home and not driving while at school may receive a resident student discount. A college student who goes away to college and leaves his or her car at home can be listed as a pleasure-only or occasional driver. This can lower your insurance rates. It's important to realize that not all insurance companies may offer these particular discounts.
Where Alabama Ranks in Price Compared to National Average
Alabama ranks 18th highest in the nation for high premiums but has auto rates that are only about one percent higher than the national average. The average annual premium in Alabama was $1,337, which was substantially lower than Michigan's $2.738 but higher than Maine where drivers only spent around $800 annually for auto insurance.
Average Rates in Top Three Counties
We've all heard of how different cities and counties have different costs of living. Auto insurance rates can be affected by the same factors. Below is an example of annual auto insurance rates for a 45-year old married female with a good driving record. The amounts listed are from three different counties in Alabama.
Summary
Not enough can be said about the importance of carrying auto insurance. Whether you're purchasing it because it's required by law or are purchasing full coverage by choice, auto insurance offers monetary protection on what may be the second largest purchase you make. It can also protect you from lawsuits that can take everything you've worked hard to obtain. It' definitely well worth the cost for the peace of mind it can provide.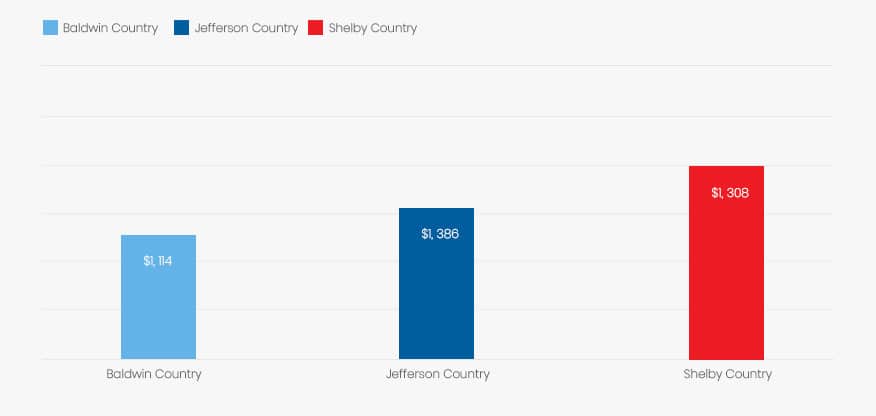 If you are looking for specific car insurance information on a specific city in Alabama, see more information below: