District of Columbia Auto Insurance
As a way of protecting drivers from accidents caused by at-fault drivers who are uninsured and unable to pay for damages, auto insurance is required in almost all states. While these requirements don't typically include comprehensive and collision coverage, they do require a minimum amount of liability insurance. If you're living in, or planning on moving to, the Washington, D.C. area, be prepared to pay high premiums even if you're a good driver. Washington, D.C. has the fourth highest auto insurances rates in the nation. There are various reasons why drivers in the district pay such high premiums, and it is why drivers should do their best to remain adequately insured.
What is Required for Drivers in Washington, D.C.?
Washington, D.C. is what is referred to as a "no-fault" district. This means that your insurance company will pay accident-related damages regardless of who was at fault. The payments will come out of the driver's personal injury protection and can be used to pay for medical bills and lost wages. Although insurance companies in the DC area offer the "no-fault" coverage, it is not a legal requirement.
What is required here is that driver's carry liability coverage and uninsured motorist coverage. Drivers must show proof of insurance when they register their vehicle. Anyone who does not carry the required insurance in Washington, D.C. are subject to fines and suspensions. Failure to have the required insurance can result in the following:
Liability and uninsured motorists are not the only types of insurance coverages offered to drivers in the D.C. area. They're just the only ones that are required by law. Other types of coverage include:
Minimum Auto Insurance Requirements in Washington, D.C.
Drivers in Washington, D.C. must have at least the following amounts of uninsured motorist coverage.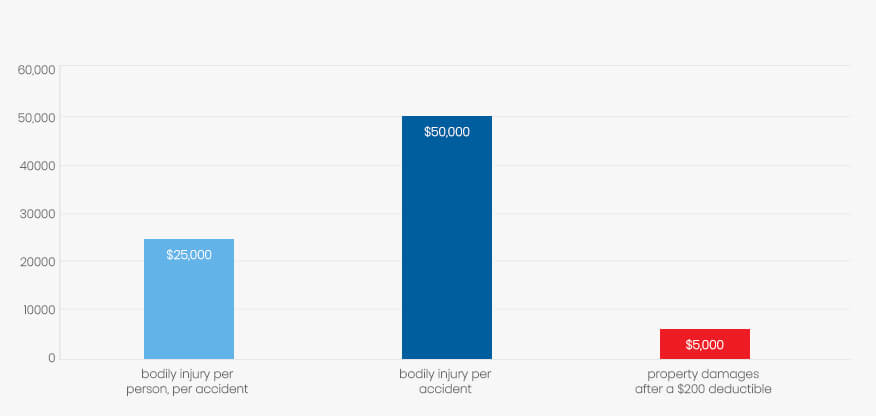 $25,000 for bodily injury per person, per accident
$50,000 for bodily injury per accident
$5,000 for property damages after a $200 deductible
While these numbers are the minimum amounts of liability insurance a driver must have in the D.C. district, this doesn't mean it's the only amount they can carry. Insurance companies not only offer higher amounts but recommend it. It's not unusual for a simple case of whiplash to result in a payout of $25,000 or more. Accidents that cause serious damage can result in much higher lawsuits.
Many auto accidents that involve serious injuries or fatalities can result in payouts in the six-figure range. There really is no such thing as being over-insured when it comes to auto liability insurance coverage. It's always better to have too much coverage than not enough.
What Car Insurance Things are Specific to Washington, D.C.?
Drivers may wonder why insurance rates are so much higher in the Washington, D.C. area. There are several contributing factors. One factor is that the D.C. area was ranked as the nation's 28thworst city in which to drive. They got this ranking based on the following driving factors and conditions.
Although Washington, D.C. is a fairly safe city in terms of traffic fatalities, it's an area that's high in car accidents, vehicle thefts, and traffic tickets. All of these things can increase the amount drivers pay for auto insurance.
Ways to Lower Your Insurance Rates in Washington, D.C.
It seems that no matter how affordable our auto insurance may be, it's still always too high for our liking. The good news is that there are various ways you can lower your insurance rates in Washington, D.C.
There may also be discounts available that are not mentioned above. Always ask your agent what discounts are available to customers. Keep these discounts in mind when comparing quotes. While 5% here or 10% there may not seem like a lot, it can add up when you're considering your annual insurance premiums.
Are There Different Requirements for Full-Time or Part-Time Residents?
There is really no difference in insurance requirements for full- or part-time residents. Washington, D.C. law states that when you move into the district, you must register your vehicle within 30 days. To be eligible for registration, you must show proof of the following.
A vehicle title

Washington, D.C. driver's license

Washington, D.C. auto insurance

A vehicle inspection
If you're purchasing a vehicle that has not yet reached its inspection expiration date, you can register it without getting a new inspection but will still need auto insurance. If for some reason you need to apply for a temporary registration, you can do so, but you still need to have auto insurance. The bottom line is that you must always have auto insurance in D.C. if your vehicle is registered.
Where Does Washington, D.C. Rank in Price Compared to the National Average?
The auto insurance rates in Washington, D.C. are substantially higher than in other areas of the nation. In fact, insurance carriers reported that the further drivers got from this district, the lower their premiums. Cities within 35 to 40 miles of the D.C. area had the highest rates. In a survey of the five cities closest to the D.C. area and the five farthest away, the five cities the farthest away had premiums about $200 less than the closer cities. The average cost of auto insurance in the D.C. area is $1,190.39 per year while the national average cost was $889.01 per year.
Top Three Counties (Wards) in Washington, D.C.
In most states, drivers can find fluctuations in the prices of car insurance from city to city. This is not the case in the Washington, D.C. area. The rates do not change much from one neighborhood to the next in the Capital Region. Here is an example of auto insurance rates in areas of the Washington, D.C. region. The rates are for a 45-year old, married woman with a good driving record.
Now that you know all the ins and outs of auto insurance in the Washington D.C. area, you can do some research and find an insurance company that offers the best policy for you and your family. Keep in mind that what's best for your single neighbor may not be best for you and your family. Find an agent, discuss your options, and let the agent show you what the company has to offer. Although many insurance companies want you to call them or visit their office, some may give you quotes online.
Don't make a decision based on one quote. Get quotes from several companies and compare both the coverage and the premiums to ensure you're getting the best possible coverage for the best price. When it's all said and done, you want to know that you're walking away with good auto insurance coverage while still meeting your financial goals.