Like most other states in the union, Tennessee requires all drivers to carry a minimal amount of insurance to cover liability when driving their vehicles. Minimal coverage, however, usually will necessitate individuals paying substantial out-of-pocket costs in the event of an accident. As a state with a big mix of rural and urban areas, insurance rates can vary significantly depending on where some individual lives. Overall, however, Tennessee residents can expect to pay premiums that are much less than the national average. In 2013, Tennessee ranked 35th out of all states with an average annual car insurance premium of $1,186.
Minimal Insurance Requirements for Tennessee Drivers
Drivers must meet minimal Tennessee auto insurance requirements in order to drive legally in the state. Requirements are alike for full-time and part-time residents. Minimal Tennessee insurance involves liability to cover injuries or damages that may be incurred after a vehicular accident. These required minimums per accident are:
Tennessee's minimal requirements are relatively similar to those from other states, however, the minimal requirement for property liability is lower than average. Some insurance companies may require minimal comprehensive and collision coverage in addition to minimum liability coverage if the vehicle is leased or purchased with a loan.
Additional coverages are also available. Consumers can choose higher coverages for all three categories of liability. Insurance is also available for collisions that involve accident-related damages to vehicles and comprehensive for damage caused by vandalism or weather. Other popular options that most consumers choose is an option to help cover costs associated with uninsured or underinsured motorists and a provision for medical payments to cover injuries incurred in an accident. Some policies may also provide for a rental car when a policy holder's car is being repaired in a body shop.
Insurance Requirements Unique to Tennessee
Even though Tennessee has required minimal liability coverage for all motorists since 1977, the number of uninsured drivers in the state is rampant. The James Lee Atwood Jr. law, implemented in 2017, is aimed at reducing the number of uninsured motorists in the state. Prior to its implementation, approximately 20 percent of Tennessee motorists were uninsured, giving the state the sixth-highest percentage in the United States.
The provisions of the law call for the Tennessee Department of Revenue to regularly verifying every driver's vehicle insurance via an online system. Local law enforcement agencies can regularly access and review the information as well. When drivers cannot verify information, they face fines that will continue to increase with every offense. Before the new law went into effect, fines were $100. Fines can increase to $300 per instance if drivers repeatedly neglect the call for proof of insurance. Failure to provide proof of insurance can lead to suspension of your vehicle registration.
Proof of insurance includes an insurance identification card, an insurance binder or a policy declaration page. Consumers should get new documents each time that they renew their policy. Drivers are absolved of financial responsibility to obtain vehicle insurance under certain conditions such as no longer owning a vehicle or if the vehicle is stored or inoperable.
Individuals caught driving without car insurance or evidence of financial responsibility face a Class C misdemeanor. In addition to fines, penalties can include suspension of your driver's license and a stop on renewing your car's registration. To remove a stop on your vehicle, you must have your driver's license reinstated. You must also show an acceptable form of proof of insurance.
To reinstate your driver's license, the form needed for reinstatement with the Tennessee Department of Safety is an SR-22 proof of insurance. Your auto insurance carrier must file this on your behalf. The SR-22 can be filed for five years, however, it may be canceled after three years if no other suspensions are involved.
Another program unique to this state is the Tennessee Automobile Insurance Plan. This program helps motorists obtain insurance for their vehicles when they are unable to do so on the standard car insurance market due to high risk. Drivers can apply for this plan when they have been denied access by at least one Tennessee auto insurance carrier. Coverage through the plan is costly so drivers should only use it as a last-ditch effort and continue to look for coverage through other carriers. Every carrier offering auto insurance in the state must participate in the program as it allows providers to share risks associated with high-risk policies.
Average Cost for Auto Insurance in Tennessee
The three most populated counties in Tennessee are Shelby County, where Memphis is located, Davidson County, home to Nashville and Knox where Knoxville is located. For a full coverage policy with full liability coverage limits of $100,000/$300,000/$100,000 and comprehensive and collision coverage with a $500 deductible, a 45-year-old woman can expect to pay approximately $1,655 in Shelby, $1,273 in Davidson and $1,269 in Knox. Premiums can range as high as $2,629 or as low as $698 per year, depending on the carrier, vehicle insured and driving history.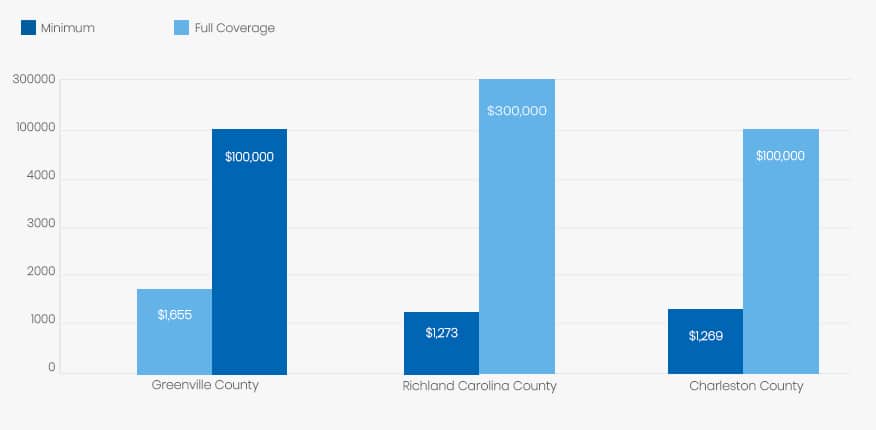 | | | |
| --- | --- | --- |
| County | Minimum Coverage | Full Coverage |
| Shelby County | $1,655 | $100,000 |
| Davidson County | $1,273 | $300,000 |
| Knox County | $1,269 | $100,000 |
How to Reduce Vehicle Insurance Costs
Tennessee auto insurance carriers have a number of ways for consumers to save on their annual premiums. Most companies offer a variety of discounts. The most common discount is to keep a clean driving record. Insurers consider those with good driving records involving few or no violations and accidents as good risks, thus offering lower rates. Other common practices that can lower your rate include discounts for multiple vehicles insured under the same policy and being a homeowner. Bundling car insurance with homeowner's insurance with the same carrier can result in reduced rates for both policies.
For families with teen drivers, maintaining a good grade point average is essential for a better rate. Most carriers want high school students to maintain at least a B average or better to qualify for discounts. Teen drivers that also go through an accredited driver's education program through their school or another approved entity will also qualify for lower rates. Some companies offer additional discounts if teens go through an additional safety course for young drivers. The Tennessee Department of Motor Vehicles also advised parents that they can keep annual premiums lower when adding a teen driver on a policy by choosing wisely when purchasing vehicles. Teenagers who drive less expensive vehicles will incur lesser premiums.
In fact, the make, model and year of your vehicle are primary factors in determining your auto insurance. Other factors include your age, gender and even your credit score. Younger drivers, especially males, are subject to higher rates. Consumers can save money by taking higher deductibles on their policies and also reduce the amount of coverage. Being loyal to a particular insurance carrier may also result in a discount as can paying your premium in full. Avoid buying vehicles with high rates of theft such as Chevrolet, Ford, Dodge and GMC pickup trucks, Honda Civics and Accords and Toyota Camrys as insurers often charge more for coverage.
Vehicle insurance rates in Nashville, Tennessee can vary widely within the same zip code, so it's best to shop around for the lowest premiums. Generally, you'll find higher rates if you live in the state's major cities and their suburbs. Even if you are satisfied with your rate, it's still a good idea to shop around every few years for the best rate.
Sources: