Vermont is a small state located in the northeastern part of the United States. Many things make this quaint little state a popular destination to visit or to live, including beautiful mountains, fresh maple syrup or Ben & Jerry's ice cream. Regardless of what you're doing, you want to know you have car insurance. Read on to learn what's required of Vermont drivers and see how you can lower your rates while still maintaining excellent coverage.
Summary of Auto Insurance in Vermont
Vermont is an at-fault or tort state, which means that if you are at fault in an accident that causes damage to others, you are responsible for their damages. In at-fault states, the injured party can file a lawsuit against you or your insurance company to recover the damages. However, Vermont does use a modified comparative fault system in accident-related lawsuits. Vermont auto insurance consists of the following seven parts.
While accident forgiveness, a program that prevents your premiums from increasing if you're in an at-fault accident, is not available in all states, it is available through some Alabama insurance companies. Having accident forgiveness can actually save you a lot.
By "forgiving" the accident, your insurance premiums will not increase. Considering that accident claims stay on your insurance record for around five years, the savings can add up over this time period.
Requirements for Drivers in Vermont?
Drivers in Vermont are required to carry the following types of coverage on their vehicles.
Vermont does not require drivers to provide the DMV with proof or insurance or financial responsibility, but they must be able to provide proof to law enforcement if requested. If you have insurance but can not show proof, you will have 15 days to provide them with the proof. If you do not have auto insurance, you can face these penalties.
While some states require drivers to carry uninsured/underinsured motorist coverage, it is not required in Alabama. Drivers are also not required to carry no-fault insurance. States are either "fault" or "no-fault" states.
Alabama is a Tort or fault state, which means that if a driver is at fault, he or she must pay for a victim's accident-related medical expenses. The driver may also have to pay damages for pain, suffering and lost wages if the victim chooses to pursue this.
Minimum Auto Insurance Requirements in Vermont
To legally drive on Vermont public roads, drivers must carry, at the very minimum, the following amounts and types of coverage.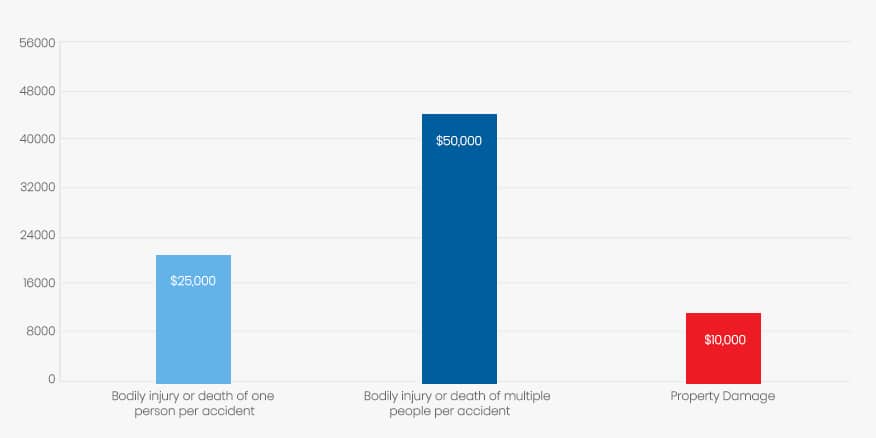 | | |
| --- | --- |
| Coverage | Minimum |
| Bodily injury or death of one person per accident | $25,000 |
| Bodily injury or death of multiple people per accident | $50,000 |
| Property Damage | $10,000 |
Drivers who do not wish to purchase auto insurance in Vermont can avoid this by filing a $115,000 surety bond with the Vermont Commissioner of Motor Vehicles. Motorists in Vermont are also required to carry this coverage.
| | |
| --- | --- |
| Coverage | Minimum |
| Uninsured/underinsured motorist for bodily injury for one person | $25,000 |
| Uninsured/underinsured motorist for bodily injury for one person | $10,000 |
| Maximum property damage per claim (includes $150 deductible) | $10,000 |
Vermont has set these limitations so that drivers involved in accidents have sufficient coverage, but they still recommend drivers carry higher limits of liability coverage.
Are Any Auto Insurance Laws Specific to the state of Vermont?
Being an at-fault state, Vermont utilizes a modified comparative fault system in accident cases. What this means is that you almost have to be 100 percent blameless before you can collect full compensation from another individual. If you are 50 percent or more responsible for an accident, you cannot collect anything from another individual who may also have been somewhat at fault.
If you're less than 50 percent at fault, you may be able to collect compensation, but the amount will be reduced by the percentage of the accident that was your fault. Here is an example. While crossing the street not a designated crosswalk, you are hit by a speeding car that. You sue the driver, but a jury rules that you are 30 percent at fault. All your expenses (lost wages and medical expenses) add up to $20,000.
Because you were deemed 30 percent to blame, your compensation is decreased by 30 percent or $6,000. Therefore, you would only collect $14,000. In personal injury cases, the Vermont court system is required to use the state's comparative fault rule. In Vermont, the statute of limitations for initiating a lawsuit against another for personal injury claims is three years.
Vermont has very specific requirements regarding drivers who are required to file an SR-22 form. The form cannot be just from an insurance agent but must be from an insurance company, and the form must be complaint with the requirements set by Vermont statutes.
Ways to Lower Your Auto Insurance in Vermont
Several factors go into determining what type of premiums you'll pay for your Vermont auto insurance. Knowing these factors is the first step towards working at lowering your rates.
While many things determine your rates, your best bet for getting lower premiums is to be a safe driver. As you're working towards this goal, there are discounts that can help you along. Most insurance companies offer various types of discounts. It's a matter of knowing what discounts each company offers as well as how much these discounts can save you. Below are some examples of discounts you may be offered.
When shopping for car insurance, don't jump at the first policy you see. It's always a good idea to shop around for insurance. Speak to different agents, and don't be afraid to let them know you're shopping around. Because they're competitive by nature, insurance companies will typically offer you as many discounts as they can to earn your business. It's important that when you compare prices you're actually comparing for the same amount of coverage.
Are Requirements Different for Part-Time or Full-Time Vermont Residents?
All residents of Vermont, whether full time or part time, must have auto insurance on their vehicles and be prepared to provide proof of insurance. New residents to Vermont must register their vehicles within 60 days of moving into the state. At the time of registration, they must show proof that they have at least the amounts of insurance required by Vermont. Residency is generally established by where your vehicle is registered and in what state you driver's license is filed.
The only time when the insurance might be different for temporary or part-time residents is in the case of out-of-state military personnel who are stationed in Vermont. In this situation, they can maintain their registration from their home state and will use the insurance laws from that state. If they decide to permanently move to Vermont, then they would need to register their vehicles in Vermont and follow Vermont's insurance laws.
Vermont Rates Compared to National Average
While Vermont may have be the cheapest state for car insurance, it does rank among the top ten states in terms of cheap auto insurance rates. The average annual rate for Vermont auto insurance is about $1,000 as of 2017. This amount is quite a bit lower than the national average of $1,600.
Average Rates in Top Three Vermont Counties
| | | |
| --- | --- | --- |
| County | Minimum Coverage | Full Coverage |
| Chittenden County | $345 for state minimum requirement | $877 for full coverage |
| Rutland County | $327 for state minimum requirement | $880 for full coverage |
| Washington County | $335 for state minimum requirement | $898 for full coverage |
Conclusion
Whether you're staying in one of Vermont's famous B&Bs or are out enjoying the scenery, you still want to know your auto insurance has you covered. The best way you can do that is by making sure you have the best possible coverage for yourself and your family. Shopping around is the best and most effective way to ensure you get the best rates for the lowest price. After all, we all like saving money!
Sources