The Alaska mandatory insurance statutes require that any owners of motorized vehicles have liability insurance coverage on those vehicles. Like all the other states, Alaska mandates there be minimum amounts of coverage on vehicles. While vehicle owners and drivers may not have choices on insuring vehicles, they do have choices in insurance carriers.
Below is an overview of Alaska car insurance laws and on how to get the best deal on rates.
Auto Insurance in Alaska
As the largest state in the nation, you would think that a lot of driving takes place on the highways of Alaska. However, this is not the case. Because of Alaska's rugged and remote climate, roadways can only be found in certain parts of the state. In other areas, the only entry is by boat or plane. However, for the small area where vehicles are driven, these drivers need insurance on their registered vehicles.
There are many auto insurance companies in Alaska with each of them offering different types of coverage. While drivers are required to carry minimum amounts of liability coverage, they can choose to have the following types of coverage:
Collision- This covers damage to your vehicle if you hit another car or object.
Comprehensive- This covers damage to your vehicle if falling or moving objects hit it.
Medical Payments- This pays medical payments to individuals injured in an accident in your car.
Rental car- This covers the cost of rental cars while your car is being repaired or replaced.
Towing and labor- This covers the cost of having your car towed to repair shops if it breaks down somewhere. Labor may be covered for certain things.
Because Alaska is more earthquake-prone than any other state, insurance agents may encourage drivers to carry comprehensive insurance. Individuals who, for one reason or another, are unable to purchase insurance from insurance carriers may get policies through the Alaska Automobile Insurance Plan.
What is Required for Drivers in Alaska?
As stated above, anyone living in Alaska who owns motorized vehicles that can be registered must carry liability insurance. The liability insurance is not just for the driver but also for passengers and other drivers who either don't carry insurance or carry insufficient amounts. In fact, drivers must show proof of insurance, also known as financial responsibility, before they can legally drive in the state of Alaska.
It also requires that proof of insurance be with the driver in the vehicle at all times and that all drivers in the household be covered under the liability insurance. As an alternative to carrying liability insurance, the driver can instead provide a cash bond of at least $50,000 or have a vehicle liability bond on file with the Alabama Department of Motor Vehicles.
Penalties- Failure to have Alaska car insurance or proof of insurance can result in penalties
First offense- Driver can be fined up to $500 and 90-day license suspension
Second offense- Can result in one-year license suspensions.
Drivers without insurance who are involved in at-fault accidents can face a three-year license suspension.
Drivers must carry proof of their auto insurance in their vehicles any time they are driving. If drivers do not have it with them in the Municipality of Anchorage, their vehicle may be impounded. These types of violations on the driver's driving record can result in higher insurance premiums.
Drivers who attempt to get their licenses reinstated after suspensions will need to file SR-22 forms with the state. SR-22 is known as proof of responsibility, and it's the driver's promise that he or she will carry insurance for three years. In addition, these drivers must also pay reinstatement fees. In Alaska, it can be very costly for driver's to have their driver's license suspended.
What are the Minimum Auto Insurance Requirements in Alaska?
Alaska car owners that have vehicles subject to registration laws in Alaska must have auto insurance that meets the following requirements for coverage
| | |
| --- | --- |
| Coverage | Minimum |
| Liability for bodily injury | $50,000 per person/$100,000 per accident |
| Liability for property damage | $25,000 |
| Uninsured or underinsured motorist bodily injury | $50,000 per person/$100,000 per accident |
| Underinsured motorist property damage | $25,000 |
Drivers or auto owners can choose to carry higher amounts of insurance, but the amounts listed above are the bare minimum amounts auto owners and drivers must carry in Alaska. If you are looking at policies that meet the state's requirement, you may see this listed as 50/100/25.
Are Any Auto Insurance Laws Specific to the state of Alaska?
In Alaska, drivers must abide by two laws: the Mandatory Insurance Law and the Financial Responsibility Law. While Alaska laws state that that all vehicles subject to registration be insured with the minimum requirements set by the state, there are some exceptions. The exceptions have to do with the condition that the vehicle is subject to registration. Several areas in Alaska are exempt from the registration laws and the mandatory insurance laws.
A list of the areas that are exempt can be found on the Department of Administration Division of Motor Laws website. There is an exception to the exemption law. The exception is for drivers who have received tickets for violations of six or more points in the last five years. These drivers would still have to carry liability insurance.
Ways to Lower Your Insurance Rates in Alaska
Auto insurance rates in Alaska are based on several factors. These may include the following.
Geographic location
Age
Gender
Driving record
Type of vehicle
Type of insurance and amount of coverage
Miles driven annually
Lapses or gaps in insurance coverage
Credit report
While some factors like driving record and vehicle type are within your control, other things are not. However, there are ways you can lower your insurance rates.
Check if you qualify for low-cost policies that may be offered to Alaska drivers

Lower your coverage

Increase your deductible

Insure all family vehicles with the same company for multi-car discounts

Insure your home and vehicle with same company for special bundle prices

Consider getting an electric or hybrid car for lower premiums

Ask about discounts for anti-theft devices

Ask about discounts for being ticket and accident-free

Ask about good student discounts.
These discounts may seem minor but when added together, they can really lower the amount of your auto insurance rates in Alaska. It's also beneficial to shop around with different insurance companies because the prices will vary by company.
Are Requirements Different for Full-Time or Part-Time Residents?
Auto insurance requirements in Alaska are not different for full- or part-time residents. What are different are the registration requirements, which will eventually affect the insurance requirement. Part-time residents from another state can drive in Alaska for up to 90 days, at which time; they have to apply for Alaska driving licenses. Once they carry Alaska driving licenses, they must satisfy the Alaska auto insurance requirements.3
Where Alaska Ranks in Price Compared to National Average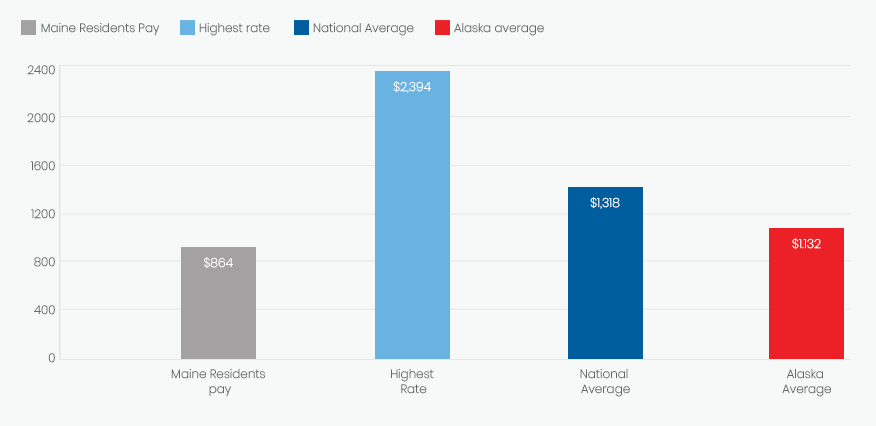 In a state-by-state comparison for annual auto insurance rates, Alaska ranks 14th among those with the lowest insurance rates as of 2017. The average annual rates for Alaska are $1,132, which is slightly lower than the national average of $1,318. The highest rate of $2,394 is found in Michigan, while Maine residents pay the lowest rate of $864.
Although Alaska's insurance is on the lower end compared to most of the states, their rates might be slightly higher than other states because Alaska's state-required minimums are higher than most states. Another reason might be that their average labor cost is 30 percent higher than the rest of the nation.
It makes sense that if it costs more to repair cars in Alaska, their insurance rates might be higher as well. Alaska drivers can also speak with their agents about possible discounts to bring their cost down even lower.
Average Rates in Top Three Counties
As mentioned above, your geographic location, age, gender and marital status can all determine your auto insurance rate in Alaska. Below are some average annual rates for the same 45-year old, married female depending on if she's living in Anchorage, Fairbanks and Juneau.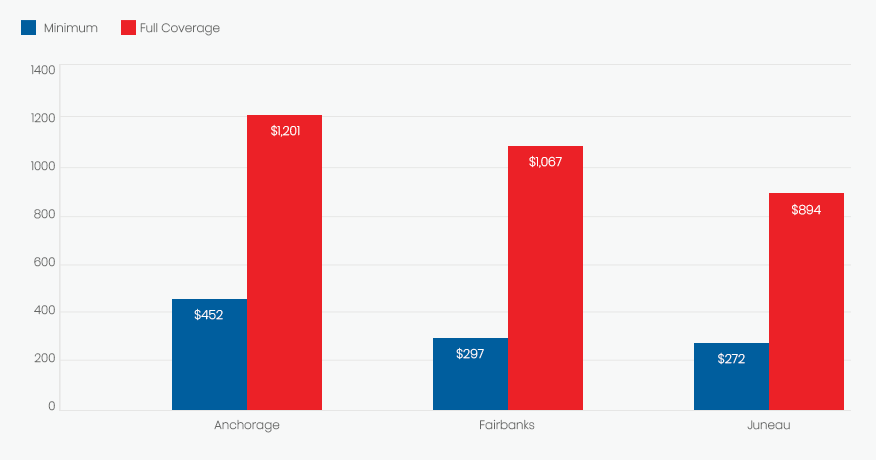 | | | |
| --- | --- | --- |
| City | Minimum Coverage | Full Coverage |
| Anchorage | $452 for state minimum liability | $1,201 for full coverage |
| Fairbanks | $297 for state minimum liability | $1,067 for full coverage |
| Juneau | $272 for state minimum liability | $894 for full coverage |
Summary
The law may require auto insurance, but carrying insurance is considered good decision-making. Auto insurance guarantees that your vehicle and family will be provided for in the event of an accident or theft, providing you have the proper coverage level.
Many may consider it just another expense, but there are many ways drivers can find affordable rates for excellent coverage. One of the best ways to get the best possible deal is to shop around. Getting the most for your money always makes you feel good, especially when it's something you need to have anyways!