Car insurance can be confusing to buy, especially if you don't know how it works or what you need. There are a lot of different factors that can affect your insurance rate, and there are also several types of insurance you'll need on your policy in order to be legally insured. Here's a rundown on what goes in to your insurance premium so you have a good handle on what you need to do and have to get the cheapest car insurance rate.
Things that affect your Insurance Rate
Age:

According to the Centers for Disease Control (CDC) drivers under the age of 20 are four times more likely to have an accident and a claim on their auto insurance, so the younger you are, the more you can expect to pay. This holds true until you reach the age of 25; after 25 your rates will slowly decrease until you reach 60 years old. Then the rates begin to climb again.

Sex:

Younger women have lower rates then men until the age of 30. Between the ages of 30 and 50 years old men have a slightly lower insurance rate.

Driving Experience:

Experience driving is the key reason younger people have higher insurance premiums. Once you hit 25 your rate reduce because you're more likely to have more time on the road.

Driving Record:

If you have moving violations within the past three years it will cause your rates to rise.

Vehicle:

Some vehicles are rated safer than others and that can affect your insurance rates. For example, in 2017 the Toyota Yaris was rated as the cheapest car to insure, followed by the Kia Rio. The Subaru Impreza WRX 4WD was the most expensive to insure, followed by the Scion tC.

Vehicle Finance:

If you have a loan on your car you'll pay more for insurance. This is because your vehicle loan company requires to carry collision insurance equal to or above the balance on your car loan.

State of Residence:

Insurance requirements are set independently by each state, so if you happen to live in a state with expensive insurance your premium rate will be higher.

Neighborhood:

You neighborhood reflects your insurance rate too. That's because the carrier uses statistics on accidents, thefts, and other crime occurrences to determine how likely you are to have a claim on your policy.

Miles Driven per Month/Year:

Let's face it, the more you drive, the more likely you are to be involved in an accident. If you have a long commute to work you'll pay a higher rate than if you only drive a mile or two each way.

Where you Park your Vehicle:

If you park your car in the garage it will lower your rate. If you park in the driveway or in an unsecured parking area it will be reflected in your insurance premium. That's because your vehicle is unlikely to be stolen or damaged if it's secured inside your garage.

Credit Score:

While this is in dispute, insurance companies do use your credit score when they're computing your insurance rate. The higher the credit score, the lower your insurance payment will be.
Average Auto Insurance Premium Per Year For Different Ages
Types and Amounts of Car Insurance
As you can see from the example on California's minimum liability requirements, it may be in your best interest to purchase more coverage than the minimum required in the state. A total coverage of $15,000 isn't a lot when considering the cost of medical treatments, and if the fees incurred by an accident you caused are higher than $15,000 the other driver may sue you for the difference. If you own your own home or other assets you should consider buying more coverage.
Other Policies that may be Optional in your State:
Steps to take when Shopping for Auto Insurance
Because car insurance rates can vary widely from company to company you should have a plan of action before you begin shopping for the lowest rates. Learn the types of coverage you need in your state, the minimum amounts you'll be required to purchase, and types of optional insurance that might be wise to purchase. It's a good idea to make a chart of what you need and what extras you might want to purchase before you begin to get separate quotes. That way you can easily make sure you're getting quotes for the same coverage in all areas.
Here are the basic steps to take when shopping for the lowest car insurance rates:
Make a list of all your personal information, such as vehicle, drivers, and car loan details. Each insurance company you contact for a rates quote will need to know all your pertinent information, such as driver license number, name, age, and address for each driver. They'll also want to know the make, model, and year of the vehicle being insured, such as "2015 Honda Civic XL sedan, four door, 4L engine."
Be truthful. The truth will come out when the company submits your information so don't lie about any moving violations, credit problems, or liens you might have on your vehicle.
Review your credit report. Many companies integrate your credit score when they set your premium rate, so if you have any errors on your credit report it can cause your insurance rate to rise.
Discern what coverage you are required to have. Each state sets their own insurance requirements so you should have a clear understanding of the minimum coverage where you live before you ask for a quote. That way you can compare quotes equally.
Consider any optional coverage you might be wise to purchase. For example, if you don't have health care you might want to purchase a medical policy, or if you have an expensive stereo upgrade it may not be covered by the minimum policy.
Research any discounts you think you may qualify for. Some companies offer lower rates for a good driving record, students at college, and other personal factors you may not have considered.
Compare the quotes you get. Make sure you're being offered the same coverage in each type of policy, higher or lower deductibles, and the same or equivalent discounts.
Check the company's business status. Insurance carriers are not all created equal so look for complaint history, business rating, and that their licensing is up to date for your state's requirements.
Decide whether you can afford a higher deductible in one or more areas. A higher deductible will lower your monthly payment, but if you aren't able to pay it if you're in an accident then you can't really afford it.
Look for optional benefits. Many companies offer a reduction in rate if you complete a safe driving course, wear your seatbelt regularly, or participate in a specific program designed to make you a better driver.
Ask about future discounts and combined discounts. If you're planning on moving or getting married in the near future it may lower your policy; some companies offer discounts when you've had a policy with them for a certain period of time. You might also get a lower rate by purchasing your homeowners or renters insurance from the same company, and some companies give a lower rate when you sign up for an automated payment plan.
Your Insurance Rates by State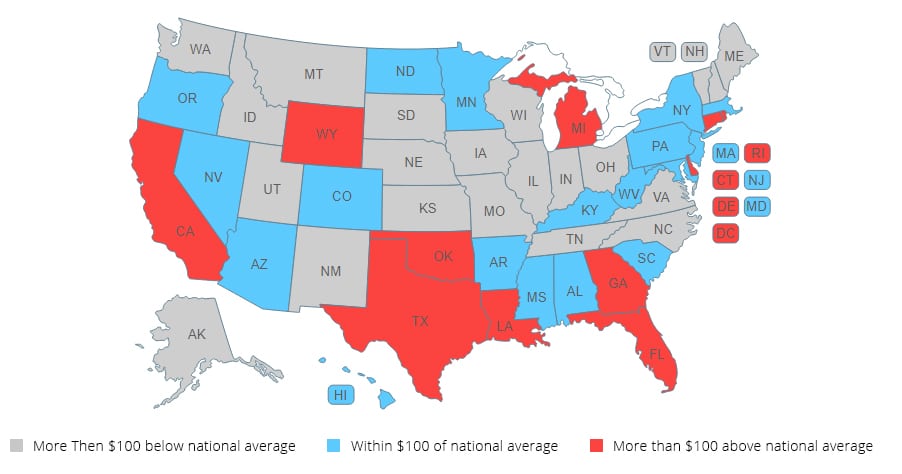 As stated above, where you live and your lifestyle will affect your insurance rates. Here are examples of the three most and least expensive states for car insurance for a 35 year old married man:
The top three states with the highest car insurance rates: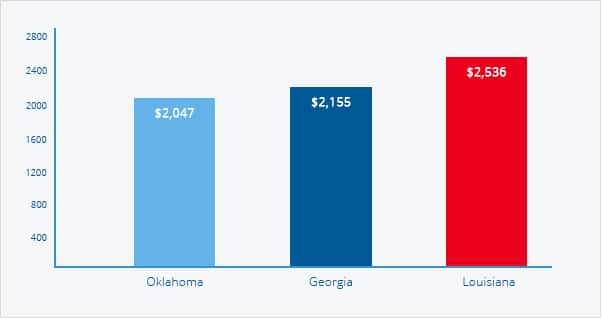 | States | Highest Car Insurance Rates |
| --- | --- |
| Louisiana | $2,536 |
| Oklahoma | $2,047 |
| Georgia | $2,155 |
The top three states with the highest car insurance rates: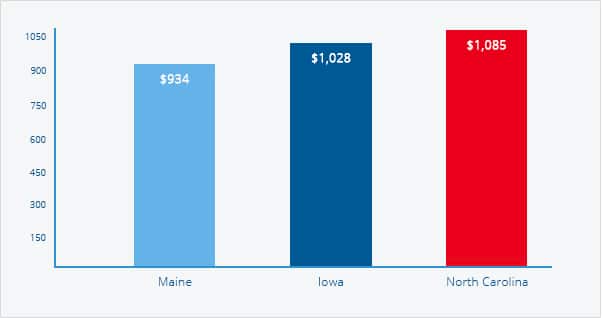 | States | lowest Car Insurance Rates |
| --- | --- |
| North Carolina | $1,085 |
| Iowa | $1,028 |
| Maine | $934 |
Now, when you factor in the type of vehicle driven it can boost your premium considerably. Although Oregon ranks right about in the middle for average car insurance if you're a 35 year old man driving a Mercedes-Benz CL65 AMG coupe you can expect an insurance rate over $5,800! Likewise, if you drive a clunker and aren't worried about replacement costs it can lower your overall insurance costs considerably.
Within a state the zip code can also make a difference in how cheap your car insurance rate is. A survey reported by CBS shows the following highest and lowest zip codes for car insurance rates:
Most expensive zip codes:
Cheapest zip codes:
Cheapest Car Insurance Companies
Again, the cheapest companies depend on where you live. Using our example of the 35 year old married man driving a 2015 Honda Accord, the following major companies were the cheapest rates. Keep in mind this is a national average, so a lot depends on your state of residence as well as the zip code in which you live:

| Companies | Insurance Rates |
| --- | --- |
| Geico | $1,067 |
| Progressive | $1241 |
| Farmers | $1249 |
| State Farm | $1372 |
| Nationwide | $1404 |
| Allstate | $1718 |
Lesser known companies aren't necessarily higher though. For example, Erie Insurance, which is based in only nine states, was only $1052 per year. Likewise, American Family is only available in Washington and Colorado and their annual rate is only $1099. That's why it pays to get an online quote from a site that compares many companies at the same time!