Oregon is a popular northwestern state that was named the "Top Moving Destination" in 2013 and 2014. Whether it's the mild climate, the friendly atmosphere or the interesting cuisine they offer, Oregon is a growing state, which really increases the need for auto insurance. Whether you're one of the many people moving to this state or are already a resident, it's important to know what the state requires for car insurance.
Summary of Auto Insurance in Oregon
When purchasing Oregon auto insurance, drivers can choose from the following types of coverage. Some of these are optional and the law requires some.
Collision coverage helps you pay for damages to your car, but the damages must have come from you hitting into another car or object. Comprehensive also pays for damages done to your car by you, but they cannot be collision-related. Comprehensive is for when things hit your car like wind, falling objects, animals, etc. Both collision and comprehensive require you to pay a deductible each time you make an insurance claim.
Deductibles, which can be from $100 to $2,000, are the amount you will have to pay before the insurance company pays their share. The lower your deductible is, the higher your premiums are going to be.
Bodily injury liability coverage helps pay for damages to others caused by you such as medical expenses, funeral expenses or even your legal expenses if the other party were to sue you. Bodily injury protection usually has a limit of how much they'll pay per person and another figure for what they'll pay per accident.
Property damage liability coverage helps pay for damages you do to another party's property like a parked car or a building.
Personal injury protection (PIP) coverage pays for your expenses when you're in a car accident. It also pays for your family members or anyone in the vehicle. PIP will help you pay your medical bills for up to two years after an accident. PIP can also pay for funeral expenses, lost wages and miscellaneous expenses resulting from the accident.
Uninsured motorist coverage kicks in when you're involved in a car accident and the other driver does not have auto insurance. Despite the insurance laws and the strict penalties, there are still many drivers that do not carry insurance.
Rental insurance helps you pay for a rental car while your vehicle is being repaired from accident-related damages. GAP coverage will pay the difference between what you may owe on a car and what it's actually worth. For instance, your vehicle is in an accident and deemed a total loss. The insurance company determines that its value was $10,000 but you still owe $13,000 on the loan. The GAP will pay the remaining $3,000.
Requirements for Oregon Drivers
Although many drivers choose to purchase full coverage insurance particularly if they have newer cars, they're only required to carry the following types of coverage.
In addition to the fine and suspension, the driver's registration will also be suspended and the owner will have to pay the following:
If you have a loan, and your car is listed as collateral for the loan, your lender will require that you carry comprehensive and collision coverage. This is their guarantee that if the car is damaged or totally destroyed, they'll still get their money.
Minimum Auto Insurance Requirements in Oregon
To legally drive on Oregon public roads, drivers must have at least the following amounts of liability insurance.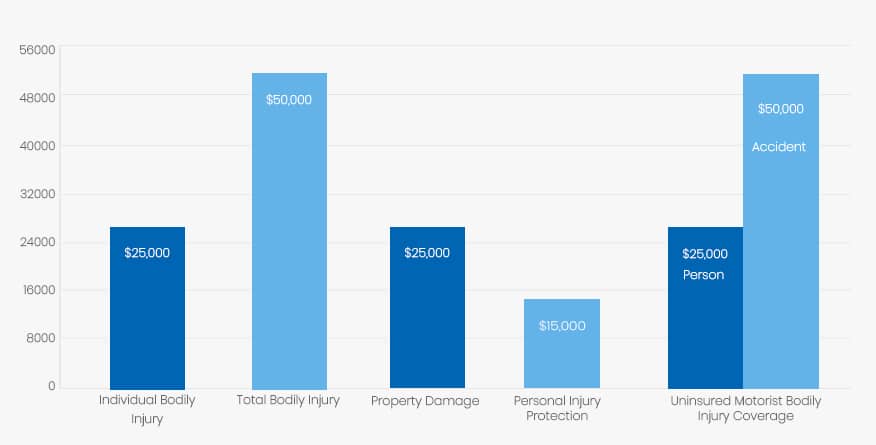 | | |
| --- | --- |
| Coverage | Minimum |
| Individual Bodily Injury | $25,000 |
| Total Bodily Injury | $50,000 |
| Property Damage | $25,000 |
| Personal Injury Protection | $15,000 |
| Uninsured Motorist Bodily Injury Coverage | $25,000/person |
| Uninsured Motorist Bodily Injury Coverage | $50,000/Accident |
Drivers always have the option to purchase higher amounts to ensure they're adequately covered in the unfortunate situation where they might be involved in an accident-related lawsuit. The monetary difference between the minimum amount of 25/50/25 and 50/100/50 is very small when you consider the extra protection you're getting. In most states, your uninsured and underinsured motorist coverage amounts are the same as your liability coverage.
Are Any Auto Insurance Laws Specific to the state of Oregon?
When determining auto insurance laws, states are generally no-fault or at-fault insurance states. In a no-fault state, your insurance company will pay for your accident-related damages and the other person's insurance will pay for his or her claims regardless of who caused the accident hence the term "no fault". They require personal injury protection (PIP) coverage, which pays for your damages.
Drivers in a no-fault system cannot typically sue another driver unless certain circumstance exist. In an at-fault state, the person who caused the accident is the one who is liable for the damages, and that person can be sued. Oregon has a unique insurance system when it comes to car insurance and its requirements.
While it may not be described as a no-fault state, it does have factors that are typically found in no-fault states. Oregon might almost be described as a "hybrid" no-fault state. Like no-fault states, Oregon requires PIP coverage, which is typically a major component of no-fault insurance policies. However, Oregon drivers involved in accidents caused by another have the option of suing the other party without restrictions.
Drivers with poor driving records, a history of many claims or no prior driving experience may be denied auto insurance in the voluntary market. Although Oregon does require that all drivers carry at least the minimum liability amounts, the insurance companies do have the right to deny coverage. These drivers can ask their agents to help get them covered by an insurance policy through the Western Association of Automobile Insurance Plans (WAAIP).
Ways to Lower Your Auto Insurance in Oregon
Regardless of what our auto insurance premiums are, we're always looking for ways to lower our premiums. Understanding what determines what you pay for car insurance can help lower your rates. Below are factors that help determine your Oregon auto insurance rates.
In addition to the above factors, other things can help you get lower premiums. Increasing your deductible and/or lowering your coverage will lower your premiums. Almost all if not all insurance companies offer discounts. While one small discount may not seem like a lot, they can add up to substantial savings. Below are some of the discounts you may be offered.
Most insurance companies will volunteer information regarding discounts they offer to try to get your business. However, don't be afraid to ask about discounts they may not mention. Contact several insurance companies and compare the rates for the same coverage amounts. Comparison shop to see which offers the most discounts, how much the discounts give and which company offers the lowest price all things considered.
Are Requirements Different for Part-Time or Full-Time Oregon Residents?
The requirements are not any different. When you move to Oregon, you have 30 days to register your vehicle. You must present proof of Oregon car insurance at this time or you won't be to register the vehicle. Your car insurance will be from the state in which your car is registered.
Oregon Rates Compared to National Average
Oregon auto insurance rates are very close to what drivers are paying nationwide, but still slightly lower. The average annual insurance rates in Oregon are about $820, which is slightly lower than the national average of about $870. Keep in mind that these premiums can drastically from one city to the next and one insurance company to the next. While one insurance company may charge $800 annually, another may charge $1,100 for the same coverage.
Average Rates in Top Three Oregon Counties
While there may only be 36 counties in Oregon, it seems as though insurance rates are different in each of these counties. Where you live really does make a difference. Below are insurance rates from three major cities in Oregon for a 45-year old female. This woman is married and a good driver.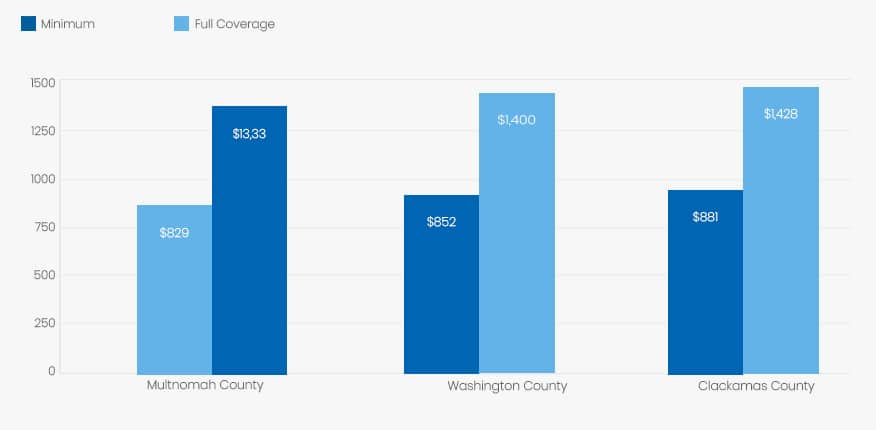 | | | |
| --- | --- | --- |
| County | Minimum Coverage | Full Coverage |
| Multnomah County | $829 | $1,333 for full coverage |
| Washington County | $852 | $1,400 for full coverage |
| Clackamas County | $881 | $1,428 for full coverage |
Conclusion
Driving is a huge responsibility and one that shouldn't be taken lightly. As careful as we all try to be, sometimes accidents just happen, so it's important to be prepared. The best form of preparation is to have a good car insurance policy in Portland, OR. Knowing what's out there and knowing how to get a good deal on insurance is a surefire way to be able to afford the best possible policy for you and your family.
Sources: