Known as the Lone Star State, Texas is the second largest state in the United States. It's also a state that had almost 16 million drivers in 2015. With this many drivers traveling the Texas highways, it's easy to understand the need for auto insurance laws. Continue reading and learn all about the Texas auto insurance requirements as well as ways you can lower your premiums more than you ever thought possible.
Summary of Auto Insurance in Texas
Texas is an at-fault insurance state that utilizes the tort system. What this means is that if you're the responsible part in a car accident, you or your insurance company are responsible for paying for the damages. The other driver also has the right to sue you for damages. Texas drivers looking for auto insurance not only have various types of coverage from which to choose but also have many insurance companies. Here are the types of coverage offered in Texas.
While accident forgiveness, a program that prevents your premiums from increasing if you're in an at-fault accident, is not available in all states, it is available through some Alabama insurance companies. Having accident forgiveness can actually save you a lot.
By "forgiving" the accident, your insurance premiums will not increase. Considering that accident claims stay on your insurance record for around five years, the savings can add up over this time period.
Requirements for Drivers in Texas?
Although there are various types of coverage available in Texas, the only ones that are required are below.
Although Texas law does not require you to purchase uninsured/underinsured motorist coverage, insurance companies recommend it be purchased as part of your auto insurance policy for a couple of reasons. Since Texas is a tort state, the person who causes the accident must pay for damages.
However, if the other driver doesn't have insurance, your insurance may have to cover expenses, but your regular plan may not be enough. Secondly, approximately 20 percent of Texas drivers continue to drive without insurance despite the law.
When you purchase auto insurance, your insurance company will give you an insurance identification card. You must use the card as proof of insurance in the following situations.
If you don't want to purchase auto insurance, other options are available to you
Minimum Auto Insurance Requirements in Texas
All drivers in Texas must carry the following insurance in at least the amounts listed,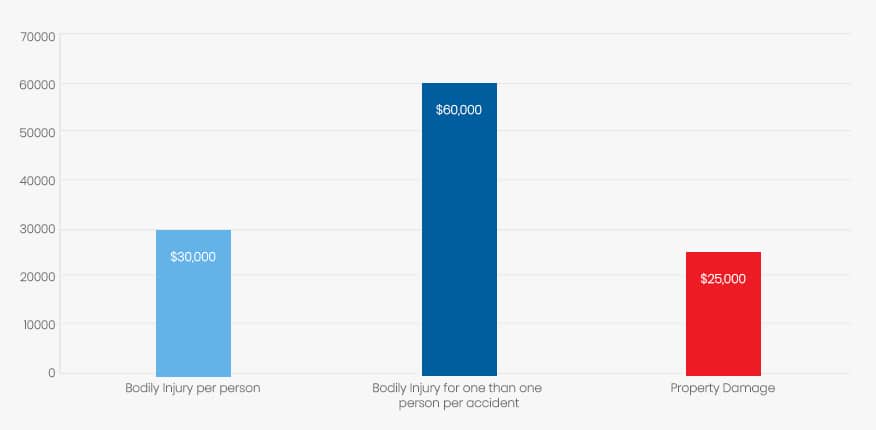 | | |
| --- | --- |
| Coverage | Minimum |
| Bodily Injury per person | $30,000 |
| Bodily Injury for one than one person per accident | $60,000 |
| Property Damage | $25,000 |
It's important to understand that purchasing these amounts may be satisfying the state's requirements, but it's not offering you a great deal of coverage particularly when you consider the large number of car accident-related lawsuits. Additionally, if you are at the losing end of an expensive lawsuit, your insurance company can only protect you up to the limits of your coverage. Any remaining amounts due would need to be paid by you.
Are Any Auto Insurance Laws Specific to the state of Texas?
As a way to encourage residents to drive safely, the state requires Texas auto insurance companies give customers a five percent discount off their policies if they voluntarily complete a drug and alcohol awareness course approved by the Texas Education Agency.
Texas insurance companies may deny car insurance to drivers deemed to be high risk because of their claims history or driving records. These drivers may purchase insurance through the Texas Automobile Insurance Plan Association (TAIPA).
To be eligible for the TAIPA program, you must:
Drivers who purchase insurance through TAIPA will have coverage that meets the state's minimum requirements, and will get this additional coverage.
To ensure that all drivers have insurance, the state utilizes a program called TexaSure. With this program, all law enforcement has to do is enter your identification number or license plate number, and the system will verify if you have valid insurance. For example, when your purchase your auto insurance in Houston, the insurance company sends verification to TexaSure, so they have this information in their system.
Ways to Lower Your Auto Insurance in Texas
We all want lower auto insurance premiums, but many don't know what to do or how to get their premiums lowered. Being a safe driver is always the best way to get low premiums and keep them as low as possible. Being aware of the things that determine your insurance rates can help you to get lower premiums. Here are things that help determine your rates.
Insurance companies also offer various types of discounts to help keep your premiums as low as possible. Bear in mind that each company may offer different discounts, or they may offer discounts that they fail to mention. Don't be afraid to ask agents about potential discounts. They can be used as a great bargaining chip to encourage insurance agents to try to match their competitors.
When shopping for car insurance, shop around and speak with as many insurance companies as time permits. Compare coverage for coverage and discounts for discounts to see who will offer the lowest price for the best insurance. Here are some discounts offered by insurance companies in Texas.
Are Requirements Different for Part-Time or Full-Time Texas Residents?
The auto insurance requirements are aimed at full-time residents because part-time residents typically are full-time residents from another state. In Texas, you must have car insurance when you register your vehicle, and you must register your vehicle within 90 days of moving into the state. Prior to the 90 days, you will need to abide by the insurance laws from your state of residence.
Texas Rates Compared to National Average
Texas has several high-risk factors like flooding, tornadoes and traffic congestion, which contribute to higher premiums. Despite those factors, the Texas rates aren't far off from the national average of $1,666. The average annual premiums for Texas auto insurance is about $1,700. Rates may be much lower in some areas and higher in others.
Average Rates in Top Three Texas Counties
Have you ever wondered if your insurance rates would be lower or higher if you lived in another city in Texas or even another county? They probably would be different, but it's hard to determine what the difference would be. To demonstrate, I used a 45-year old married female as my example. This female is a good driver.
I have listed the rates from three of Texas's largest counties. The rates are for full coverage and just the liability amounts required by the state. As you can see, there is a slight difference. Keep in mind that other cities throughout the state may vary even more.
| | | |
| --- | --- | --- |
| County | Minimum Coverage | Full Coverage |
| Harris County | $550 for state minimum requirement | $1,566 for full coverage |
| Dallas County | $487 for state minimum requirement | $1,329 for full coverage |
| Tarrant County | $454 for state minimum requirement | $1,236 for full coverage |
Conclusion
With all the information, you now have about Texas car insurance and how it works, you should be all set to start shopping around for insurance policies. For the best rates possible, ask each company what they offer in the way of discounts and savings promotions. What you may save in premiums can pay for more protection or just give you more money in your pocket. It's a win-win situation!
Sources: