What is the minimum required to drive legally in the state of Wisconsin?
The Wisconsin Office of the Commissioner of Insurance states that all drivers in Wisconsin are required to have automobile insurance coverage for the minimum liability amounts of:
| | |
| --- | --- |
| Coverage | Minimum |
| Injury or death of one person | $25,000 |
| Injury or death of two or more people | $50,000 |
| Property damage | $25,000 |
Additionally, state law requires that drivers maintain uninsured motorist insurance with minimum policy limits of $25,000 bodily injury coverage for one person as well as $50,000 for two or more people.
There are alternatives as well?
Alternatives to insurance coverage include placing other security in the form of bonds, personal funds, or certificates of self-insurance with the state by contacting the Wisconsin Department of Transportation, Division of Motor Vehicles (DMV), Hill Farms State Office Building, 4802 Sheboygan Avenue, Madison, Wisconsin 53702 for details.
Wisconsin takes their auto insurance seriously -- so be sure you have proof of it in case you're pulled over?
If you're in an accident or stopped by the police for any reason, the failure to provide valid proof of insurance can result in serious consequences. In such cases, you may face the suspension of your driver's license or a fine of up to $10. In addition, operating a vehicle without the current mandatory minimum state policy requirements of insurance in place can cost you up to $500. On top of that, knowingly providing false proof of insurance can get you fined up to $5,000.
There are additional insurance options available for every household's automobile insurance needs?
In addition to the State of Wisconsin required liability limits, you may purchase extra automobile insurance coverage for a variety of needs. For example, you may acquire:
Underinsured motorists coverage
Also referred to as UIM, this type of coverage is not mandatory. UIM increases the limits of bodily injury protection amounts for you and others travelling in your vehicle whenever the party at-fault has insufficient policy limits. Although this coverage may be rejected, minimum limits of $50,000 per person and $100,000 per accident are required if requested.
Medical payments coverage
Insurance companies are required to offer this type of insurance to all customers, but you may reject it if you wish. This covers medical and funeral costs for yourself or others injured or killed while riding/driving in your vehicle. It also covers you and your family if struck by an automobile as a pedestrian or if riding as a passenger in another vehicle. Typically, this type of insurance does not cover costs already covered by health insurance policies, but will cover you otherwise for medical and funeral expenses regardless of who is at fault in the accident. The minimum policy limit for this type of coverage is $1,000.
Collision coverage
This type of insurance covers physical damages to your automobile when colliding with another vehicle or object, or if it should happen to overturn. The amount covered will repair your vehicle to its estimated value prior to the accident, and will be covered by your insurer regardless of who is at fault. Insurers consider the make, model, and year of your automobile when establishing premium rates, so do assess the current market value of your car and whether you could afford to replace it if it were destroyed in an accident. Older or more affordable automobiles may not benefit from this type of coverage.
Comprehensive coverage
This type of insurance covers damages to your automobile from various occurrences including fire, glass breakage, hail, wind, falling objects, a civic commotion, water, or striking an animal — including a deer, which is a common type of accident in the state of Wisconsin. Collision insurance, in most policies, will not cover accidents, so Wisconsin drivers should consider comprehensive insurance coverage in case of this event. Comprehensive insurance policies will also cover stolen vehicles or vehicle parts, including tires and batteries, as well as flood damage (which is also not covered by collision insurance.)
Ways to Lower Your Rates
Make sure you shop around and compare rates
Shop around for the best possible rates available before deciding on your policy. Different insurance providers offer various types of discounts for whatever your household comprises, such as multi-car discounts, accident-free driving rates, lower rates for insuring your home and car with the same company, and deals for drivers with good grades, those who are non-smokers, and automobiles with the most current safety or passive restraint systems (air bags, automatic seat belts, etc).
Maintain a good driving record, drive a reliable, sensible vehicle, and keep your credit score as high as possible
Your age, gender, marital status, vehicle garaging address, driving history, type of car and year made, miles driven per year, and prior insurance coverage can all play a role in the determining of your automobile insurance rates. In general, maintaining a clean driving record (obeying the speed limit, avoiding alcohol when driving, using appropriate turn signals, staying alert, not texting while driving, etc.) and purchasing a sturdy, reliable vehicle rather than a sports car or "high performance vehicle" are useful ways to keep your rates low. Additionally, maintaining a good credit score may also have an impact in your favor.
Other drivers in your household can also impact your insurance rates
Make sure you keep other licensed drivers in your household informed and aware that their actions can impact your insurance rates as well. If they drive recklessly, cause an accident, receive tickets for exceeding the speed limit, or are the cause other types of adverse incidents while driving, you may be required to pay higher premiums on automobile coverage, or even be denied insurance completely. Also, keep in mind that if you are ticketed for a chargeable accident or traffic violation, your insurance provider may charge a surcharge or extra fee which is required to be filed with the Wisconsin Office of the Commissioner of Insurance.
Good news! Wisconsin rates 4th lowest on auto insurance rates nationally!
Wisconsin ranks 4th for affordable automobile insurance rates and other favorable driving factors. Wisconsin drivers, on average, pay less than the national average on automobile insurance. To compare, typical Wisconsin drivers can expect to pay approximately $646 against the national average of $866. Using 2010 Census data, the most populous counties in Wisconsin are Milwaukee County, Dane County, and Waukesha County. A 40-year-old married woman purchasing liability only insurance with the minimum policy requirements can expect to pay approximately $489 in Milwaukee County, $346 in Dane County, and $433 in Waukesha County annually.
Overall, a safety-conscious and responsible approach to driving will keep your car insurance rates reasonably affordable. A few extra points of wisdom include reminding other drivers in your household to also drive responsibly, making sure your credit score is as high as possible, and keeping your car safe, reliable, and well-maintained.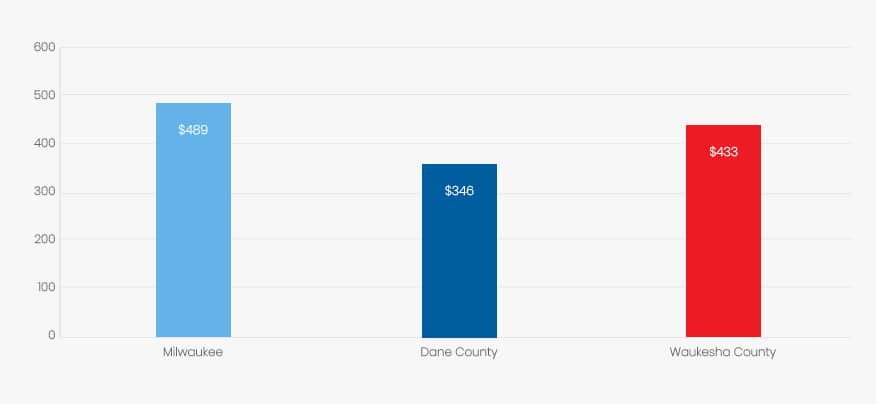 | | |
| --- | --- |
| Counties | Coverage |
| Milwaukee | $489 |
| Dane County | $346 |
| Waukesha County | $433 |
If you'd like more details, check these follow-up links for additional information