According to the State of Kansas Insurance Department website, Kansas state law requires that all drivers have an automobile insurance policy in place with the following minimum coverage:
Learn about auto insurance in this state and ways you can get the most for your dollar with your auto insurance rates.
Liability coverage in the amounts of: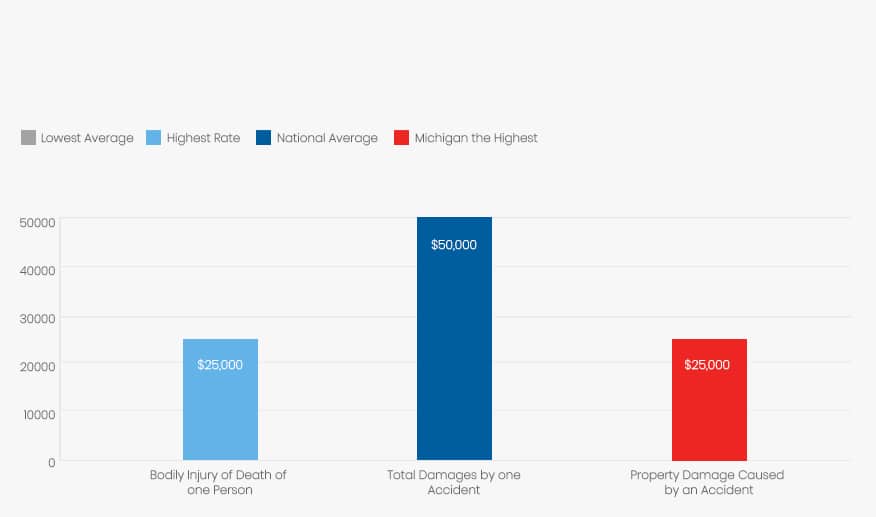 | | |
| --- | --- |
| Coverage | Minimum |
| Per Person for Bodily Injury | $25,000 |
| Total Accident for Bodily Injury | $50,000 |
| Accident for Property Damage | $25,000 |
Personal injury protection (also called PIP or No-Fault) in the amounts of:
| | |
| --- | --- |
| Coverage | Minimum |
| Per Person for Medical Expenses | $4,500 |
| Per Month for one year of disability or loss of income | $900 |
| Per Day for in-home services | $25 |
| For Funeral, burial or cremation expenses | $2,000 |
| Rehabilitation Costs | $4,500 |
| Per Month for one year of disability/loss of income survivor benefits | $900 |
| Per Day for in-home services for one year | $25 |
Uninsured/Underinsured coverage in the amounts of:
| | |
| --- | --- |
| Coverage | Minimum |
| Per Person | $25,000 |
| Per Accident | $50,000 |
Insurance Information Unique to Kansas
The Kansas Insurance Department website encourages their residents to do some informed comparison shopping for their best automobile insurance rates, and explains how that is best done. The lowest rate, the site advises, is not necessarily always your best value; rather, it states that, "Good insurance value means finding the right price, best coverage, and quality service" for your needs.
After insurance companies have assigned Kansas drivers a category of preferred (best risks, considered the safest drivers), standard (moderate risk drivers, reasonable records, family-type vehicles), or non-standard (high risk, drivers may have tickets/accidents, drunk-driving or poor premium payment history) risk levels, they can begin comparison shopping for their best premium rates. The website also includes a handy tool specifically for this activity, comparing rates for several different approximate different ages, their cities of residence, and other identifying factors. 23 different insurance company rates are available for comparison shopping on the site once users have entered their information. The companies included are not the only insurance providers in the state, but they cumulatively write approximately 80 percent of Kansas' insurance policies overall.
Using the site's tool, auto insurance shoppers would find that a 35-year-old woman in the city of Concordia, Kansas driving a 2013 Toyota Camry 4-door sedan with comprehensive and collision coverage amounts of $100/$300/$100 and a deductible of $1,000 (the most common type of coverage purchased in the state, according to the Kansas Insurance Department) and no discounts available can expect to pay an average of $420 on a 6-month preferred or standard risk policy. That same woman in Wichita, however, can expect to pay about $484 on average for the same type of policy, and in Topeka would likely pay around $480. The lowest approximate rate she would likely find would be around $200 for such a policy, while the higher end rates on the same policy would be about $900, with the variation being dependent upon the exact type of coverage and which insurance company is quoting the rate. (The rates provided on the site were recorded on the date indicated and are subject to change without notice.)
Ways to Lower Your Rates
According to Bankrate, Kansas ranks 38th in the nation for their auto insurance rates, so you'll likely pay a bit lower than the national average here. With that in mind, you'll still want to be sure you're getting your best premium rates. Here are some ways to do that:
Ask your insurance provider if they offer these discounts:
Keep Your Driving Record Safe and Clean
Cautious, law-abiding driving will keep your insurance rates as low as possible. Some insurance providers also check your credit score, so you'll want to keep that as high as possible. If you have other drivers in your household on your policy, make sure they keep their driving records clean as well. As time goes on and situations change, check the details on your policy and make sure there aren't any additional discounts for which you qualify.
Check for Young Driver Discounts
If you've got teenagers in your Kansas household, consider naming them as 'occasional drivers' of your least expensive vehicle – they may otherwise be automatically assigned to your most expensive car. If they don't drive themselves back and forth to school or work, they can be covered this way. Also, if they have their own cars, make sure to include them on your policy for a multi-car discount. Discounts for students with good grades and a successfully completed driver's education course may also be available depending upon the company you ask. If they attend school over 100 miles away without a car, they may qualify for another type of discount as well.
Ask Them to Opt for the Sensible Vehicles
Encourage young drivers on your policy to avoid high performance vehicles with turbo engines, as these can easily add up to 10 percent to your premium rates.
Older or Less Valuable Cars Only Need Liability
If your vehicle is worth less than $3,000 market value, you there is no real reason to get collision or comprehensive coverage on it.
Pay Early Often
Paying your premium ahead of the due date to be sure it's on time can help keep your rates at their lowest. Remember, there are usually no grace periods offered after automobile insurance due dates.
Older Drivers May Qualify For Up to 15% Off Premium Rates
If older drivers successfully pass a State Board of Education or National Safety Council-approved defensive-driving course, they can earn between 5 and 15 percent off their premiums. If you're interested in more information, call 1-800-432-2484 for details.
Go For the Highest Deductible Possible
Select the highest deductible you can reasonably afford if you've opted for collision and comprehensive coverage. This can lower your rates significantly.
Overall, obeying the law and remaining cautious and courteous while driving, avoiding alcohol, drugs or texting while driving, keeping your driving record (and other drivers' records on your policy) good, keeping your credit score high, as well as staying updated on possible insurance discounts for your household are the best and easiest ways to keep your rates low.
For additional information, you may contact if you're ready to start driving in Kansas:
Kansas State Insurance Commissioner Ken Selzer, CPA
State of Kansas Government Website
State of Kansas Resident Driving Information
Guide for Car Insurance in Wichita KS