Known for its beautiful mountains and famous presidential carved monuments, South Dakota is a beautiful state in the Midwestern part of the United States. South Dakota has almost 84,000 miles of highways, roads and streets, which equates to a lot of drivers and traffic. All these drivers are required to have car insurance. Learn more about the car insurance laws in South Dakota and get some tips on how you can save money on your next insurance policy.
Summary of Auto Insurance in South Dakota
Requirements for Drivers in South Dakota?
According to South Dakota law, all drivers must have car insurance and must carry proof of insurance or financial responsibility any time they're in the vehicle. They must also be prepared to provide it to law enforcement when asked. The most common proof is an insurance card provided by the insurance company.
The card should state the company's name, your name, your policy number and the effective dates of coverage. Drivers who want to provide proof of responsibility without an insurance policy can do so by purchasing a certificate of self-insurance or a certificate of deposit (CD) from South Dakota Department of Treasury. If you are caught driving without insurance or proof of financial ability, you can face the following penalties.
In spite of all the different types of coverage listed above, these are the only types that are required by law.
Minimum Auto Insurance Requirements in South Dakota
To legally drive on public roads in South Dakota, you must carry, at a minimum, the following amounts of liability coverage.
| | |
| --- | --- |
| Coverage | Minimum |
| Bodily injury or death | $25,000 per person |
| Bodily injury or death | $50,000 for more than one person but per accident |
| Property Damage | $25,000 per occurrence |
| Uninsured/Underinsured motorist coverage | $25,000 per person |
| Uninsured/Underinsured motorist coverage | $50,000 per accident |
It can't be stressed enough that the above amounts are the least amount you must have. If you're sued for an at-fault accident and are required to pay a high settlement, your insurance company will only provide money to the limit of your coverage. Anything beyond that will be your responsibility.
You could potentially lose your home and everything you own trying to pay off an lawsuit settlement if the unforeseen happened and you were at the losing end of a lawsuit without adequate coverage. Auto insurance is one thing that is more than worth the cost.
Are Any Auto Insurance Laws Specific to the state of South Dakota?
The South Dakota Automobile Insurance Plan was set up to assist high-risk drivers who have difficulty obtaining car insurance through the open market due to poor driving records. The premiums are higher, but they provide the individual with the insurance required by the state.
Ways to Lower Your Auto Insurance in South Dakota
It seems we're always looking for ways to lower our auto insurance but not sure how. We may also question why our insurance is higher than a friend or relative with similar situations. Many things into determining what you pay for car insurance. South Dakota insurance companies consider the following factors.
Knowing the above factors can be helpful in doing things to lower your car insurance premiums. You can do many things yourself to help keep them as low as possible. You can lower your coverage amounts, although higher limits of liability are generally worth the cost. Consider increasing your deductibles. The lower your deductible, the higher your premiums will be.
Ask your insurance agent about any discounts they may offer because almost every insurance company offers discounts of some kind. They may vary from one company to another, but below are some discounts commonly offered.
Every year the National Insurance Crime Bureau puts out its list of the vehicles that are stolen the most in each state. This list is beneficial to insurance companies in that it helps determine rates on these vehicles, and it's helpful for consumers purchasing vehicles. Below are the ten vehicles most stolen in South Dakota in 2016.
Just knowing a vehicle is attractive to thefts may not be enough to discourage shoppers from purchasing them, but it can make them aware that it may affect their insurance rates. Having this knowledge can also encourage them to have anti-theft devices installed, which can be helpful with your insurance premiums.
Are Requirements Different for Part-Time or Full-Time South Dakota Residents?
In South Dakota, as in most states, you're either a full-time resident or you're not. Full-time residents must meet the state's requirements for auto insurance. Part-time residents or temporary residents must following the requirements from the state where they live. If you're just moving into South Dakota, you have 90 days to register your vehicle before you become an actual resident of South Dakota and subject to South Dakota's auto insurance laws.
South Dakota Rates Compared to National Average
South Dakota is a cheap state to drive car based on their auto insurance prices. The state ranks in the top ten among states with the cheapest car insurance and offers rates that are lower than the national average. Drivers nationwide pay an average annual amount of $1,600 for car insurance while South Dakota drivers pay an average rate of about $1,000. Keep in mind that prices will vary from one area to another.
Average Rates in Top Three South Dakota Counties
As stated above, geographic location does play a role in determining how much you'll pay for auto insurance in South Dakota. I used a 45-year old married woman with a good record as my example. Below you will find the various from three of the largest counties in South Dakota. I have listed the premiums for full coverage and for liability required to drive legally in South Dakota.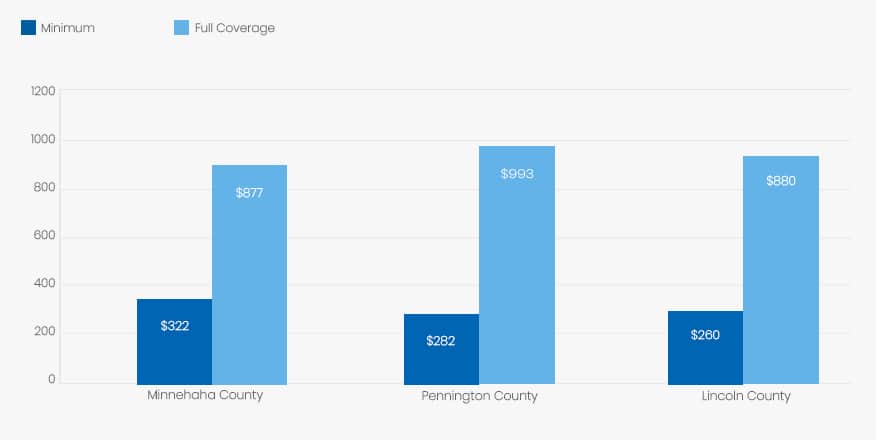 | | | |
| --- | --- | --- |
| County | Minimum Coverage | Full Coverage |
| Minnehaha County | $322 for state minimum requirement/td> | $877 for full coverage/td> |
| Pennington County | $282 for state minimum requirement | $993 for full coverage |
| Lincoln County | $260 for state minimum requirement | $880 for full coverage |
Conclusion
South Dakota auto insurance is not only necessary because it's a legal requirement. It's necessary because without it you could be subject to costly lawsuits that have the potential to wipe you out financially, and that's just the liability portion. Without car insurance, you would have to spend thousands of dollars to repair or replace your vehicle if it were severely damaged in an accident. Auto insurance is a small price to pay for security and peace of mind. Shopping around for your South Dakota auto insurance is the best way to obtain the best possible price.
Sources: