In the state of West Virginia, all registered vehicles must legally be insured, and valid, current proof of this insurance must be carried in the vehicle at all times. For more detailed information, you may search under the Compulsory Insurance Law, or WV Code §17A, §17D, on the West Virginia Legislature website, or Title 91, Series 13, Compulsory Motor Vehicle Liability Insurance at the Secretary of State of West Virginia website.
According to West Virginia law, the current minimum liability insurance requirements are 25/50/25: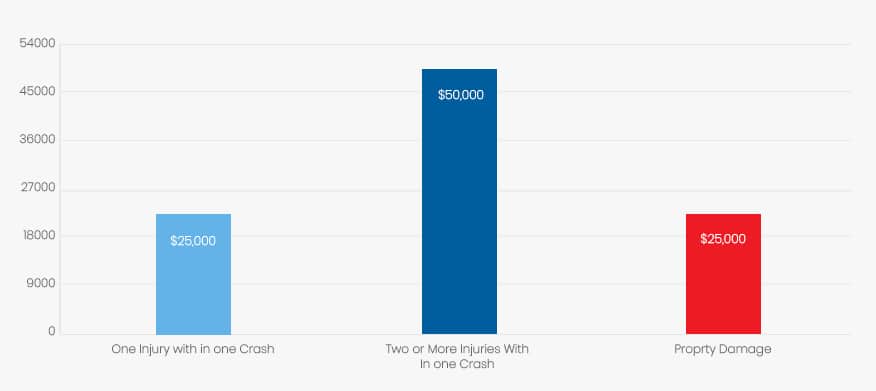 | | |
| --- | --- |
| Coverage | Minimum |
| Injury within one crash | $25,000 for one |
| Injuries within one crash | $50,000 for two or more |
| Property damage | $25,000 |
Make sure your insurance provider is licensed to sell insurance in the state of West Virginia
The insurance policy you purchase must be issued by a company licensed to sell insurance in the state of West Virginia. You can confirm whether an insurance company is licensed to sell insurance in the state of West Virginia by checking their National Association of Insurance Commissioners, or NAIC, number. The 5-digit NAIC number is printed on your Certificate of Insurance, and you will be required to provide this number during any DMV transaction concerning the registered vehicle.
For more detailed information, to check the validity of a NAIC number, or to file a consumer complaint about an insurance company, you may call 1-888-879-9842, or visit wvinsurance.gov.
Keep your valid, current proof of automobile insurance handy at all times
Administrative penalties for driving without insurance may include the suspension of your driver's license and revocation of your vehicle registration. Additionally, criminal penalties may include fines and/or jail time. Failure to show valid, current proof of insurance while driving often results in the vehicle's registration plates being suspended, a $100 reinstatement fee, and proof of current insurance on all vehicles registered being submitted. You may also have your driver's license suspended with a reinstatement fee required to resume driving privileges after the suspension period ends. If you file fraudulent automobile insurance information, a 90-day suspension of your driver's license, revocation of your vehicle, and possible prosecution may occur, as well as fines of up to $1,000 and jail time of up to one year.
The West Virginia Online Insurance Verification Program
The state of West Virginia utilizes new technology in the form of the West Virginia Online Insurance Verification Program, or WVOLV. With this unique program, an insured person's motor vehicle insurance can be verified instantly online in real-time. Once a vehicle is registered, instant verification of its insurance is enabled through the DMV, as well as monthly updates on the status of the policy. Police officers are able to use the program whenever a driver is pulled over or an accident occurs in order to confirm the insurance of any drivers involved.
Be sure to stay current with your DMV information
To maintain legal driving privileges as well as receive timely notifications about your vehicle registration, you must stay current with your DMV information. Within ten days of moving to a new residence, you must update your address with the DMV per WV Motor Vehicle Code §17A-3-18. Additionally, within twenty days you must update your driver's license address and obtain a new registration card with the current address on it.
Ways to Lower Your Rates
Auto insurance rates can vary due to many factors, including the vehicle's garaging location, the type of vehicle and household members, driver's age or sex, marital status, annual number of miles driven, driving records of all licensed drivers in the household, etc.
Generally, maintaining a good driving record (and ensuring the rest of your household does the same), keeping your credit score as high as possible, and shopping around for discounts that pertain to your habits/household (i.e. non-smokers' rates, good student rates, multi-car coverage rates, etc.) should land you the best insurance rates available. If you drive an older vehicle, consider dropping your collision coverage. (If you can afford to replace the car's value at the current time, it becomes essentially unnecessary.) Raising your deductibles, if you can afford it, helps lower your rates too.
How does West Virginia rank nationally on car insurance rates?
West Virginia ranks 16th in the nation with an average combined premium annual rate of $841.08 against the national average of $817.42.
To get more specific, the minimum required liability rates annually for a 40-year-old married woman in the 3 largest West Virginia counties of Kanawha, Berkeley, and Monongalia were: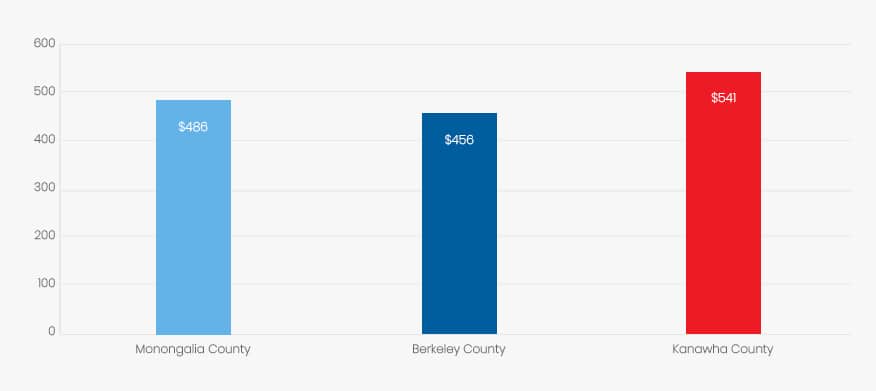 | | |
| --- | --- |
| County | Coverage |
| Monongalia County, city of Morgantown | $486 |
| Berkeley County, city of Hedgesville | $456 |
| Kanawha County, city of Charleston | $541 |
Information must be submitted to the DMV if you are in an accident with an uninsured driver
A copy of a court order and collision report must be provided to the DMV if you are involved in an accident with an uninsured driver and file a judgment through civil court. Once received, the DMV will contact the uninsured driver and inform them of their driver's license being suspended. The suspension remains in effect until either the judgement is paid or an agreeable installment plan is created. Copies of collision reports may be obtained from the West Virginia State Police by calling (314)746-2128 or visiting their website at www.wvsp.gov.
West Virginia requires several forms to be completed and submitted to the DMV and/or other government agencies in certain circumstances
A Sold Vehicle Notice, or DMV-1-S form, is required if you've sold a vehicle or watercraft. You must also either provide the license plate to the DMV or submit proof of plate transfer and insurance being placed onto the new vehicle.
An Owner's Notice of Insurance Cancellation (WV-4C) form must be completed if you own a vehicle with valid license plates but it becomes inoperable for any reason. Insurance must be maintained on the vehicle, even if it has become inoperable, until you've completed the form and returned the license plates to the DMV.
An Application for Duplicate Registration Card, Decal, or Plate and Change of Address (DMV-32-TR) form must be completed if you lose your license plates and need to apply for duplicates.
A Vehicle Registration Plate Surrender (WV-4S) form must be completed if you need to surrender your license plates but they are lost.
A Notice of Insurance Cancellation (WV-4C) form must be completed if you cancel your insurance for any reason.
Contact law enforcement immediately if your license plates have been stolen.
For additional information, you may contact:
West Virginia DMV Insurance Consumer Information
West Virginia Secretary of State
West Virginia Offices of the Insurance Commissioner
Vehicle insurance questions and reinstatement transactions may be handled by mail or in person at DMV Headquarters:
WV Department of Transportation
Division of Motor Vehicles
5707 MacCorkle Ave. SE, PO Box 17020
Charleston, WV 25317
or by calling (304) 926-3802 or 1 (800) 642-9066