Planning to move to Florida and want to learn their auto insurance laws or just looking for a new auto insurance company from which to do business? Find everything you want to know about Florida auto insurance here as well as how to find the best rates on Florida auto insurance.
Auto Insurance in Florida
Florida is a no-insurance state, which your insurance company will pay a portion of your medical bills if you're in an accident regardless of who was at fault. Florida has many insurance companies throughout the state with each of them competing to offer customers the best policies with the best rates. It's important to know what the coverages are available and what protection they offer. While the state only requires car owners carry a specific type and amount of coverage, there is also optional coverage available. Below are the type of coverage you may be offered.
What is Required for Drivers in Florida?
What is Required for Drivers in Florida?
PIP not only covers you and your family but also passengers in your car if they have no car or PIP of their own. It also covers your children if they're injured while on a school bus or in a tax and also covers you as a pedestrian or bike rider if you're injured in a car-related accident. Your PIP policy also protects you if you're in someone else's car.
If for some reason your insurance policy is cancelled, your insurance company is required to notify the Florida Department of Highway Safety and Motor Vehicles (DHSMV) of the cancellation. When this happens, the DHSMV will notify you of a license suspension and registration suspension. The suspension can last up to three years.
To reinstate your license after the suspension, you'll need to provide proof of insurance and pay a fine of $150 for first offense; $250 for second offense; and $500 for every time thereafter.
While you're not required to carry collision or comprehensive insurance in Florida, your lender will require it if you have a car loan and the car listed as collateral on the loan.
Minimum Auto Insurance Requirements in Florida
Florida car owners are required to carry at least the following insurance coverage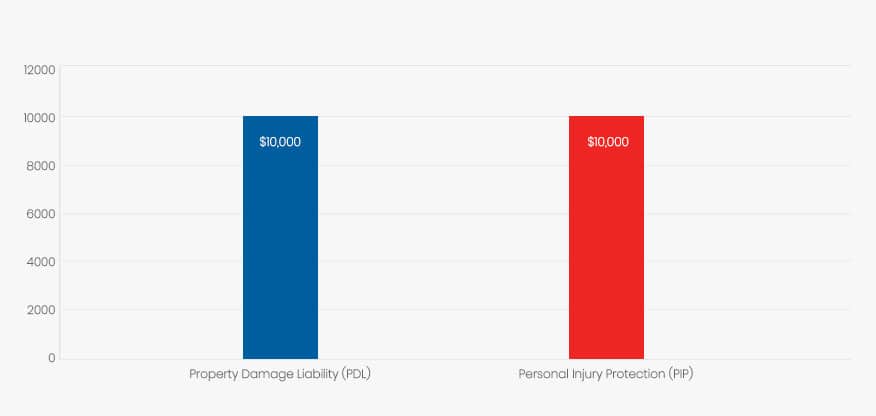 | | |
| --- | --- |
| Coverage | Minimum |
| Personal Injury Protection (PIP) | $10,000 |
| Property Damage Liability (PDL) | $10,000 |
It's important to realize that the amounts listed above are the minimum coverage car owners must have in Florida. Drivers always have the option of purchasing higher amounts to provide greater protection.
Are Any Auto Insurance Laws Specific to the state of Florida?
Unlike many other states that also require bodily injury liability, Florida does not. The reason for this is that every owner/driver is required to carry PIP insurance. PIP insurance was designed to discourage Florida drivers from suing another individual. Their feeling was if the drivers had insurance that covered their medical expenses (PIP), they might not be so prone to sue.
However, some victims of car accidents may still choose to sue if they have huge injuries and accident-related expenses. Bodily injury liability can offer protection against these types of lawsuits. While bodily injury coverage may not be legally required, many insurance companies will not sell a policy without at least the minimum amounts of bodily injury coverage, which is $10,000 per person and $20,000 for two or more people.
Under the Financial Responsibility Law, anyone that is involved in and causing an accident resulting in bodily injury or property damage must have the required amount of liability coverage and demonstrate proof of responsibility. Proof of responsibility may be proven in the following ways.
Ways to Lower Your Insurance Rates in Florida
Certain factors such as age, gender, marital status, vehicle make and model, driving record and miles driven can all determine your auto insurance rates in Florida. However, you may be eligible to receive discounts through your insurance company. Your insurance company may volunteer the discount information to make their policy sound more attractive.
They may also offer other discounts that they fail to disclose, or the discounts may be offered by one company and not another. Below are some discounts of which you may be eligible for and are worth mentioning to your agent.
In addition to the discounts mentioned above, there are also ways you can lower your Florida car insurance rates. You can increase your deductible, which is the amount you must pay before the insurance company pays. The higher the deductible, the lower your auto insurance rates in Florida will be. You can also lower your coverage.
For instance, you can lower the amount you carry on your bodily injury, PIP and PDL as long as you maintain the amounts required by the state. If you have an older car, you may find you can lower your Florida car insurance rates substantially by dropping comprehensive or collision coverage.
Are Requirements Different for Full-Time or Part-Time Residents?
Insurance requirements are the same for full- and part-time residents. Any time a vehicle is registered in Florida, it must be insured. Even if you only live in Florida for a couple months of the year, if your vehicle has Florida license plates, a Florida insurance company must insure it. If you move out of the state, you can surrender the registration and license plate to the Tax Collector office and cancel the insurance policy.
The condition that mandates if insurance is required or not has more to do with where the car is registered than where you reside. The only time that resident status would come into play is if you're just moving into the state of Florida. Once the vehicle has been in Florida for 90 days, it must be registered, at which point, it would then need to also be insured.
Where Florida Ranks in Price Compared to National Average
Whether it's the driving laws, auto insurance laws or just the amount of uninsured drivers in this state, Florida ranks among the most expensive states for auto insurance premiums. The average annual auto insurance premium in Florida is about $1,850, which is quite a bit higher than the national average of around $1,350.
Auto insurance rates have continued to increase every year for the past few years, most of which are attributed to the high amount of crashes on Florida highways. Since 2012, Florida auto insurance rates have increased 26.9 percent.
Average Rates in Top Three Counties
Auto insurance premiums in Florida fluctuate throughout the state. You may find sky-high rates in one county and drive to a nearby county to find substantially lower rates. Below is an example of insurance rates for both liability and full coverage insurance on a 45-year married woman with a good driver's record. As you can see, each county's rate are quite a bit different from the next.
| | | |
| --- | --- | --- |
| County | Minimum Coverage | Full Coverage |
| Broward County | $974 for state minimum requirements | $2,011 for full coverage insurance 100/300/100 |
| Duval County | $596 for state minimum requirements | $1,381 for full coverage insurance 100/300/100 |
| Orange County | $746 for state minimum requirements | $1569 for full coverage insurance 100/300/100 |
Summary
Don't underestimate the important role being a good driver has on auto insurance rates. A simple accident or traffic violation can increase your rates substantially, and they stay on your insurance record for about five years. In addition, once you've done your due diligence and shopped around, you'll find that prices can vary a lot, and agents really will compete to give you the very best deal!
If you are looking for specific car insurance information on a specific city in Florida, see more information below: