Known as the "Show me State" and as one of the friendliest states in the union. Missouri is also a state with miles and miles of highways. Where you see highways, you're also going to see many drivers. Like all the other states, Missouri requires their drivers carry auto insurance. Learn about the state's insurance requirements and how you can save some money on your Missouri car insurance.
Summary of Auto Insurance in Missouri
Missouri has literally hundreds of auto insurance companies located throughout the state, so finding an auto insurance policy shouldn't be too difficult. The first step is knowing what's available for coverage, what each coverage entails and what the state requires you to have. Below is an overview of the types of auto insurance offered in Missouri.
Auto insurance policies also come with deductibles, which is the amount you must pay before the insurance company pays for damages. The deductible is typically only applicable with collision and comprehensive coverage.
Missouri is an at-fault accident, which means that the driver most responsible for causing the accident must pay the other person's property damage costs, medical expenses and lost wages. Using a pure comparative fault system, Missouri awards money damages based on what percent blame they believe the drivers to be. For example, John and Mary hit into each other, and John's damages come to $80,000 while Mary's come to $40,000.
The insurance company determines that John was 40 percent at fault for causing the accident while Mary was 60 percent at fault. Because Mary was 60 percent at fault, John will be able to recover $48,000 from Mary, and Mary can recover $16,000 from John.
Determining who was at fault in a Missouri automobile accident is anything but easy. In most cases, it's determined with the help of qualified car accident attorneys. Their method of recovery makes it imperative to have good auto insurance.
Requirements for Missouri Drivers
Although Missouri auto insurance companies offer various types of coverage, you are not required to purchase full coverage or all the coverage offered. Below are the types of insurance that you are required to carry by Missouri law.
You must provide proof of insurance when you register your vehicle and when you renew your license plates. If you are pulled over or involved in an accident and asked to show proof of insurance to law enforcement, you must provide proof of insurance or proof of responsibility. Failure to provide proof can result in the following.
Each time that a driver is cited for not having auto insurance, the penalties are stiffer and more severe. When you lose your license due to not carrying insurance, you must provide proof of insurance for three years after having your license reinstated. Surprisingly enough, about 14 percent of Missouri drivers have no auto insurance.
There are several ways to provide proof of responsibility.
Minimum Auto Insurance Requirements in Missouri
Missouri not only requires that you carry liability insurance. They also require that you carry at least the following amounts of each coverage.
| | |
| --- | --- |
| Coverage | Minimum |
| Bodily injury liability | $25,000 per person and $50,000 per accident |
| Property damage liability | $10,000 per accident |
| Uninsured/underinsured motorists | $25,000 per person and $50,000 per accident |
When you see the amounts listed by an agent, they will read as 25/50/10. Keep in mind that the amounts above are the minimum amounts you must purchase. You can always purchase higher amounts to give you more protection against accident-related lawsuits. The Insurance Information Institute recommends that drivers have at least $100,000 per person for bodily injury and $300,000 per accident.
Are Any Auto Insurance Laws Specific to the state of Missouri?
Missouri does have specific penalties for drivers who do not have auto insurance and are involved in an accident. These are independent to the ones mentioned above for just not having insurance. The driver will have four points added to his or her driver's license. If he or she accumulates enough points, the driver's license will be suspended.
Ways to Lower Your Auto Insurance in Missouri
Your auto insurance rates are determined by several factors in your life.
It seems we're always looking for ways to lower our insurance costs. Below are some ways you can lower your premiums. Although most, if not all, insurance companies offer discounts, they may not all offer the same types of discounts. Asking potential agents what types of discounts they'll offer to you is a good way to negotiate price and give you a good idea of which company is giving you the best deal for the same coverage.
When comparing companies, always make sure that you're comparing the same coverage amounts. Below are some discounts you may be able to get to lower your premiums.
Increasing your deductible will also give you lower premiums. The higher your deductible, the lower your premiums will be.
Are Requirements Different for Part-Time or Full-Time Missouri Residents?
A person really can't be a resident in more than one state. In very rare occasions, an individual may have two driver's licenses from two different states, but it's rare and frowned upon by the DMV. To be a resident of Missouri, you must have a valid Missouri driver's license. Drivers who are from another state are nonresidents and must abide by the auto insurance laws from their state.
Missouri Rates Compared to National Average
Missouri is home to two very large urban areas: Kansas City and St. Louis. Kansas City has almost 2 million people spanning across eight counties. With all these people and so many drivers, you would expect Missouri to have high auto insurance. Surprisingly, this is not the case.
The national average for auto insurance is about $1,439 annually. That price is very consistent with the cost of insurance in the Kansas City metropolitan area. However, the average annual price throughout the rest of the state is about $1,100.
Average Rates in Top Three Missouri Counties
Below are some insurance rates, for full coverage and Missouri's minimum liability, for a 24-year old, married female with a good driving record. Take note how the premiums change in different counties despite being for the same person.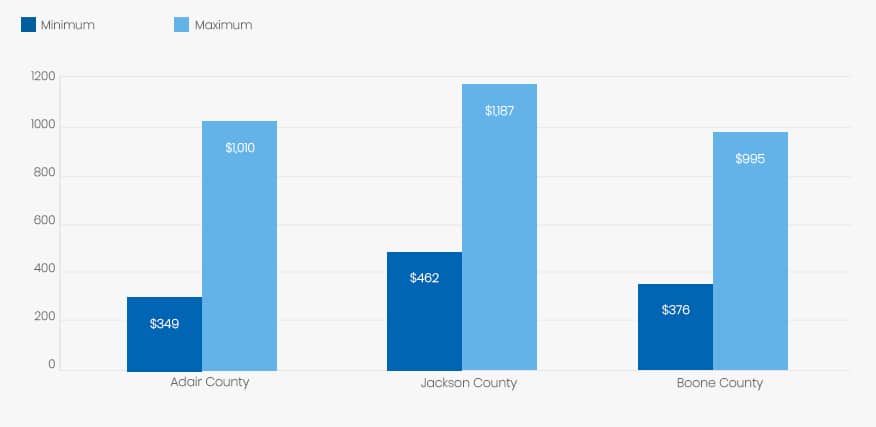 | | | |
| --- | --- | --- |
| County | Minimum Coverage | Full Coverage |
| Adair County | $349 for state minimum liability | $1,010 for full coverage |
| Jackson County | $462 for state minimum liability | $1,187 for full coverage |
| Boone County | $376 for state minimum liability | $995 for full coverage |
Conclusion
While Missouri may not have the lowest auto insurance rates, the rates are more affordable than in many of the other states. This savings can give you extra cash or the opportunity to increase your coverage without spending a fortune. Increasing coverage, in many cases, provides drivers with the security of knowing they're protected if they are sued or found at fault in an accident. When shopping for Kansas City, Missouri car insurance, shop around until you're sure you've found the very best deal.