Although Nevada is most known for its bright lights, fantastic shows and exciting casinos, it's also known for heavy flow of traffic that never seems to end particularly in Las Vegas. With all the traffic, auto insurance is a necessity, which makes it good that it's also a law. Get some valuable information on Nevada auto insurance requirements. You'll also get some great tips on how you can save on your auto insurance.
Auto Insurance in Nevada
There are various types of automobile insurance coverage available at the many insurance companies located throughout Nevada. Some types of insurance are mandatory while others are optional. Below are the different types of insurance you can purchase.
If you have all the above coverage types, you would have what is referred to as full coverage. In fact, almost anytime you add comprehensive and collision to the state-required coverage, you have full coverage. Although collision and comprehensive coverage is not required by law, lenders will require you to carry that coverage if you have a loan on your vehicle. Collision and comprehensive coverage both require deductibles that you must pay before the insurance company pays on a claim.
Deductibles can be as high as $2,000 or as low as $250. The higher deductible you have, the lower your premiums will be. Keep in mind that you don't want a deductible that's so high you can't pay to have your car repaired.
Requirements for Nevada Drivers
As mentioned above, not all types of insurance are required in Nevada. Below are the coverages that are required to drive legally in Nevada.
You must provide proof of Nevada car insurance when you register your vehicle and when it is renewed. When you purchase your auto insurance, your agent should provide you with a Nevada Evidence of Insurance card. This card is to be with you at all times when you are driving your car. It must be provided to law enforcement or the DMV upon request.
Nevada uses an online verification system to verify that drivers have auto insurance. The system verifies that you have insurance when you register your vehicle as well as randomly throughout the year. If they determine that you don't have car insurance, they will send you a notification car. If you do not respond within 15 days, your registration may be suspended.
Minimum Auto Insurance Requirements in Nevada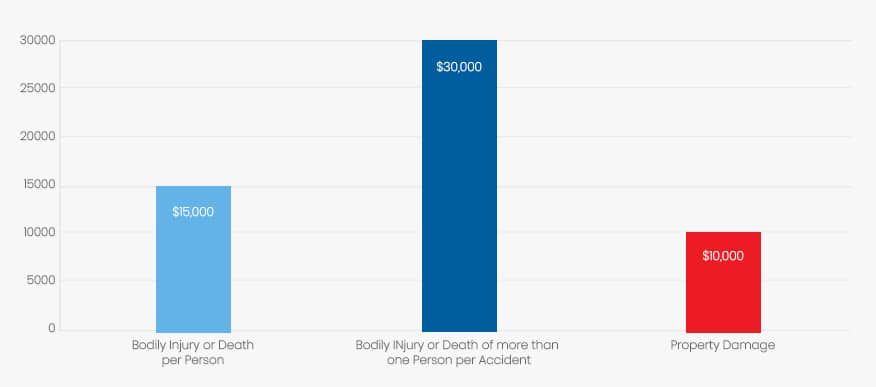 | | |
| --- | --- |
| Coverage | Minimum |
| Bodily injury or death per person | $15,000 |
| Bodily injury or death of more than one person per accident | $30,000 |
| Property Damage | $10,000 |
These will be listed as 15/30/10 or $15,000/$30,000/$10,000 on your policy or when your insurance agent is offering different coverage amounts. The 15/30/10 amounts are the minimum you must have. However, the required amounts will be increased to 25/50/20 effective on July 1, 2018. You always have the option of purchasing higher amounts. If you are sued for an accident you caused and the settlement is higher than your liability limits, you would personally be held liable for the difference.
Are Any Auto Insurance Laws Specific to the state of Nevada?
Nevada law has specific penalties for drivers caught driving without Nevada car insurance. These may include the following.
The amount of the fees and fines depend on how long you were driving without insurance or how many times you've been cited for driving without insurance. If you are driving uninsured and cause an accident with more than $750 in damages, you can have an automatic license revocation or suspension.
Drivers who are unable to obtain car insurance due to poor driving habits, too many citations or insurance claims can purchase insurance through the Nevada Automobile Insurance Plan. Insured purchased this way is more expensive but the insured is typically guaranteed insurance for a couple of years.
Ways to Lower Your Auto Insurance in Nevada
With insurance rates constantly going up in price each year, drivers are always looking for ways to get lower premiums. Being aware of what factors determine your rates may be able to help you save on your insurance. Although insurance companies tend to use their own criteria to determine rates, many of the following factors can play a role in what your rates will be.
Discounts offered by insurance companies can make a big difference in your offered price and what you actually have to pay. Insurance companies don't always offer the same type of discounts or may not offer the same percentage off for each discount. When you're in the market or car insurance, it's so important to check with agencies and compare prices. Don't hesitate to bring up discounts that one company may offer to see if the other company will match it.
Therefore, it's very important to ask the insurance company what types of discounts they offer, what percentage they offer and which discounts apply to you. Below are some examples of discounts insurance companies may offer.
Are Requirements Different for Part-Time or Full-Time Nevada Residents?
Full-time and part-time residents of Nevada have the same requirements regarding the type and amounts of insurance they must have on their vehicles. If you're moving into Nevada, you have 30 days to register your car. At this time, you will be required to provide proof of Nevada insurance. Your policy must be written by a Nevada insurance company. It cannot be out-of-state insurance.
Nevada Rates Compared to National Average
Overall, insurance rates in Nevada are very close to the national average. The average annual rates nationwide are about $1,669, which is slightly lower than $1,753, which is the average rate in Nevada. However, different locations in Nevada can really bring about differences. Las Vegas insurance rates are about $2,400, which is substantially higher than in other areas of the state. Reasons for this are that the majority of the state's population live in Las Vegas and it has a huge number of accidents as well as a high rate of crime.
Average Rates in Top Three Nevada Counties
Cities like Las Vegas, where there is a steady stream of heavy traffic almost 24/7 tend to result in higher auto insurance premiums. Despite all the factors mentioned above that determine rates, sometimes the location can be the biggest factor. This can be found in the example below. The rates are for a married woman who is 45 years old and has a good driving record. You'll notice how much the rates vary from county to county. You can check out the best Las Vegas insurance rates here.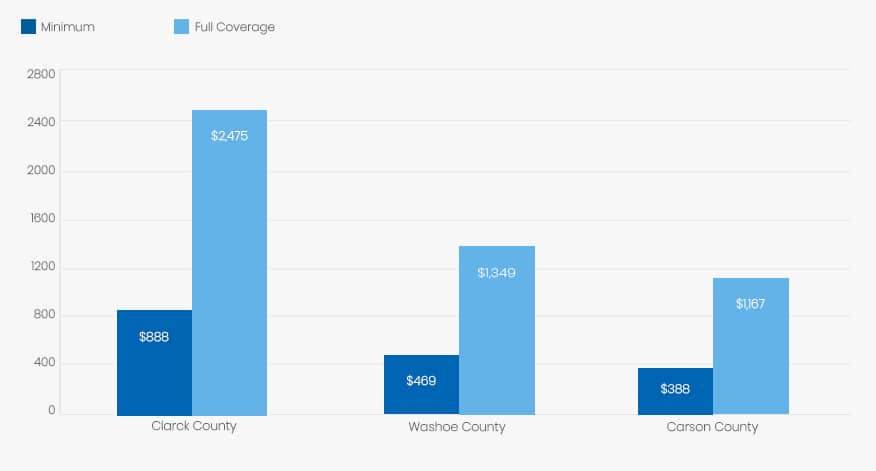 | | | |
| --- | --- | --- |
| County | Minimum Coverage | Full Coverage |
| Clark County | $888 for state minimum | $2,475 for full coverage |
| Washoe County | $469 for state minimum | $1,349 for full coverage |
| Carson County | $388 for state minimum | $1,167 for full coverage |
Conclusion
Purchasing auto insurance in Nevada is something you have to do if you plan to live and drive on any of the many public roads. With the information, you now have at hand, it doesn't have to be a daunting task. With a few phones or visits to insurance companies, you can be well on your way to having car insurance and not paying a fortune for it. Utilize your good driving and living habits to your advantage and get all the discounts you can!
Sources: