South Carolina is a state on the southeastern part of the Unites States. With the state having 11 interstates, state highways and numbered highways, the state sees many tourists and travelers passing through, making it vital to have good car insurance. It's not only a good idea, but car insurance is required in South Carolina. Learn all about what you need to drive legally in this state as well as how to save money on your car insurance
Summary of Auto Insurance in South Carolina
States are usually no-fault or at-fault states, and South Carolina is an at-fault or tort liability state. What this means is that that if you're involved in a car accident and you were not at fault, you can sue the at-fault driver. South Carolina also uses the "comparative negligence" system, which means that the other driver will not be able to collect any percentage of a compensation if he or she contributed to the accident in any way.
South Carolina auto insurance companies offer a variety of coverage types. Some are state-mandated and other are optional. When customers choose the required liability and purchase collision and comprehensive, they are said to have full coverage. Below are the coverage options you have in South Carolina.
Collision and comprehensive insurance requires a deductible (out-of-pocket) that you must pay when you submit a claim with your insurance company. If your deductible, which can be $250-$2,000 or more, is $500 and your damages are $5,000, the insurance company pays $4,500, and you pay $500.
In addition to having auto insurance in South Carolina, drivers are also required to shop proof of auto insurance in the following situations.
Failure to have car insurance or show proof of insurance can result in the following penalties.
Requirements for Drivers in South Carolina?
Although South Carolina auto insurance companies offer various types of insurance coverage, they're not all required by law. The only ones that the state requires are:
Drivers are not required to carry collision or comprehensive insurance but have the option to purchase this coverage. If your vehicle is new, you may want this coverage so you know you have the funds to repair or replace the vehicle if it's damaged in a car accident. Let's face it, accidents do happen sometimes regardless of how safe we try to be.
Minimum Auto Insurance Requirements in South Carolina
Drivers in South Carolina are not only required to carry the above types of coverage but are also required to care certain limits, which include the following.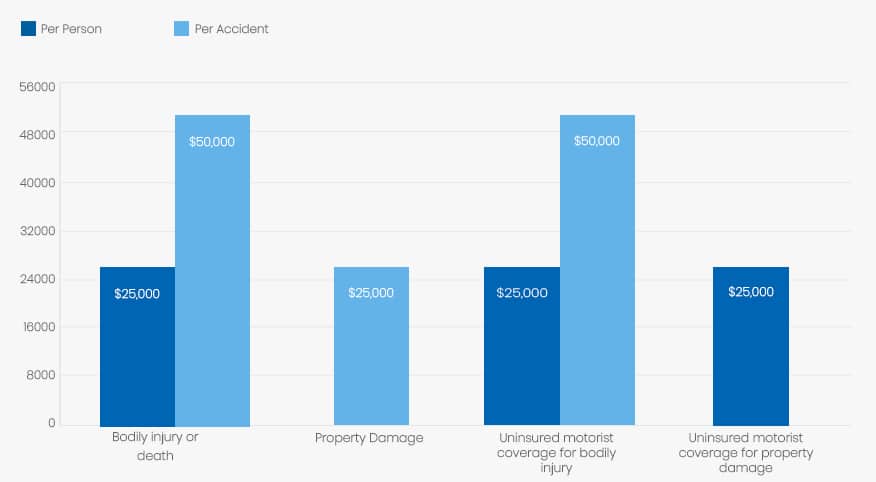 | | |
| --- | --- |
| Coverage | Minimum |
| Bodily injury or death | $25,000 per person |
| Bodily injury or death | $50,000 per accident |
| Property Damage | $25,000 |
| Uninsured motorist coverage for bodily injury | $25,000 one person |
| Uninsured motorist coverage for bodily injury | $50,000 per accident |
| Uninsured motorist coverage for property damage | $25, 000 |
There is usually a $200 deductible on uninsured motorist claims. Keep in mind that the above amounts are the bare minimums you must have to meet the state's legal requirements. They are not the amounts you have to purchase. Insurance companies recommend having higher limits of liability. Many driver mistakenly believe that if they have liability insurance, they're automatically protected against any accident-related lawsuit.
Your monetary protection is limited to the amount of your coverage. If you have the state's requirement of $25,000 bodily injury and you cause an accident where another person sues you for $100,000 and wins, you would be personally responsible for the remaining $75,000. We may think we pay a lot of money for car insurance, but when you consider what it offers, the cost is minimal.
Are Any Auto Insurance Laws Specific to the state of South Carolina?
Drivers in South Carolina can choose not to purchase car insurance, but they must submit an Application for Uninsured Motorist Registration (FR-510) and pay a yearly fee of $550. Drivers who choose this option are not required to carry auto insurance in South Carolina, but they are not protected from damages or a lawsuit if they're involved in at-fault accident.
Drivers who wish to submit the form and drive uninsured must first meet the following conditions.
Violations that can restrict a driver from driving uninsured include:
Many insurance companies may deny drivers insurance coverage if they have violations on their driving record or have submitted multiple claims. These drivers have the option of purchasing insurance through the Associate Auto Insurers Plan of South Carolina.
Ways to Lower Your Auto Insurance in South Carolina
South Carolina auto insurance companies use the following criteria to help determine what your premiums will be.
The good news is that most insurance companies offer discounts to help you save money on your premiums and to get your business. Although these may vary by company, here are some discounts commonly offered.
Are Requirements Different for Part-Time or Full-Time South Carolina Residents?
Both full-time and part-time residents of South Carolina are required to carry the state-required car insurance as long as they meet the criteria of residency. Once you've been living in South Carolina for 90 days, you must register your vehicle as a resident and show proof of insurance. Prior to that time, you are still a resident of your former state and must abide by that state's insurance laws.
Because auto insurance is linked to vehicle registration, it's required for full-time residents because they are the only drivers who must register their vehicles with the South Carolina Division of Motor Vehicles.
South Carolina Rates Compared to National Average
Auto insurance rates in South Carolina have a tendency to fluctuate depending on what part of the state you happen to live. Overall, auto insurance rates in South Carolina are lower than the national average. The average annual rates in South Carolina are about $1,250 while the national average is about $1,500 to $1,600. Typically, the rates are higher in the southern part of the state.
Average Rates in Top Three South Carolina Counties
To give an example of how the rates can fluctuate in different counties, I've compiled the rates from three of the state's largest counties for a married woman who is 45 years old and a good driver.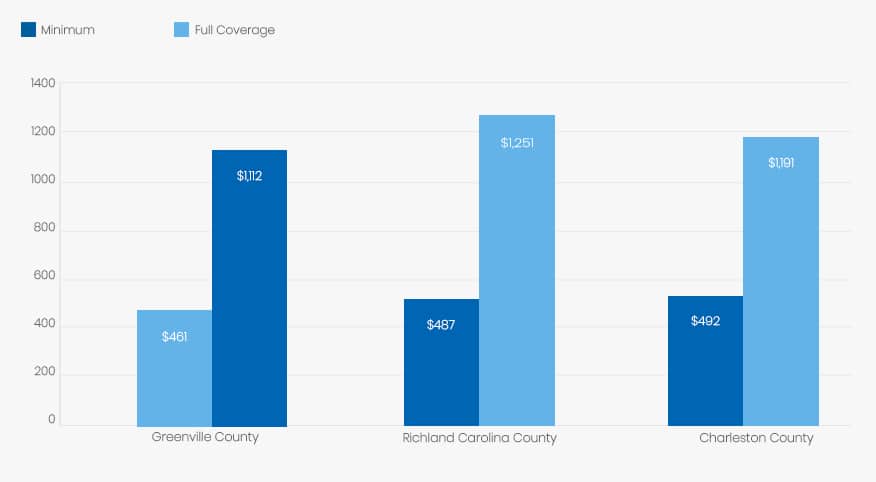 | | | |
| --- | --- | --- |
| County | Minimum Coverage | Full Coverage |
| Greenville County | $461 for state minimum requirement | $1,112 for full coverage |
| Richland Carolina County | $487 for state minimum requirement | $1,251 for full coverage |
| Charleston County | $492 for state minimum requirement | $1,191 for full coverage |
Conclusion
Purchasing an automobile policy in South Carolina may seem like a daunting and stressful task when you consider all the companies around and the various types of coverage they offer. Knowing what's required and what's optional can make it easier to get started. The best thing you can do is check out several of the top agencies in your area and compare prices, discounts and coverage amounts. This is almost a guarantee that you'll get the very lowest prices possible.
Sources: