The best and worst thing about the car insurance marketplace is how large it is. Drivers in need of coverage have lots of options in terms of policies, rates, discounts, and service offerings. But in order to find the ideal option they must wade through a lot of details. This guide shows you how to buy car insurance more easily and more reliably.
What Type of Car Insurance Do I Need?
At the very minimum all drivers must have liability insurance in order to drive legally. Drivers who do not have the required minimum amounts of coverage are in breach of the law and could be subjected to significant fines, penalties, or loss of license if caught. The only states where liability coverage is not required are New Hampshire and Virginia, but they both require a similar alternative. Every state sets its own minimum limits for liability coverage, but drivers are entitled and encouraged to carry coverage above those limits. The remainder of this guide will help you determine how to supplement your required liability coverage.
Steps to Getting Car Insurance
The right type of auto insurance coverage is different for every driver. For some it is advantageous to carry less coverage, while others will want to be covered against every contingency. Follow these steps to calculate how much coverage you need and to calibrate the right kind of policy:
Do I Need to Work With an Agent?
Traditionally, drivers have found auto insurance by working with an insurance agent who works for either one company or multiple companies. These agents provided a level of experience and expertise that in theory helped drivers find better policies at better rates. However, agents do not always have the driver's best interests at heart. Plus, the services provided by an agent are now available online more quickly and easily.
Sites like this one connect drivers with authoritative information, real insurance quotes, and actual insurance companies. Everything drivers need to research policies, compare rates, and identify ideal options is available from anywhere at anytime. As a result, it's much simpler to find competitive policies and commit to a final option with complete confidence.
How Much Coverage Do I Need to Be Protected?
The answer to that question is different for every driver. And as reassuring as protection can be, it's not worth throwing your finances into turmoil just to be covered against every contingency. Even though you are only required to have your state-mandated minimum limits for liability, most experts recommend that all drivers have the following coverage types and limits: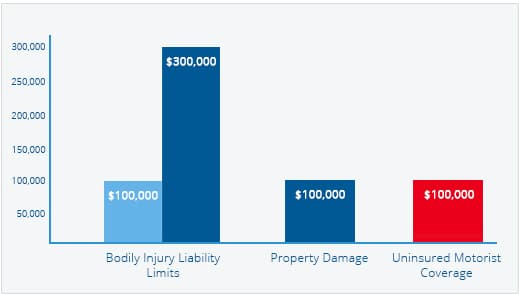 | | |
| --- | --- |
| Coverage | Minimum |
| Bodily Injury Liability Limits | $100,000 per person |
| Bodily Injury Liability Limits | $300,000 per accident |
| Property Damage Liability Limits | $100,000 |
| Uninsured Motorist Coverage | $100,000 |
| Collision/Comprehensive Coverage | Equal to the value of your vehicle |
Tips for Buying Car Insurance
The road is a dangerous place. Close to 40,000 people die every year in accidents nationwide, and this does not account for non-fatal accidents or collisions that only involve property damage. Having a dependable auto insurance policy is one of the most important protections for both yourself and your family. Use these tips to find a better policy at a better price:
Survey Your Options Annually
Your current insurer may be able to provide you with the best rate/policy available, especially if you have been with the same company for a long time. But you will not know if this is true until you do a survey of rates from competing providers. Switching could lead to substantial monthly savings, which only multiply into substantial yearly savings. Make it an annual policy to do some comparison shopping.
Research Consumer Satisfaction
A company may offer you low monthly premiums in exchange for policies that pay for less and charge you a lot more. Quality customer service is incredibly important for an insurance company, because they step in when the unwanted and unexpected creates significant setbacks in your life. Research consumer ratings, reviews, and complaints before committing to any company.
Understand the Value of Discounts
The correlation between discounts and the amount you actually save on your monthly rates can be confusing. For instance, you may be offered a high-percentage discount on a portion of you policy that is not particularly expensive in the first place. The discount seems generous at face value but only translates to a few dollars savings each month. Paying for discounts by signing up for something like AAA can create the same problem. The monthly savings fall short of the added monthly costs. It is up to the policy holder to evaluate how much real-world value a particular discount offer provides.
Balance Premiums and Deductibles
Your premium is the amount you pay each month or year for insurance coverage. Your deductible is the amount you pay out of pocket before insurance coverage kicks in. Many insurance companies offer lower premiums in exchange for higher deductibles, and vice versa. Consider your finances, your driving habits, and your past driving record to find the right balance between premium and deductibles.
Make Smart Choices About Coverage
If you already belong to a motor club or have great health insurance, you may not need roadside assistance coverage or personal injury protection. Conversely, going with only the state-mandated minimum for liability coverage could force you to pay a lot out of pocket following a collision. Think about the real consequences of an accident and the types/limits of coverage that actually protect you properly.
Access Every Discount
Your monthly premium for auto insurance is based largely on the amount of risk you pose as a driver. As a result, insurers offer a number of different discounts for things like a good driving record, completing driver-training courses, driving a vehicle with certain safety features, or belonging to certain professional organizations. The types/rates of discounts vary by company, so be sure to compare how much you actually save with one company over another.
Consider Multiple Policies
Many auto insurers also offer homeowner's insurance, renter's insurance, life-insurance policies and more. If you sign up for multiple policies the cost of auto insurance often drops dramatically. Plus, by working with one company you may receive more seamless service. Beware, however, that a great auto insurance company may not excel in other types of insurance. Committing to multiple policies creates risks and rewards.
Account for Your Children
Auto insurers will ask if you have any driving age children, and if you do they could hike up your premiums significantly due to the risk of their inexperience. Signing them up for a safe-driving course is one way to lower rates, and emphasizing the importance of safe driving is a step towards preventing more accidents. Also inform the insurance company if the child is over 16 but has no license or is living outside the home at a college more than 100 miles away.
Manage Your Credit Score
Most insurance companies check your credit score when giving you a quote, and the lower it is the higher your rates will be. Make an effort to keep your credit in good standing, and ask your insurer for an exception if your score has been negatively affected by something like a divorce or military deployment.
Report Mileage Reductions
The amount you pay is calibrated based on the number of miles you drive daily, weekly, monthly etc. If those mileage totals go down because of a new job or a new residence, report it to your insurance company immediately.
Compare Makes and Models
The price, safety features, and durability of your make and model all affect how much you pay monthly. If you are in the process of buying a new or used vehicle, account for how much it will raise or lower your insurance premiums.