Nicknamed "Big Sky Country", Montana is a state that also includes a lot of country land. Of the 56 counties in Montana, 46 of them are referred to as "frontier counties" because they have six or less people per square mile. Despite this surprising fact, Montana still has many drivers, and they still need auto insurance. Whether you're new to Montana or just unsure of the state's insurance laws, you'll get all the information you need right here.
Summary of Auto Insurance in Montana
Like most of the other states, Montana has many insurance companies all vying for your business. They all sell similar policies, but it's important to know what type of insurance is required in Montana what coverage is optional. Below is an overview of all the types of coverage. If a driver has all the coverages listed below, he or she is said to have full coverage insurance.
Drivers who have full coverage will also have a deductible that must be paid before the insurance company pays any money on comprehensive or collision claims. Deductibles are typically anywhere from $250 to $2,000. The lower deductible you have, the higher your premiums will be.
Requirements for Montana Drivers
Although Montana auto insurance companies have many types of coverages available to you, not all of them are required by law. The following types are required.
It also requires that proof of insurance be with the driver in the vehicle at all times and that all drivers in the household be covered under the liability insurance. As an alternative to carrying liability insurance, the driver can instead provide a cash bond of at least $50,000 or have a vehicle liability bond on file with the Alabama Department of Motor Vehicles.
Drives are required to show proof of insurance if they are stopped by law enforcement, involved in an accident or at the time of registration. Drivers caught driving without auto insurance can face the following penalties:
Montana auto insurance companies are required to add uninsured/underinsured motorist coverage to your liability package, but you can have this requirement waived if you request it in writing.
Minimum Auto Insurance Requirements in Montana
In addition to having to purchase certain types of coverage, Montana drivers must also carry the minimum amounts of coverage.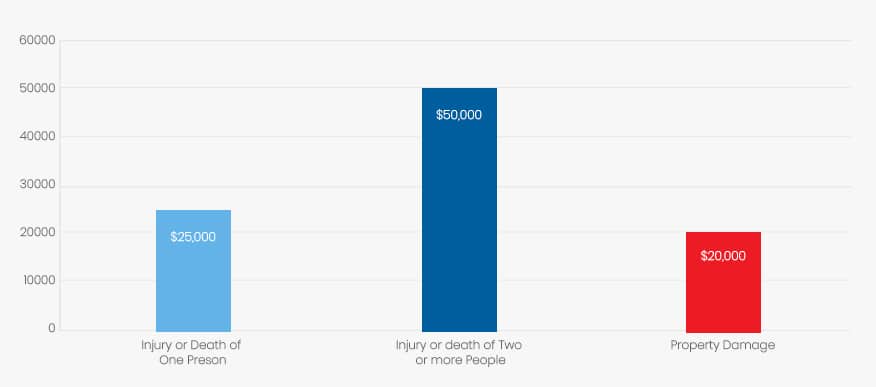 | | |
| --- | --- |
| Coverage | Minimum |
| Injury or death of one person | $25,000 |
| Injury or death of two or more people | $50,000 |
| Property Damage | $20,000 |
On your policy, these will be listed as 25/50/20. Keep in mind that you must have at least this amount of insurance. You always have the option of purchasing more. Many accident-related lawsuits result in six-figure settlements. Drivers who are sued and don't have sufficient coverage for the settlement amount are personally liable for the remaining amount due.
Montana drivers must show proof of auto insurance or proof of financial responsibility. If they do not have auto insurance, they can provide proof of responsibility by purchasing a surety bond or self-insurance. It's important to realize that surety bonds and self-insurance may satisfy the requirement for proof of financial responsibility, but you can still be held liable if you're involved in an accident.
Are Any Auto Insurance Laws Specific to the state of Montana?
By state law, Montana uses an online motor vehicle liability insurance verification system to monitor vehicles and ensure they have insurance. The Montana Insurance Verification System (MTIVS) receives information from Montana's vehicle registration records and from insurance companies, who submit insurance information when they sell policies to Montana drivers.
If you're involved in an accident or are pulled over by law enforcement, they can immediately determine if you have insurance through the MTIVS. Failure to have insurance in Montana can result in the following penalties for drivers.
The Montana Automobile Insurance Plan, which is part of the Western Association of Automobile Insurance Plans, is an organization that can offer auto insurance plans to high-risk drivers having a difficult time buying insurance from insurance companies.
Ways to Lower Your Auto Insurance in Montana
Before you can try to lower your insurance premiums, it's important to understand what things come into play to determine your rates.
Many things determine what you pay in premiums, and many things can be done to lower your premiums. When shopping for auto insurance, always shop around at different companies, and don't be afraid to ask about discounts they may offer. Discounts vary from one company to another, but below are some discounts offered by many Montana car insurance companies.
If you're in a situation where you believe you should be getting discounts, e.g. just got married or just turned 25, don't hesitate to mention it to your insurance agents. Discounts on their own may not seem like much but they can add up to quite a lot in annual savings. If you pay $1,000 annually in auto insurance and are eligible for three discounts each offering 5 percent, you can save $150.
If your company offers discounts for good credit, and you fall in that category, don't be afraid to ask your agent. Shopping around and comparing discounts and prices can help you get the best possible deal. You may be required to carry car insurance, but that doesn't mean you should have to pay high premiums, particularly in a state with relatively low premiums.
Are Requirements Different for Part-Time or Full-Time Montana Residents
Registration requirements are slightly different for full-time and part-time (temporary residents), but insurance requirements are not. If you're living in another state but working in Montana, your car will be registered in the state where you live. However, Montana requires that anyone working in Montana must also have the vehicle registered in Montana.
When the temporary resident registers the car in Montana, the driver will display the license plate alongside of the plate for his or her home state plate. Proof of auto insurance is required to register all vehicles. The auto insurance, however, was already purchased in the individual's home state at the time it was registered.
Montana Rates Compared to National Average
Montana car insurance rates are somewhat on the high side when compared to many of the other states. The average annual premiums in Montana are about 1,131, which is lower than the national average of $1,660. When you consider that Montana does not charge a sales tax, a Montana resident can save thousands of dollars when purchasing a car, making it quite affordable to own and operate a car in this state despite insurance costs.
Average Rates in Top Three Montana Counties
Just to compare rates in different counties in Montana, I researched quotes based on me being a 45-year old woman with a good driving history. Below are my rates for three of the top counties in Montana. I've listed the premiums for the state's minimum liability requirements and also the rates for full coverage.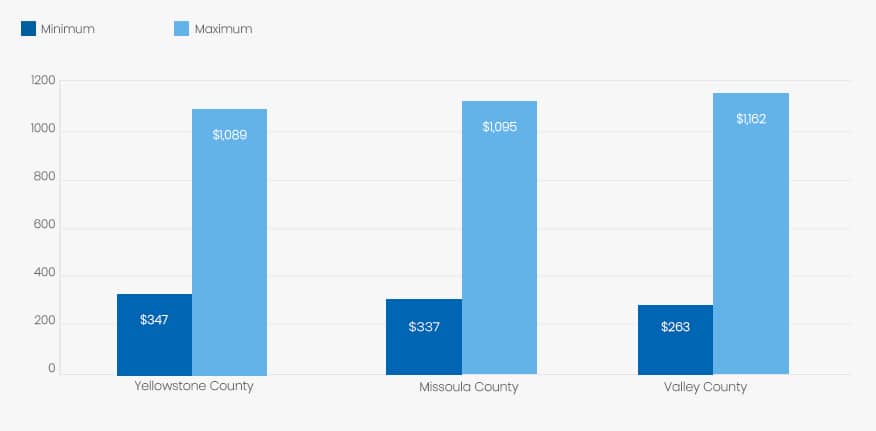 | | | |
| --- | --- | --- |
| County | Minimum Coverage | Full Coverage |
| Yellowstone County | $347 for state minimum liability | $1,089 for full coverage |
| Missoula County | $337 for state minimum liability | $1,095 for full coverage |
| Valley County | $263 for state minimum liability | $1,162 for full coverage |
While there were some slight variations, the rates for all three counties were quite similar despite the counties being located quite a distance from each other.
Conclusion
With accident-related lawsuits at an almost all-time high, it's important and smart to have as much liability protection as you can safely afford. As safe as we all try to be on the roads, accidents still happen occasionally. With the insurance rates somewhat high in Montana, it makes it even more important to try to save on insurance costs as much as you can. Driving safely, utilizing discounts and shopping wisely can make a big difference in the price you pay for your insurance as well.