Known as the "Peach State", Georgia is a state with much to offer residents and tourists besides just peaches. Whether you're vacationing on the beach or driving to one of the many attractions Georgia has to offer, you must have auto insurance on your vehicle. Learn about the Georgia laws regarding auto insurance and get some tips on how you can save money on your Georgia auto insurance rates.
Auto Insurance in Georgia
Various auto insurance companies can be found throughout the state of Georgia. While their names may be different, the coverage they offer is going to be similar. They all have a wide variety of coverage to cover your needs. Some types of coverages are optional while other are state-mandated. Below is a list of the different types of auto insurance coverages offered in Georgia.
What is Required for Drivers in Georgia?
Despite the various types of auto insurance offered in Georgia, drivers are only required to carry the following: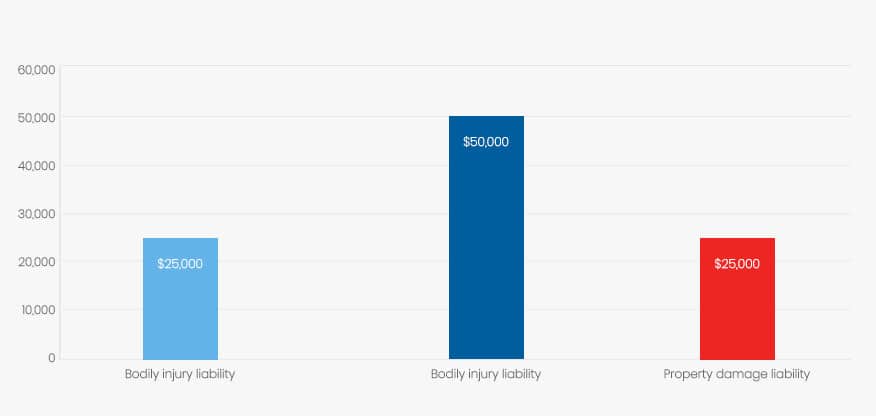 | | |
| --- | --- |
| Coverage | Minimum |
| Bodily injury liability | $25,000 per person for one accident |
| Bodily injury liability | $50,000 for more than one person in one accident |
| Property damage liability | $25,000 for one accident |
Although many auto insurance carriers recommend uninsured/underinsured motorists coverage, it's not required by the state. Lenders usually require comprehensive and collision if the insured has a loan and is using the vehicle as collateral
Failure to have at least the minimum requirements of auto insurance in Georgia will result in the following.
Minimum Auto Insurance Requirements in Georgia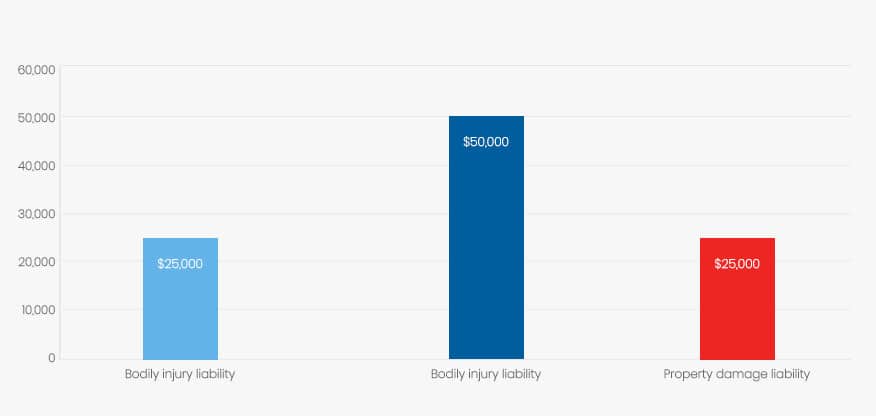 | | |
| --- | --- |
| Coverage | Minimum |
| Bodily injury liability | $25,000 per person for one accident |
| Bodily injury liability | $50,000 for more than one person in one accident |
| Property damage liability | $25,000 for one accident |
It's worth noting that individuals can always choose to increase the amounts of liability coverage so they're better protected in the case of an accident-related lawsuit. The amounts listed above are the minimum amounts you can have in Georgia.
Are Any Auto Insurance Laws Specific to the state of Georgia?
States are either "no-fault" or "at fault" states. In a no-fault state, when the insured is injured in an accident, his or her insurance company pays for the damages regardless of who was at fault. Georgia is an at-fault state that uses a system called modified comparative fault. What this means is that if you are involved in an accident caused by another, that individual will be the main source of compensation for your medical expenses, lost wages and other damages.
However, he or she will only have to pay the amount that's proportional to their fault. For instance, you have $10,000 in medical expenses and it was determined that you were 20 percent at fault in causing the accident; you would only be entitled to $8,000. If you were at least 50 percent at fault, you would not be eligible for any compensation.
Ways to Lower Your Insurance Rates in Georgia
Your Georgia car insurance rates are generally determined by these factors.
Most of the factors listed are not things easily changed. However, some of the things like deductibles and coverage are within your control. If you don't need full coverage or drive an older car, you may consider only carrying liability insurance. Increasing your deductible can lower your premiums as well.
Most if not all insurance companies offer discounts. Below is a list of the many discounts your Georgia insurance company may offer. Not all insurance companies offer the same discounts so it'll be beneficial to ask the agents and use them as bargaining tools to help get you the best possible auto insurance rates in Georgia.
Are Requirements Different for Full-Time or Part-Time Residents?
The auto insurance requirements are the same for part-time residents as they are for full-time residents. You can become a resident of Georgia when you register your car in Georgia, which must be done within 30 days. At the time of registration, you must provide proof of insurance. The laws remain the same regarding auto insurance. You must have auto insurance if you're driving on public roads regardless of where you reside.
Where Georgia Ranks in Price Compared to National Average
According to a 2012 study done by Quadrant Information Services, Georgia ranks as the 10th most expensive state for car insurance with average annual premiums at $1,694. Auto insurance rates in Georgia continue to increase almost every year. One thing contributing to this is that Georgia has been the 9th most expensive state for basic auto repair (parts and labor) for the past few years. Despite this, Georgia auto insurance rates are still lower than the national average. This is why it's so important to shop around for your car insurance.
Average Rates in Top Three Counties
There are more counties in Georgia than any other state other than Texas. With so many counties, it's not surprising to find auto insurance rates that fluctuate from county to county. Using a 45-year marred female with a good driving record as an example, below are the auto rates from three different Georgia counties. The rates listed are for both full coverage and the state's minimum requirements of liability.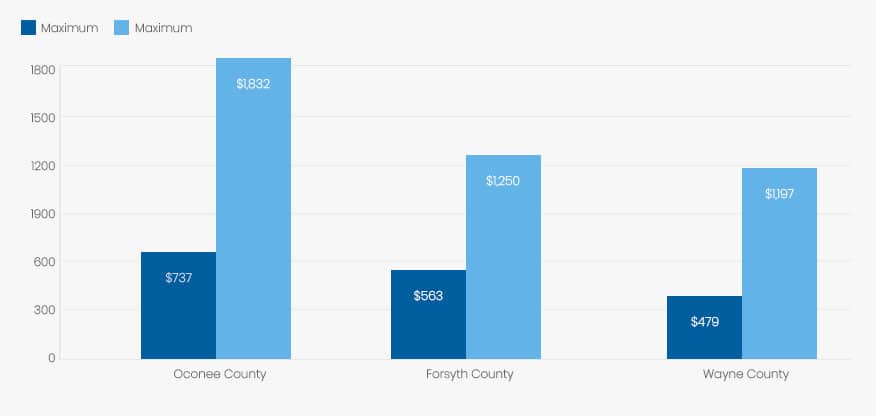 | | | |
| --- | --- | --- |
| County | Minimum Coverage | Full Coverage |
| Oconee County | $737 for liability | $1,832 for full coverage |
| Forsyth County | $563 for liability | $1,250 for full coverage |
| Wayne County | $479 for liability | $1,197 for full coverage |
Summary
In 2014, there were 29,989 fatal motor vehicle crashes in the United States. The Insurance Institute for Highway Safety reports that 1,080 of those crashes happened in Georgia, putting Georgia well above the national average at 11.5 deaths per 100,000 people. Putting the legal aspects to the side, this is reason alone to want the very best auto insurance you can get for you and your family. By using the tips above on how to save money on your premiums, they won't have to cost you a fortune!
If you are looking for specific car insurance information on a specific city in Georgia, see more information below: