Oklahoma, also known as the Sooner State, is a southern state well known for its fried okra, cornbread and black-eyed peas. Other things that make this state a joy to live in are the various attractions and well-maintained highways and interstates. Driving through Oklahoma can only be made better knowing everyone is required to have car insurance. Learn what the state requires as for as coverage and what you can do to get the most affordable rates.
Summary of Auto Insurance in Oklahoma
Oklahoma is an at-fault insurance state, which means that the party responsible for causing an accident will be liable for damages and expenses. They also have the option to sue the other driver is they so choose.
With the various auto insurance companies in Oklahoma, drivers have a wide selection from which to choose. Most of companies offer the same type of coverage, which is either just liability or full coverage. When a driver has all the coverage types listed below, they are said to have full coverage.
When you purchase collision and comprehensive insurance, you will also be required to choose a deductible, which is the amount you must pay before the insurance company pays for a claim. For instance, an accident claim requiring $5,000 in repairs on an insurance policy with a $1,000 deductible will result in you paying $1,000 and the insurance company paying $4,000.
Requirements for Oklahoma Drivers
All drivers in Oklahoma are required to carry insurance. Although they're not required to carry full coverage, they are required to carry the following types of insurance.
While you are not required to purchase uninsured or underinsured motorist coverage, insurance companies are required to offer you this coverage any time you purchase auto insurance from them.
Oklahoma drivers are also required to carry proof of insurance with them any time they're driving and be prepared to show proof when they're registering their vehicle or if they're pulled over by law enforcement. Proof of insurance must show the following information.
Drivers who don't wish to purchase auto insurance can demonstrate proof of financial responsibility by purchasing a certificate of self-insurance or a certificate of cash/bond for $75.
Minimum Auto Insurance Requirements in Oklahoma
Oklahoma requires that drivers carry the minimum amounts of liability insurance as listed below.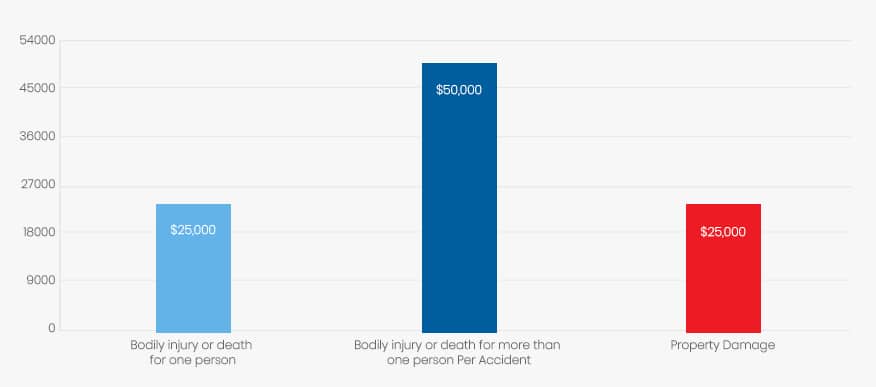 | | |
| --- | --- |
| Coverage | Minimum |
| Bodily injury or death for one person | $25,000 |
| Bodily injury or death for more than one person for one accident | $50,000 |
| Property Damage | $25,000 |
Your agent will list this coverage as 25/50/25. Keep in mind that these are the lowest amounts of liability. Drivers have the option of purchasing higher amounts. With so many accident-related lawsuits and the high amounts of lawsuit settlements, insurance companies recommend customers purchase higher amounts if possible.
Are Any Auto Insurance Laws Specific to the state of Oklahoma
The state of Oklahoma also uses electronic verification systems to randomly check if a driver's insurance is in force. Failure to carry the state's required amounts of insurance can result in the following penalties.
Drivers who are deemed high-risk drivers by their local insurance companies may be denied car insurance. These drivers can purchase auto insurance through the Oklahoma Automobile Insurance Plan, an organization designed to ensure all drivers have insurance coverage. Drivers forced to obtain car insurance through the plan can expect to pay higher premiums.
Ways to Lower Your Auto Insurance in Oklahoma
One of the best ways to lower your Oklahoma City auto insurance is by knowing what things contribute to the bottom dollar. Two single individuals the same age and gender who drive the same vehicle will have different rates because several other factors determine what you pay for car insurance
Finding the perfect insurance company for your Oklahoma auto insurance can be very confusing. Insurance companies typically offer customers many discounts as a way to entice them into purchasing their insurance. Don't hesitate to ask the agent what type of discounts they offer and which ones are applicable to you. Additionally, ask what percentage off each discount offers. Below are some discounts you may be offered on your auto insurance.
Two other ways you can lower your premiums are lowering your liability coverage and increasing your deductible. The higher your deductible, the lower your premium. Keep in mind that your liability coverage may be lowered only if it's still meets the state's requirements.
We hear about vehicles being stolen every day, yet we seldom think of the impact that can have on our car insurance premiums. Unfortunately, cars that are more prone to theft often come with higher insurance premiums. Below is a list of the ten most stolen vehicles in Oklahoma in 2016 according to the National Insurance Crime Bureau.
Are Requirements Different for Part-Time or Full-Time Oklahoma Residents?
Oklahoma's auto insurance requirements are tied in with their registration laws. If you're moving to Oklahoma, you must register your vehicle within 30 days. At the time of registration, you will be required to show proof of financial responsibility or car insurance. Therefore, all residents of Oklahoma must carry car insurance whether full-time or part-time residents. Military personnel who live in another state but are stationed in Oklahoma can use the insurance from their home state.
Oklahoma Rates Compared to National Average
Insurance rates are relatively low in Oklahoma particularly when you consider the rates for other states and the national average. The national average for annual insurance premiums is around $900 while Oklahoma's average insurance premiums are $806 making it a very affordable state in which to drive. Rates in larger cities are typically higher.
Average Rates in Top Three Oklahoma Counties
Oklahoma consists of 77 counties, and it's safe to say you'll find different auto insurance rates in every county. To demonstrate this, I have researched the auto rates for a 45-year married woman living in Oklahoma and possessing a good driving record. The rates are for the state's required amounts of liability as well as full coverage.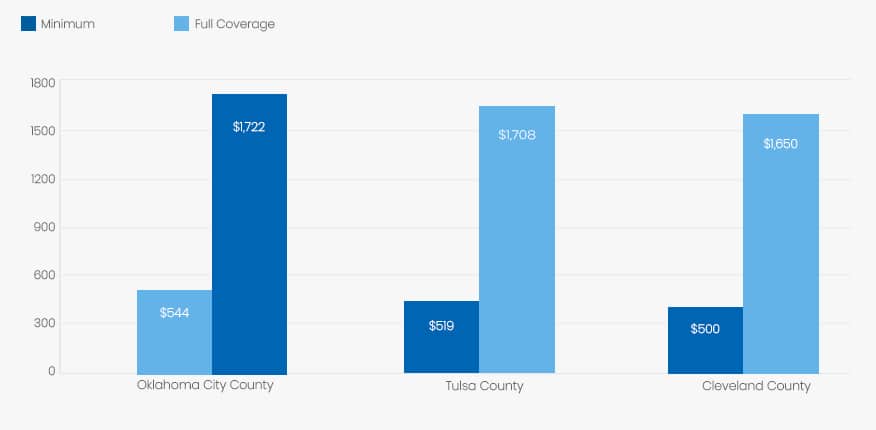 | | | |
| --- | --- | --- |
| City | Minimum Coverage | Full Coverage |
| Oklahoma City County | $544 | $1,722 for full coverage |
| Tulsa County | $519 | $1,708 for full coverage |
| Cleveland County | $500 | $1,650 for full coverage |
Conclusion
In some ways, car insurance may very well be one of the most important bills you have. If your vehicle is damaged in a car accident, and it can happen to anyone, your insurance will pay you to repair or replace it. If you're unfortunate enough to be the victim of an accident-related lawsuit, your car insurance can be the difference between you having sufficient insurance to protect you or losing everything you own. Shopping for insurance can be an adventure particularly if you comparison shop and make use of every discount available to you. It's also the ideal way to get the best possible premiums.