North Carolina is southeastern state known for many interesting things, such as biscuits with every meal, chowchow, cheerwine and bojangles. The state is also known for its many unique and sometimes strict auto insurance laws. Below is an overview of the laws regarding auto insurance in North Carolina as well as tips on how to get the best price on auto insurance in North Carolina.
Summary of Auto Insurance in North Carolina
States are usually at-fault or no-fault insurance states, and North Carolina is an at-fault insurance state, which means that victims of car accidents must be fault-free in order to receive settlements from the insurance company. Drivers choose from several types of auto insurance coverage in North Carolina. Below are the basic types of coverage drivers are typically offered as full coverage.
There are some additional types of coverages drivers may be offered.
Collision and comprehensive both come with deductibles, which is the amount you must pay before the insurance company pays anything. For instance, if you have a $500 deductible and your damages come to $$3,000, you must pay $500, and the insurance company will pay $2,500.
Requirements for North Carolina Drivers
Drivers in North Carolina are not required to carry full coverage insurance on their vehicles. The exception to this is if the vehicle is used as collateral on an automobile loan. In this situation, the lender will require that full coverage be carried on the vehicle until the loan is paid in full. When there is not a loan involved, drivers are required to carry the following types of insurance.
Drivers must have proof of insurance with them in the vehicle at all times and must be able to present it if stopped by law enforcement. Acceptable methods of proof include:
When you register your vehicle, you must provide proof of insurance. If you let your insurance lapse or cancel coverage, your insurance company is required to contact the North Carolina Division of Motor Vehicles, who will then notify you. Failure to keep insurance on your vehicle can result in penalties like fines and license suspension.
Minimum Auto Insurance Requirements in North Carolina
As a licensed driver in North Carolina, you are not only required to carry certain types of auto insurance, but you must also carry a minimum amount of liability insurance.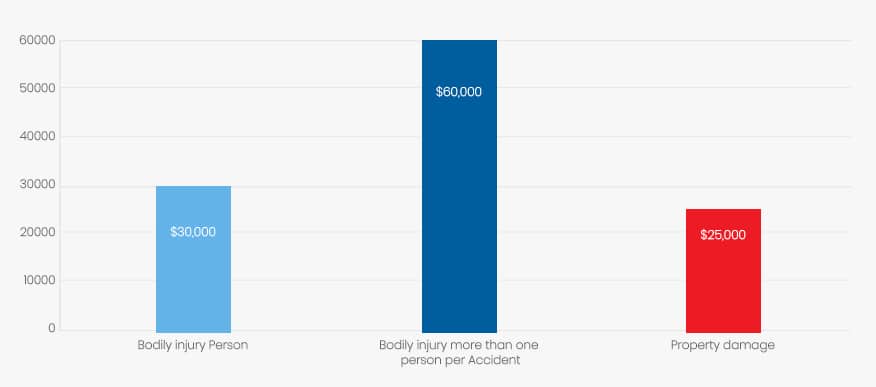 | | |
| --- | --- |
| Coverage | Minimum |
| Bodily injury | $30,000 per person |
| Bodily injury | $60,000 for more than one person per accident |
| Property Damage | $25,000 per accident |
| Uninsured/underinsured motorist coverage | |
When speaking with an insurance agent regarding your coverage amounts, you may see it listed as 30/30/25.
Are Any Auto Insurance Laws Specific to the state of North Carolina?
As an at-fault insurance state, North Carolina has very specific requirements regarding payment by insurance companies for accidents. North Carolina, along with only a couple other states, goes by the "pure contributory negligence laws". What this law means is that before you can receive compensation from an auto accident, it must be determined that you were 100 percent free of fault. If you were even ten percent at fault, you will not receive compensation.
North Carolina drivers who have made multiple insurance claims or have bad driving records are considered as risky drivers and may be denied coverage through auto insurance companies in North Carolina. When drivers are refused coverage through regular channels, they may be able to purchase insurance through the North Carolina Reinsurance Facility (NCRF).
The insurance companies are part of this organization, but they don't have to shoulder all the risk of insuring at-risk drivers because the NCRF absorbs some of the risk as well. Drivers who are forced to obtain their insurance through the NCRF will pay higher premiums. However, the drivers are only able to get the following maximum amounts of insurance through the NCRF.
| | |
| --- | --- |
| Coverage | Minimum |
| Bodily injury | $30,000 per person and per accident |
| Bodily injury | $60.000 Maximum Per Accident |
| Property Damage | $25,000 per accident |
| Medical Payments | $2,000 |
| Uninsured Drivers | $1,000,000 |
Drivers who fall under this category may have a difficult time obtaining comprehensive, collision or any additional coverage beyond the liability coverage. The drivers may also be required to sign a "consent to rate" form, which signifies that they agree to pay the higher rates because the rates may be higher than what they are filed at with the North Carolina Department of Insurance.
North Carolina has implemented a law called the North Carolina Safe Driver Incentive Plan (SDIP), which is a point system designed to entice drivers to drive safely and receive the lowest possible premiums. The SDIP gives points to drivers when they get convictions or are in at-fault accidents during a three-year period.
Different points are given for different offenses, and each will increase the insurance a certain percentage. For instance, a speeding ticket for going 10 mph or less over the speed limit will give you one point and a 30 percent rate increase. A reckless driving charge, on the other hand, will give you four points and an 80 percent rate increase.
Ways to Lower Your Auto Insurance in North Carolina
It's important to understand what factors determine your auto insurance premiums before you begin shopping for insurance. Here are some factors that affect your North Carolina car insurance rates.
Each insurance company uses their own criteria when determining insurance rates for you. Many insurance companies also offer discounts to help lower your premiums. These discounts can make a huge difference in the amount you'll end up paying and are often deciding factors when choosing an insurance company. Although this may vary by insurance company, the following discounts may be offered.
Are Requirements Different for Part-Time or Full-Time North Carolina Residents?
The insurance requirements are the same for full- and part-time (or temporary) residents. Insurance is required for both types of drivers. Once you're living in North Carolina for 60 days, you must register your vehicle and obtain a North Carolina driver's license. At this time, you must provide proof of insurance. Prior to moving to North Carolina, you must have the insurance from the state in which you live.
North Carolina Rates Compared to National Average
North Carolina car insurance rates are some of the lowest in the nation. The average insurance rates in North Carolina are about $900 as compared to the national average of $1,100. There are a few reasons for this. North Carolina consists of mostly rural areas, which means not only less crime but also fewer accidents and a cheaper cost of living. These are all factors that typically drive up the cost of auto insurance.
Average Rates in Top Three North Carolina Counties
To demonstrate how insurance rates can fluctuate based on where you live, I've listed some insurance rates from three top counties in North Carolina. These rates are based on 45-year-old woman who is married and has a good driving record.
| | | |
| --- | --- | --- |
| County | Minimum Coverage | Full Coverage |
| Mecklenburg County | $408 for State Minimum Liability | $993 for full Coverage |
| Wake County | $338 for state minimum liability | $848 for full coverage |
| Guilford County | $311 for state minimum liability | $871 for full coverage |
Conclusion
You may be required to purchase insurance, but it doesn't have to be a huge expenditure. You not only have the advantage of living in a state known for its low auto insurance premiums, but you also have the option of shopping around for the best possible rates. Additionally, driving safe and following the law is always your best option for good insurance premiums.
Sources: