Known as the Cornhusker State, Nebraska is the state where Arbor Day was created and Kool-Aid and the Reuben sandwich was invented. It's also a state with more than 1.3 million drivers all of which must have car insurance to legally drive. It's important to have all the facts on Nebraska car insurance and to know how to find the best rates. This overview of Nebraska car insurance is designed to help you in both areas.
Summary of Auto Insurance in Nebraska
Although there are many insurance companies in Nebraska, you'll find that most of them offer the same types of coverage. Below is a description of each type of coverage you may find.
Collision and comprehensive coverage both require paying a deductible before the insurance company pays anything on the claim. Unlike health insurance, which requires an annual deductible, auto insurance deductibles must be paid for each occurrence or accident.
Requirements for Nebraska Drivers
Although there are several types of auto insurance coverage, only some of them are required by law. According to Nebraska law, all licensed drivers living in a household must have the following types of auto insurance.
Nebraska drivers are required to provide proof of insurance or proof of financial responsibility when they register their vehicle. Proof must be provided to the state treasurer. Proof of responsibility may be in one of the following ways.
Nebraska drivers are not only required to carry auto insurance but are also required to carry proof of that insurance in their vehicles at all times. Failure to carry that proof can result in an immediate license suspension. In addition to license suspensions, drivers may also get fines, license revocations or violation points added to their driving records.
Some states are no-fault insurance states and others are at-fault states. Nebraska is an at-fault state, which means that the driver who is at fault in an accident is the one who is required to pay for medical expenses caused by the accident. The injured individual can also sue the driver to obtain additional compensation for pain and suffering or lost wages.
Although comprehensive and collision coverage is not a legal requirement, drivers are required to carry this type of coverage if their vehicles are used as collateral for auto loans. The reason for this is so they're guaranteed to get their money even if the car is destroyed in an accident.
The following vehicles are exempt from the Nebraska auto insurance laws.
Minimum Auto Insurance Requirements in Nebraska
In addition to requiring drivers to carry certain types of auto insurance, it also requires them to carry certain amounts of liability insurance. The following are the minimum amounts Nebraska drivers must carry.
| | |
| --- | --- |
| Coverage | Minimum |
| Bodily injury for one person | $25,000 |
| Bodily injury for all people involved | $50,000 |
| Property Damage | $25,000 |
| Uninsured/underinsured motorist coverage | $25,000 per person |
| Uninsured/underinsured motorist coverage | $50,000 per accident |
Are Any Auto Insurance Laws Specific to the state of Nebraska?
Despite auto insurance being a legal requirement in Nebraska, insurance companies do have the right to deny coverage to drivers they feel are risky drivers either due to poor driving records or multiple claims. Drives who fall into this category can purchase insurance through the Nebraska Automobile Insurance Plan, an organization in which all Nebraska insurance companies must be members.
Ways to Lower Your Auto Insurance in Nebraska
When you're shopping for Nebraska auto insurance rates, it's important to know what factors are going to help determine your rates.
Some of the factors, like deductibles, driving record and vehicle type, can be changed while others cannot be changed. There are various discounts offered by insurance companies that can help lower your auto insurance premiums.
Are Requirements Different for Part-Time or Full-Time Nebraska Residents?
Insurance requirements are the same for full-time and part-time residents of Nebraska. Part-time or temporary residents are required to carry auto insurance from the state in which they reside. If they are moving to Nebraska, they have 30 days in which to register their cars. Proof of insurance is required at the time the vehicle is registered. An individual living in another state but purchasing a vehicle in Nebraska will carry auto insurance from the state in which the individual lives.
Nebraska Rates Compared to National Average
Although Nebraska auto insurance rates may fluctuate from city to city, the state's rates as a whole are lower than the national average. Nebraska's average annual rates were quite a bit t lower than the national average with Nebraska's average rates at $1,180.. Nebraska is actually on the bottom ten states in terms of cheap auto insurance rates. Keep in mind, however, that insurance rates have been increasing with all insurance companies, which is why it's so important to shop around.
Average Rates in Top Three Nebraska Counties
Nebraska drivers pay different rates for car insurance in different cities and counties. A 45-year-old married woman will typically pay different rates based on where she lives. Below is an example of rates for this woman in three counties located in different areas of Nebraska. The rates are for the state's legal requirements of liability and for full coverage.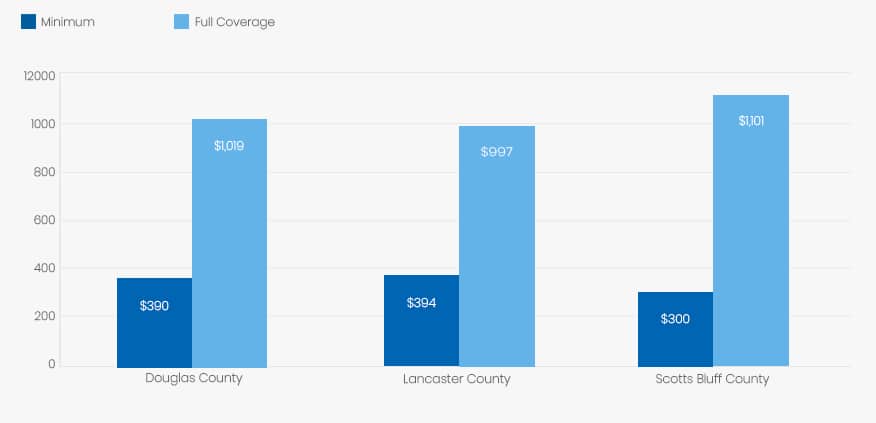 | | | |
| --- | --- | --- |
| City | Minimum Coverage | Full Coverage |
| Douglas County | $390 for state minimum liability | $1,019 for full coverage |
| Lancaster County | $394 for state minimum liability | $997 for full coverage |
| Scotts Bluff County | $300 for state minimum liability | $1,101 for full coverage |
Conclusion
Whether you're someone that drives for a living, enjoys traveling across the country or just drives when necessary, you want to know that you're protected by insurance should the unthinkable happen and you're involved in an accident. Purchasing a good Nebraska care insurance plan is the first step towards having that protection. Armed with the knowledge you have on Nebraska auto insurance and the money-saving tips, you're now in a position to get the very best rates on your auto premiums.