Moving to Arkansas? Or are you an Arkansas resident curious about auto insurance rates? Arkansas is known for having some of the most scenic drives in America, and its residents spend a lot of time driving. And, if you're driving in what is called 'The Natural State,' you need auto insurance. Arkansas drivers face the same situation as drivers in all the other states in that they're required to carry certain amounts of automobile insurance.
Learn the laws regarding car insurance in Arkansas as well as coverage amounts and how you can save money on car insurance rates in the Land of Opportunity.
Summary of Auto Insurance in Arkansas
While Arkansas has many auto insurance companies, they all basically offer the same types of coverage.
Learn the laws regarding car insurance in Arkansas as well as coverage amounts and how you can save money on car insurance rates in the Land of Opportunity.
Comprehensive, collision and underinsured/underinsured motorist coverage is optional, but liability insurance is a requirement of all drivers. However, drivers who have loans where their car is used as collateral will be required by the lender to carry full coverage insurance.
Requirements for Arkansas Drivers
Arkansas law mandates that drivers provide proof of insurance when requested by the Department of Finance and Administration (DFA) or by law enforcement during a traffic stop. The DFA has an electronic database listing all the drivers with insurance. This database is utilized when a driver registers a vehicle or during their monthly checks of vehicles registered in the state.
If the database indicates a driver doesn't have insurance, the individual may be asked to provide proof of insurance. There is a $250 fine for the first time drivers are caught driving without the state's requirements of liability insurance. After that, failure to carry insurance can result in a license suspension or revocation.
In some cases, a suspension can take place even with the first offense. Although there is various types of auto insurance Arkansas drivers can purchase, the only ones that are required are liability coverage for bodily injury, death and property damage.
Minimum Auto Insurance Requirements in Arkansas
Although Arkansas drivers can choose to carry full coverage insurance, it's not a requirement. Arkansas, like most other states, does require that all drivers carry a minimum amount of liability insurance. The required amounts set by the state are as follows.
| | |
| --- | --- |
| Coverage | Minimum |
| Bodily injury or death of one person | $25,000 for each person |
| Bodily injury or death of multiple people | $50,000 for each accident |
| liability coverage against property damage | $25,000 for each accident |
Are there Any Auto Insurance Laws Specific to the state of Arkansas?
Although all drivers must be insured, insurance companies are within their rights to deny coverage to an individual considered to be high risk. High-risk drivers are drivers with poor driving records due to driving violations, accidents or both. Drivers denied coverage because of this might apply for coverage through the Arkansas Automobile Insurance Plan.
The State Insurance Department states that when you purchase liability insurance, the insurance company is required to offer you the following coverage.
Uninsured motorist coverage for bodily injury and property damage

This provides coverage for you and your vehicle if you're involved in an accident caused by another driver who has no liability insurance.

Underinsured motorist coverage for bodily injury

This provides coverage if the other at-fault driver has an insufficient amount of liability insurance.

Personal injury protection (PIP)

This coverage provides you with death benefits, lost wages and medical coverage regardless of who is at fault.
In April 2017, the governor passed a law that would implement an online insurance verification system. This system, which becomes law in 2019, will enable the Office of Motor Vehicles (OMV) to electronically monitor drivers who have the required insurance.
Ways to Lower Your Auto Insurance in Arkansas
Your car insurance rates in Arkansas are determined by many factors, such as:
Some things like marital status, age or geographic location can't really be changed, but other factors can. One example is that many potential auto buyers check with their insurance company prior to purchasing a vehicle.
Below are some ways you can lower your care insurance rates in Arkansas
Discounts
Good driver discount – being a good driver always pays off.

Get a multi-car discount by using the same insurance company for all your vehicles.

Get a bundling discount by using the same insurance company for auto and home insurance.

Remain claim- and accident-free to get discounts.

Going without any lapse in coverage will give lower rates.

Homeownership may also provide discounts.

Increase your deductible

Lower your coverage

Attending college or university within 100 miles from your home may provide a resident student discount.
Other Discounts
Many Arkansas insurance companies offer a college grad discount, which gives you a certain percentage off your premium based on the degree level you have. A defensive driver discount may be provided to drivers aged 55 and over who have completed an Office of Driver Services-approved course.
Shopping Around
Drivers should always shop around for insurance companies. Even though there are only half dozen or so major carriers in the U.S., these carriers underwrite for many other companies. Therefore, you should get quotes from multiple insurers or use a system that will match you with the company that can offer you the best rates.
Are Requirements Different for Part-Time or Full-Time Arkansas Residents?
Part-time residents of Arkansas have the same insurance requirements as full-time residents. The main reason being that auto insurance is required in all 50 of the states. The insurance, however, is often linked with the vehicle's registration. In other words, when a driver registers a car in Arkansas, or any state for that matter, he or she is required to provide proof of insurance. New residents to the state must register their vehicles within 30 days of purchasing their vehicles or establishing residency in Arkansas.
Arkansas Rates Compared to National Average
A January 2017 study indicated that Arkansas was among the lowest in the nation for auto insurance rates. Pries for insurance premiums in Arkansas are low when compared with many other states. The average yearly rate for car insurance in Arkansas is $1,455, which is slightly lower than the national average of $1,669. Michigan car owners can pay up to $4,000 for auto insurance while North Carolina drivers pay average rates of about $874. Based on these figures, Arkansas rates might be considered very affordable.
Average Rates in Top Three Arkansas Counties
As stated, where you live can also play a part in what you will pay for auto insurance in Arkansas. It's understandable that if some cities have a higher cost of living, their insurance rates are going to be higher as well.
Below is an example of rates for a 45-year woman who's married and has a good driving record. The auto rates, for both full coverage and the state's liability requirements, are for three different counties in Arkansas.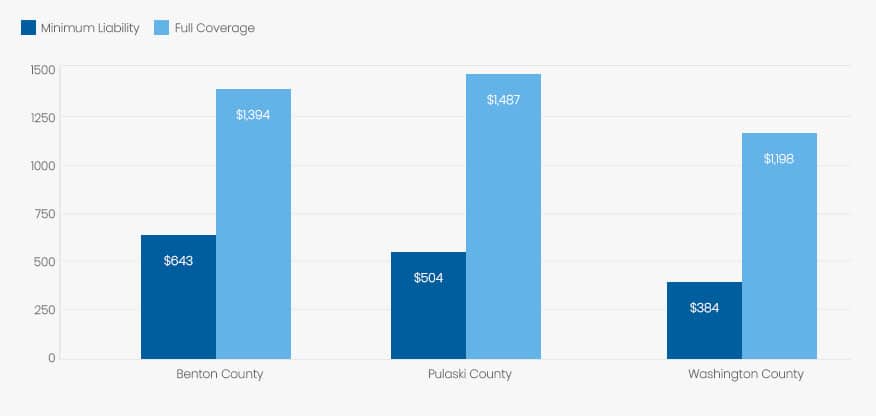 | | | |
| --- | --- | --- |
| City | Minimum Coverage | Full Coverage |
| Benton County | $1,394 for full coverage | $643 for state minimum liability |
| Pulaski County | $1,487 for full coverage | $504 for state minimum liability |
| Washington County | $1,198 for full coverage | $384 for state minimum liability |
In Summary
Because of the legal ramifications of not having auto insurance, it's become a necessity of life in the same way as food, clothing, electricity and heat. The good thing about auto insurance is that you can play a part in ensuring the best possible rates. While we may have no choice with some of the factors determining our rates, others like being the best possible driver are within our control. In addition to driving safely and responsibly, don't underestimate the importance of shopping around until you have the best possible rate.