Although Iowa has several urban areas, it's a state made up mostly of rural areas. Severe weather is very common for Iowa, particularly in the summer time. Whether it's severe thunderstorms or tornadoes hitting this state, drivers find it very beneficial to have auto insurance on their vehicles. Unlike most of the other states, Iowa treats auto insurance options slightly different. Continue reading to learn Iowa's laws regarding auto insurance and get some great tips on how you can save money when buying insurance.
Learn about auto insurance in this state and ways you can get the most for your dollar with your auto insurance rates.
Auto Insurance in Iowa
Iowa is a state with many insurance companies available to sell auto insurance policies to drivers and vehicle owners. These companies offer different types of coverage depending on the customer's needs and financial ability. The types of coverage you'll usually find with Iowa insurance companies include the following.
What is Required for Drivers in Iowa?
Unlike most of the other states, Iowa does not have a law requiring that drivers carry auto insurance. Their law is based on the Financial and Safety Responsibility Act, which states that drivers must prove financial responsibility after an accident. Many drivers choose to fulfill this requirement by purchasing an auto policy; however, it's not the only way they can prove financial responsibility. Financial responsibility can be demonstrated in the following ways.
In the event of an accident in Iowa, both the driver and the owner (assuming they're different) must show proof of responsibility. Individuals with suspended or revoked licenses must also show proof of financial responsibility to the Iowa Department of Transportation. Failure to do so will result in a license and registration suspension.
Iowa is an "at-fault" state, which means that the person who's at fault in an accident is liable to pay for any injuries or property damage caused by the accident. Although auto insurance is not a legal requirement in Iowa, most drivers find it the easiest method to meet the financial responsibility requirement.
Minimum Auto Insurance Requirements in Iowa
Although Iowa doesn't require drivers have auto insurance, they do have requirements regarding the minimum amounts of insurance the insurance companies must offer to customers who choose to purchase auto insurance. Keep in mind that these are the minimum amounts. Drivers always have the option to purchase higher amounts of liability or even full coverage. The minimum amounts are listed below.
| | |
| --- | --- |
| Coverage | Minimum |
| Bodily injury of death of one person | $25,000 |
| Total damages by one accident | $40,000 |
| Property damage caused by an accident | $15,000 |
You'll often see the above amounts listed as 25/40/15. Iowa's liability amounts are slightly lower than other states. Although these are the minimum amounts of liability coverage drivers can purchase, many opt to purchase more. If you're involved in an accident-related lawsuit and are required to pay a higher compensation then your coverage amount, the balance would need to be paid by you.
Are Any Auto Insurance Laws Specific to the state of Iowa?
While most of the states require vehicle owners to show proof of responsibility at the time they register their vehicles, Iowa only requires it after you've been in an accident.
Iowa, along with Wisconsin, also offers medical pay insurance. If you're involved in an accident, your insurance company will pay accident-related medical bills for those involved in the accident regardless of who is at fault. Medical pay insurance usually pays expenses up to $1,000 per person or $5,000 per accident.
Another way that Iowa is slightly different from other states is that Iowa does not require uninsured/underinsured motorist coverage as part of their liability insurance package. While it is an optional coverage that many drivers choose to purchase, it's not required.
Ways to Lower Your Insurance Rates in Iowa
From the moment we attempt to purchase auto insurance, we're looking for ways to lower our premiums. To be able to lower them as much as possible, it's important to know the factors that affect our rates. While we can change some of these factors, others are there to stay. These factors determine your car insurance rates in Iowa.
In addition to the factors listed above, the type of vehicle you own affects your premiums for two reasons. Some vehicles are more expensive to repair than others are. Some vehicles are also more attractive to thieves. The National Insurance Crime Bureau has listed the following ten vehicles as the ones most stolen in Iowa in 2016.
2005 Chevrolet Pickup full size
2005 Ford Pickup full size
2001 Dodge Pickup full size
2007 Chevrolet Impala
1994 Jeep Cherokee/Grand Cherokee
2002 Ford Taurus
2012 Toyota Camry
2004 Pontiac Grand Prix
1997 Honda Accord
2000 Honda Civic
Once you've learned the factors that can affect your premiums and have made any possible changes you can, you can begin researching discounts of which you might be eligible. Not all insurance companies are created equal. Different discounts are offered through different insurance companies. Don't hesitate in asking your potential insurance agent about any discounts they may offer. These may include the following.
Are Requirements Different for Full-Time or Part-Time Residents?
There are no real differences for full- or part-time residents of Iowa. Other than a few instances, an individual cannot really be residents of two states. The individual is a resident of the state where they resided the majority of the year. Once he or she has lived in Iowa for 30 days, he or she will apply for residency and an Iowa driver's license. However, since Iowa doesn't have any insurance requirements, it would not affect the individual.
Where Iowa Ranks in Price Compared to National Average
Auto insurance rates in Iowa are typically lower than the national average. As of 2017, the average annual insurance rates for Iowa were $999 while the national average was $1,669. The lowest rates of $874 were found in North Carolina, and the highest premiums, $4,054 were paid in Michigan. Iowa rates are definitely among the lowest in the nation.
Average Rates in Top Three Iowa Counties
As mentioned above, several factors like marital status and age affect auto insurance rates. Where you live also plays a role. It's not unlikely to pay one premium in one county and a different premium in a nearby county. An example of this can be found below with the auto insurance rates for a 45-year old married female. The premiums shown, for full coverage and the minimum liability coverage, are from three different counties in Iowa.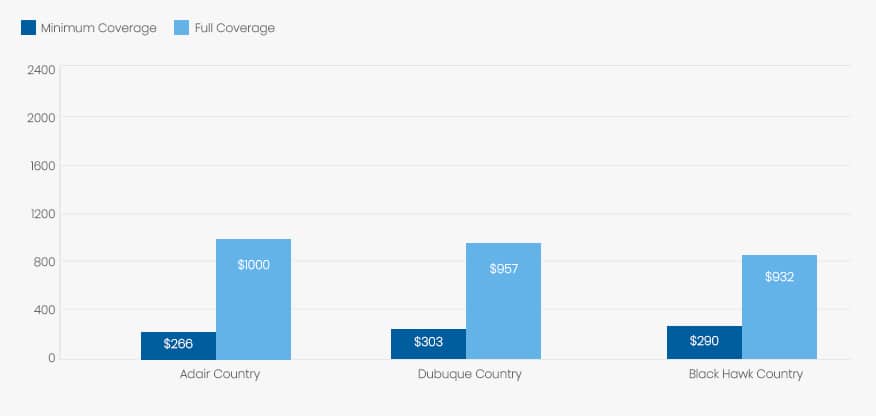 | | | |
| --- | --- | --- |
| City | Minimum Coverage | Full Coverage |
| Adair County | $266 for liability | $1,000 for full coverage |
| Dubuque County | $303 for liability | $957 for full coverage |
| Black Hawk County | $290 for liability | $932for full coverage |
Summary
Few things in life are worse than losing what has taken us years to accomplish. This is the main reason why drivers have auto insurance. The state requires us to carry liability insurance to protect us from accident-related lawsuits. As careful as we try to be, accidents still happen. Purchasing an adequate car insurance policy can protect you not only legally but also financially at well. A good auto insurance policy can be like buying peace of mind.