As of 2014, all the states require drivers to show proof of financial responsibility, also known as auto insurance. Each state sets their own requirements regarding what the minimum amount of insurance drivers must have to legally drive on the roadways. California, along with a few other states, does offer alternatives to purchasing an auto insurance policy, but it's up to you as a responsible consumer to make the best decision. Below is a summary of California auto insurance laws, alternative options, different types of insurance and ways to save money on your auto insurance.
Summary of Auto Insurance in California
If there is anything California residents will tell you it's that you need to have a car to get around this state. If you're driving a car, you need to have car insurance. When looking at policies, you will often see familiar lingo.
Here is a look at some common coverage terms and their definitions:
Comprehensive Coverage

This level of coverage typically pays for damage to your car from things other than an accident, including earthquakes or fires

Collision coverage

This pays for damages to your car from an accident

Medical and funeral services coverage

Pays medical bills or funeral expenses resulting from and at-fault accident

Uninsured/Underinsured motorist coverage

This provides coverage for drivers who have no insurance or not enough. In California, an estimated 4.1 million drivers are uninsured, so this is an important level of coverage to consider.

Rental car coverage

Since you definitely need a car in California (except maybe the Bay Area), this covers the cost of your rental car while yours is being fixed, usually ranging from $35 a day on up

Towing and labor coverage

Since you definitely need a car in California (except maybe the Bay Area), this covers the cost of your rental car while yours is being fixed, usually ranging from $35 a day on up

Bodily Injury liability coverage

Protects you if you're sued for injuries to someone from an at-fault accident, also common in California due to lack of insurance from their drivers

Property Damage liability coverage

Protects you if you're sued for causing damage to someone's property
What is Required for California Drivers?
Auto insurance or proof of responsibility is required for all vehicles driven or parked on California roads. The owner/operator must be prepared to show this proof during the following times:
It also requires that proof of insurance be with the driver in the vehicle at all times and that all drivers in the household be covered under the liability insurance. As an alternative to carrying liability insurance, the driver can instead provide a cash bond of at least $50,000 or have a vehicle liability bond on file with the Alabama Department of Motor Vehicles.
Drives are required to show proof of insurance if they are stopped by law enforcement, involved in an accident or at the time of registration. Drivers caught driving without auto insurance can face the following penalties:
Failure to carry insurance or show proof of financial responsibility can result in a license suspension. California law (California Vehicle Code) requires insurance companies to electronically report insurance information on privately used vehicles to the DMV.
When the DMV gets this electronic report stating a driver doesn't have insurance, the DMV can act accordingly and suspend the driver's license. Both law enforcement and court personnel have access to these records.
Owner/operators may have their license suspended when:
What are the Minimum Auto Insurance Requirements in California ?
Although there are various types of coverage offered in an auto insurance policy, drivers are only required by law to carry liability insurance to protect them in the case that they are sued from an at-fault accident. Here are the minimum amounts of liability insurance drivers must have on their insurance policy.
Auto insurance is typically what drivers think of when providing proof of responsibility. However, the state of California allows drivers to use the follow alternatives to an auto insurance policy.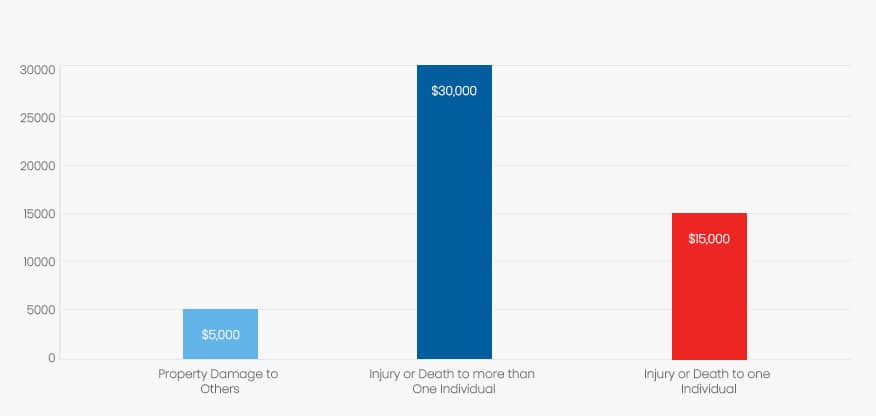 | | |
| --- | --- |
| Coverage | Minimum |
| injury or death to one individual | $15,000 |
| injury or death to more than one individual | $30,000 |
| Property damage to others | $5,000 |
Remember that the average cost of an auto accident involving a fatality is higher than $1 million, average property damage is greater than $7,500 and the average cost for each non-fatal disabling injury accident is $61+. In most cases, it pays to have auto insurance.
What Auto Insurance Laws are Specific to the state of California?
The amount you pay for your car insurance in California is based on several factors with the main factor being what kind of driver you are. Insurance companies in California are required to give a good driver's discount to drivers with a good driving record.
The California Insurance Code (CIC) § 1861.02 mandates that good drivers receive at least a 20 percent discount on their auto insurance. To be eligible for the California good driver discount, the driver must meet these three requirements:
Auto rates are also based on the number of miles driven annually and the years of driving experience the insured has. Your record, miles driven and years driving are known as Mandatory Factors used to determine auto rates. The CIC also lists the following Optional Factors, which are to be used to determine insurance premiums.
Ways to Lower Insurance Rates in California
As mentioned above, there are various factors used to determine auto insurance rates in California. Some of them, like gender or marital status, can't be changed, but some things can be changed or adjusted. Here are some ways you can lower your auto insurance premiums.
Different discounts may also be offered through different insurance companies. One example is the California deductible waiver, which states that your insurance company will pay the collision deductible if an uninsured driver causes an accident. Not all insurance companies may offer this discount. It's always important to ask the insurance company what kinds of discounts are available to you.
Although some states give discounts if you have good credit scores, California is one of only a few states when your credit scores play no part in your auto insurance rates. California's Low Cost Automobile Insurance Program provides affordable insurance coverage to income-eligible individuals.
Are There Different Requirements for Part-Time or Full-Time California Residents?
Insurance requirements are not different for part-time or full-time California residents other than how they apply in regards to the registration laws. A vehicle must be registered in California if that is the state where it is most often driven or stored. Individuals are considered residents if they've lived in California for at least half of the year. This is important to note if your college student will have their vehicle in California for at least half the year.
If the car is being registered for the first time in California, the owner must put insurance on the car at the time of registration. If the car was previously registered in another state, the car must be registered when the individual becomes a resident of California. At this point, auto insurance must be purchased.
Where California Ranks in Price Compared to National Average
Auto insurance rates in California are on the higher end when compared to other states and the national average. In 2012, Quadrant Information Services conducted a study using six insurance carriers and more than 900 vehicles and based their data on a 40-year old man with a good driving record. California had the 9th highest auto insurance premiums at $1,709 while Louisiana was the highest at $2,536 and Maine was lowest at $889.
Not much has changed in the past five years. Today California ranks 7th in terms of states with highest auto insurance premiums with the average being $1,673. The national average for 2017 is $1,318. Maine is still lowest at $864 while Michigan is now the highest at $2,394.
Average Rates in Top Three Counties
As we've already determined, several factors can affect your auto insurance rates in California. Where you live can also play a part in determining rates. Some cities and counties have higher costs of living, so insurance rates are typically higher as well. Here is an example of average annual rates for a 45-year old, married woman in three different counties.
| | | |
| --- | --- | --- |
| Counties | Full Coverage | Minimum Coverage |
| Los Angeles County | $1,540 for full coverage | $516 for state minimum liability |
| San Francisco County | $1,496 for full coverage | $491 for state minimum liability |
| Santa Barbara County | $1,174 for full coverage | $412 for state minimum liability |
Insurance rates vary not only from county to county but also from city to city. For instance, Santa Maria and Redding have some of the lowest annual auto insurance rates at $813.19 and $823.58 in 2015 while the highest rates of $1,379.71 and $1,357.99 were found in Glendale and Los Angeles.
Conclusion
California has some of the oldest highways in the United States, and you can drive the same roads as James Dean and Marilyn Monroe. It also has some of the worst traffic commute times in the United States. Just make sure you operate your vehicle with as much insurance coverage as you can afford due to the amount of time you will spend in your car and the amount of uninsured drivers in your state.
If you are looking for specific car insurance information on a specific city in Arizona, see more information below: