Located on the northeastern part of the United States, Rhode Island is a small state consisting of only five counties. Rhode Island was given the nickname "The Ocean State" because of its many inlets and bays, which make up about 14 percent of the area. Despite all the water, there is still a lot of driving in this beautiful area, making auto insurance vital. With laws constantly changing, it's important to know what Rhode Island requires for auto insurance.
Summary of Auto Insurance in Rhode Island
Rhode Island is an at-fault insurance state that utilizes the tort system, which means that if you're in accident and it's your fault, you are liable for the damages to you and the other driver. Despite the small size of Rhode Island, there are many auto insurance companies located in this state. Most of the companies will offer you similar coverage with price and discounts being the only differences. Here are the types of auto insurance coverage available in Rhode Island.
You are required to pay a deductible with both collision and comprehensive coverage, and the deductible must be paid with each new claim. You can choose deductibles ranging from $200 to $1,000 or more. Whatever the deductible is becomes the amount you will have to pay on a claim before the insurance company pays. When collision and comprehensive are part of an insurance package, you typically are paying for full coverage.
Requirements for Rhode Island Drivers
In Rhode Island, you're not required to carry full coverage but must purchase liability insurance. Liability insurance helps you pay for damage you do to another's property or injuries to others resulting from an accident you caused. Collision and comprehensive are not required by the state but will be required by a lender if the vehicles is used as collateral on an auto loan.
Minimum Auto Insurance Requirements in Rhode Island
Rhode Island drivers are required to purchase the following types of coverage with at least the amounts listed.
| | |
| --- | --- |
| Coverage | Minimum |
| Bodily injury or Death/Per Person | $25,000 |
| Bodily Injury or death of more than one/per accident | $50,000 |
| Property Damage | $25,000 per accident |
Uninsured and underinsured motorist coverage is not required in Rhode Island, but insurance companies are required to offer you this coverage when you purchase liability insurance. The coverage amount is usually the same as the liability coverage amounts.
Are Any Auto Insurance Laws Specific to the state of Rhode Island?
In Rhode Island, you are required to have proof of car insurance in your car at all times. The proof should be an insurance card listing your name, your policy number, effective days and name of insurance company. You are required to provide proof of insurance during the following times.
At the time of registration, you will be asked to sign a form stating that you have car insurance. Rhode Island DMV uses an electronic verification system to determine if drivers are carrying the required types and amounts of car insurance.
Failure to provide proof of or carry insurance in Rhode Island can result in the following penalties.
Each time a driver is convicted of driving without insurance, the penalties increase. Drivers who are denied coverage on the open market due to their driving records can purchase insurance through the Rhode Island Automobile Insurance Plan.
Ways to Lower Your Auto Insurance in Rhode Island
When you purchase car insurance, you provide the insurance company with personal information about yourself, your vehicles and your household members. They use this information to determine what your auto insurance premiums will be. Some of the things affecting your rate are within your control. You can choose what type of vehicle to purchase, for instance, but can't really change your gender or marital status. Below are some of the factors that help determine what you'll pay for auto insurance.
One of the most effective methods of lowering your auto insurance premiums is using discounts. Insurance companies will offer you discounts as a way to get your business and make it appear they are offering you the best price. Be selective and shop around when selecting an insurance company.
Don't be afraid to ask what type of discounts they offer as well as what percentage each of the discounts provides. A five or ten percent discount may not seem like much, but multiple discounts can add up quickly. If your annual auto insurance is $900 and you are given three discounts each offering five percent off, your insurance will be down to $765. Below are some examples of discounts that are often offered.
Some vehicles tend to be stolen more often, which can also drive up the premiums. Below is a list of the ten most stolen vehicles in Rhode Island in 2016.
Are Requirements Different for Part-Time or Full-Time Rhode Island Residents?
The requirements for car insurance are the same whether you're a part-time or full-time resident. If you're only living in Rhode Island temporarily, you will continue to use the insurance you purchased in your home state. Once you move into Rhode Island, you are required to register your vehicle in Rhode Island. You will need to show proof of insurance what you register your vehicle.
New residents have 30 day from the day they moved to Rhode Island to register their vehicle. Since auto insurance is required almost nationwide, it really doesn't make any difference if you live here part of full time because the car insurance will be issued from the state in which you reside
Rhode Island Rates Compared to National Average
Rhode Island auto insurance is typically higher than many of the other states. Forbes listed Rhode Island as the seventh most expensive state for auto insurance according to a 2012 report. The national average in 2017 for car insurance was $1,300 for a full-coverage policy. In Rhode Island, drivers couple $1.800 or more for the same coverage.
Average Rates in Top Three Rhode Island Counties
Although Rhode Island does tend to have expensive auto insurance, the rates fluctuate a lot depending on your location. I researched auto rates for a 45-year woman in three different counties. This woman is married and a good driver. Take note how different the rates in each of these counties are.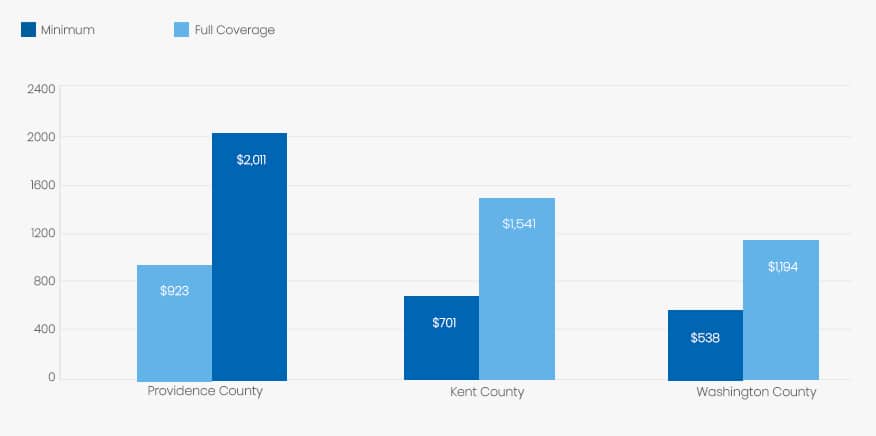 | | | |
| --- | --- | --- |
| County | Minimum Coverage | Full Coverage |
| Providence County | $923 for state minimum liability | $2,011 for full coverage |
| Kent County | $701 for state minimum liability | $1,541 for full coverage |
| Washington County | $538 for state minimum liability | $1,194 for full coverage |
Car insurance rates tend to be higher in larger cities.
Conclusion
Purchasing auto insurance is serious business and something you don't want to do without some research. Now that you're familiar with what Rhode Island requires in terms of auto insurance, you're ready to start making calls or visits to numerous auto insurance companies. Comparison shopping and asking many questions is the best way to drive legally and pay the best possible rates for your Rhode Island auto insurance.
Sources: