Wyoming minimum liability policy limit requirements are 25/50/20
In the State of Wyoming, the minimum liability requirements for insurance in order to legally drive a vehicle include mandatory financial responsibility limits of 25,000/50,000/20,000. Specifically, Wyoming State Law requires minimum Bodily Injury Liability limits of $25,000 per injured person up to a total of $50,000 per accident, and Property Damage Liability coverage with a minimum policy limit of $20,000.
According to Washington State law, the current mandatory minimum liability insurance requirements are 25/50/10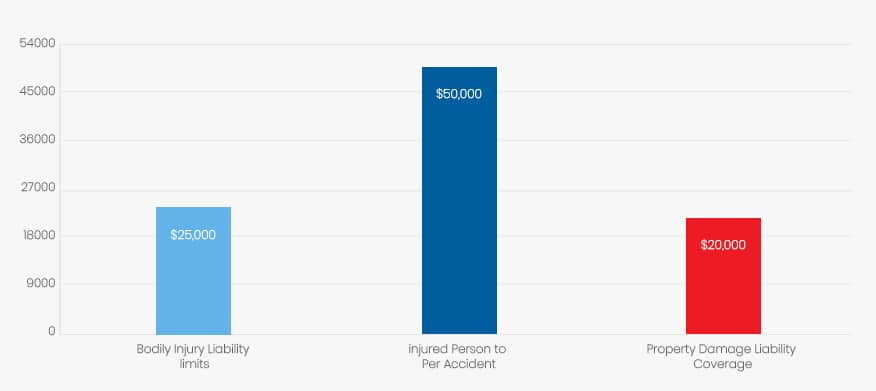 | | |
| --- | --- |
| Coverage | Minimum |
| Bodily Injury Liability limits | $25,000 |
| injured Person to Per Accident | $50,000 |
| Property Damage Liability Coverage | $20,000 |
Alternative methods are also allowed
Alternative methods of showing proof of financial responsibility may be given by filing either a certificate of insurance, a bond, or a Certificate of Deposit of money or securities in the amount of $25,000, deposited with the Office of the State Treasurer. For details on these alternate methods, contact the State Department of Transportation Financial Responsibility Program at (307) 777-4800. These, as well as other details pertaining to automobile insurance in the state of Wyoming, may be confirmed on the State of Wyoming Insurance Department's Automobile Insurance Guide, available free for download.
Insurance Options Unique to Wyoming
In Wyoming, you MUST carry proof of auto insurance while driving -- at all times
In the state of Wyoming, you must be able to offer valid proof of your vehicle's current insurance to any police officer requesting it regardless of whether a collision has occurred. Driving any vehicle without the proper proof of insurance on hand can result in very steep consequences in this state, including fines of up to $750 or even up to six months in jail. Your license may also get suspended until proof of insurance can be provided if you are found driving without proper insurance in Wyoming.
There are plenty of extras available for every household's automobile insurance needs
In addition to the State of Wyoming required liability limits, you may purchase extra automobile insurance coverage for a variety of needs. For example, you may acquire:
Ways to Lower Your Rates
You're in luck! Wyoming auto insurance rates are lower than the national average – by far
Rates for automobile insurance in Wyoming are lower than the national average. Depending upon your policy and zip code, average prices fall around $688 per year compared to a national average of $866 per year. The largest counties in Wyoming are Laramie, Natrona, and Campbell, with full coverage rates on a newer vehicle for a married 40-year-old woman being $1,429 for the city of Cheyenne in Laramie, $1,437 for Casper in Natrona, and $1,475 for the city of Gillette in Campbell County. The best rates we could find for this individual were with Geico, Allstate, State Farm and Progressive insurance companies, but there are several others which offer comparable rates as well. Farmers, 21st Century, MetLife, AIG, Nationwide, and Liberty Mutual insurance companies are also worth a call when you're comparing your best rates in this state.
| | |
| --- | --- |
| Counties | Minimum |
| Cheyenne city in Laramie County | $1,429 |
| Casper city in Natrona County | $1,437 |
| Gillette City in Campbell County | $1,475 |
Mechanical breakdown insurance
Mechanical breakdown insurance is also available in the state of Wyoming, but is typically offered through automobile dealers in the form of a contract rather than insurance providers. Motor vehicles (defined as 'self-propelled devices or components of self-propelled devices') such as cars, trucks, motorcycles, boats, snowmobiles, and airplanes may be covered under a mechanical breakdown insurance contract. Service contracts are typically offered in conjunction with the sale of the vehicle to you. If you're considering this type of contract, ask for a sample copy of the contract to read before signing it so you can be sure you fully understand it and are able to identify the insurer or other necessary contacts in case a future claim must be made.
Shop around for your best automobile insurance options and ask questions until you understand
Be sure to shop around for your best insurance rates before making your final decision on automobile insurance coverage. There are agents and brokers available to work with you, as well as mail order insurance. Generally speaking, local agents will be more easily accessible and better informed than mail order companies on your local insurance requirements and needs. Make sure you ask plenty of questions and offer enough information about your household's needs in order to get the best coverage and lowest possible rates.
Keep your rates low by keeping your credit score high, your vehicle sturdy and safe, and your driving record clean
As always, you can be sure to keep your automobile insurance rates low in the state of Wyoming by maintaining a good driving record. A good credit score also has an impact. Additionally, choosing to drive a family car, such as a four door sedan, wagon, or economy car, generally means you'll have lower insurance rates than opting for a sports car or other high performance vehicle. Insuring multiple vehicles with the same insurance company often means a discount will be offered, and you can also save by paying the entire premium up front instead of breaking it into smaller monthly payments. If a driver moves out of your household, be sure to contact your insurance company as a reduction in rates is likely.
Some high risk drivers have options too
If you've been refused automobile insurance by insurance companies in Wyoming, you may wish to look into the Wyoming Automobile Insurance Plan. This plan is offered to eligible "high-risk" drivers regardless of their driving history even when they've been legally refused coverage by a Wyoming insurance provider.
Watch out for automobile insurance telemarketing scams
Caution: Be wary if anyone calls you on the phone regarding automobile insurance. The state of Wyoming Insurance Department website warns of a deceptive auto insurance telemarketing program. Read about the scams and contact the Wyoming Department of Insurance at 1-800-438-5768 (in Wyoming Only) or at (307) 777-7401 if you have any questions about any such calls you may have received.
If you'd like more details, check these follow-up links for additional information: