Pennsylvania is a state located on the northeastern part of the U.S. Hershey, PA is known as the Chocolate Capital of the United States, and Philadelphia is known for its delicious Philly steak sandwiches, which are copied almost worldwide. The state is also filled with historical landmarks, making this state a sightseer's delight. It also makes the streets constantly congested with traffic, which is why auto insurance is so important here. Learn what Pennsylvania law requires of drivers as well as how to find the best rates on auto insurance.
Summary of Auto Insurance in Pennsylvania
Pennsylvania is a no-fault insurance state. In a no-fault state, your insurance will pay for medicals expenses for you and your passengers when you're in an accident regardless of who was at fault. No-fault insurance was designed to decrease the number of car accident-related lawsuits, but it's not always that simple. Pennsylvania's insurance gives you the option of a limited or a full tort. Here is how they work
Pennsylvania auto insurance companies offer various types of auto insurance. Some types like collision, comprehensive, towing and rental are optional while others are required by the state. Below are all the types of car insurance offered by the various Pennsylvania insurance companies.
Requirements for Pennsylvania Drivers
Despite Pennsylvania being a no-fault state, drivers are still required to purchase liability insurance. Drivers in Pennsylvania are required to carry the following types of coverage.
In Pennsylvania, you're required to have proof of insurance anytime you're driving. If you're pulled over by law enforcement, you must be prepared to provide proof of insurance. The following are acceptable proof.
Failure to have car insurance can result in the following penalties,
Minimum Auto Insurance Requirements in Pennsylvania
Pennsylvania drivers are required at least the minimum amounts listed below.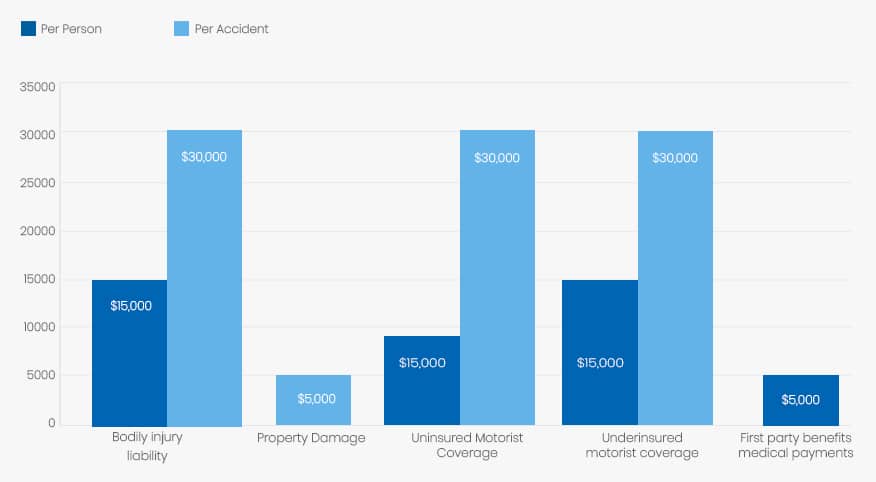 | | |
| --- | --- |
| Coverage | Minimum |
| Bodily injury liability | $15,000 per person |
| Bodily injury liability | $30,000 per accident |
| Property Damage | $5,000 per accident |
| Uninsured Motorist Coverage | $15,000 per person |
| Uninsured motorist coverage | $30,000 per accident |
| Underinsured motorist coverage | $15,000 per person |
| Underinsured motorist coverage | $30,000 per accident |
| First party benefits medical payments | $5,000 per person |
It should be noted that these are the minimum amounts you must purchase to be legal in Pennsylvania. You have the option to purchase higher amounts. Insurance companies recommend drivers carry higher amounts of liability coverage. When purchasing liability insurance, you may be able to purchase a single package of $35,000, which meets all the liability requirements depending on the insurance company.
Are Any Auto Insurance Laws Specific to the state of Pennsylvania?
Drivers with little driving experience, poor driving records or those who have too many claims may be denied insurance coverage for the open market because they're considered high-risk drivers. These drivers have the option to purchase insurance through the Pennsylvania Assigned Risk Plan. The premiums are higher, but they meet the state's requirements.
While many factors are used to determine your Pennsylvania auto insurance rates, insurance companies in this state are not allowed to use the following.
Ways to Lower Your Auto Insurance in Pennsylvania
Insurance companies use certain data and personal information about and your household members when selling your insurance policies. Knowing the factors that contribute towards your premiums may make it easier for you to lower your premiums. These factors include:
Almost all insurance companies offer discounts as a way to not only save their customers money but also to entice you into purchasing insurance from them. Many drivers are amazed at the difference discounts can make on their insurance bill. Below are some examples of some discounts you may receive.
Be sure to ask your insurance agent in Philadelphia, PA not only what types of discounts they offer but also which ones may apply to you. When you're in the market for Pennsylvania auto insurance, don't grab the first policy you find. Make some phone calls, visit insurance companies or even research online, but always shop around until you get the best possible rates.
Are Requirements Different for Part-Time or Full-Time Pennsylvania Residents?
The auto insurance requirements are the same for part-time (temporary) and full-time residents of Pennsylvania. If you're moving into Pennsylvania, you're required to register your vehicle within a certain number of days. You must show proof of insurance at this time. Part-time residents must follow the insurance requirements from the state in which their vehicle is registered.
Pennsylvania Rates Compared to National Average
Pennsylvania rates for auto insurance vary a lot depending on where you live. This can be seen in the below example of three counties. While Philadelphia has very high rates, other cities in the state are only half as much. Overall, the average annual rate for auto insurance is about $1,522, which is quite a bit more expensive than the national average of around $900 to $1,000. Pennsylvania is ranked as the 12th most expensive state for car insurance.
Average Rates in Top Three Pennsylvania Counties
Auto insurance rates can change just by going from one county or city to the next. I researched auto insurance for a married female with a good driving record. I got rates for this 45-year old woman from three different counties. As you read my findings, take note of the huge difference between Philadelphia County and Allegheny County.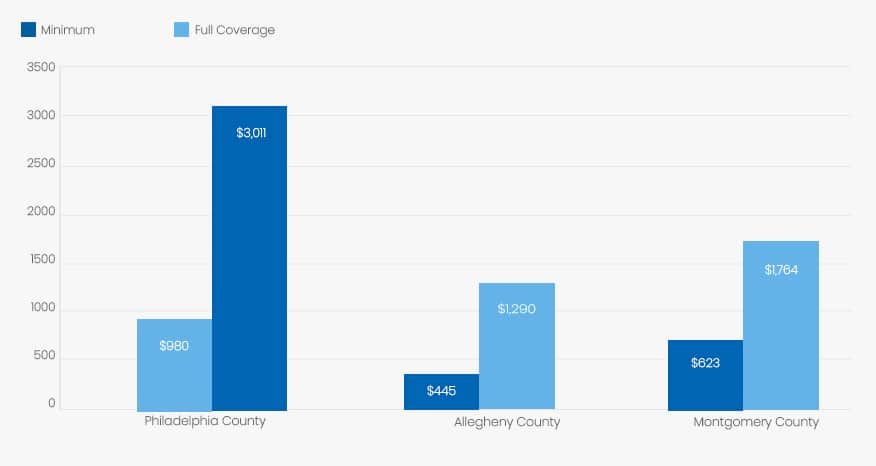 | | | |
| --- | --- | --- |
| County | Minimum Coverage | Full Coverage |
| Philadelphia County | $980 for state minimum liability | $3,011 for full coverage |
| Allegheny County | $445 for state minimum liability | $1,290 for full coverage |
| Montgomery County | $623 for state minimum liability | $1,764 for full coverage |
Conclusion
Very few people want to move or make other drastic changes just to get lower rates on our car insurance. However, we can make the most of our good driving records by shopping around for the best rates and utilizing every discount we can. With so many possibilities available in the way of insurance savings, imagine having all that extra cash just from saving on premiums! In addition to saving money, you'll also have the peace of mind knowing you're protected while driving in Pennsylvania.