Millions of Americans are required by state law to participate in an SR-22 car insurance program. Failure to participate may lead to the loss of driving privileges and expensive extra costs. The good news is that participation is only mandatory for a set amount of time, and once drivers meet the requirements they no longer have to deal with the burden. Use this comprehensive overview to learn everything you need to know about SR-22 and car insurance.
What is SR-22 Insurance?
Technically, SR-22 is not a type of insurance. Rather, it is a form that is completed by your auto insurer and filed with your state DMV. This document certifies that you carry a minimum amount of liability coverage for damage to both persons and property.
This is not radically different from the requirements that most drivers must meet. The difference is that most drivers only have to prove that they have liability insurance when they are pulled over for a moving violation or at the DMV to renew their license. SR-22 requires drivers to prove they have liability coverage at ALL times.
As of this writing, it is a requirement in all states except the following:
Delaware

Kentucky

Minnesota
New Mexico

New York

North Carolina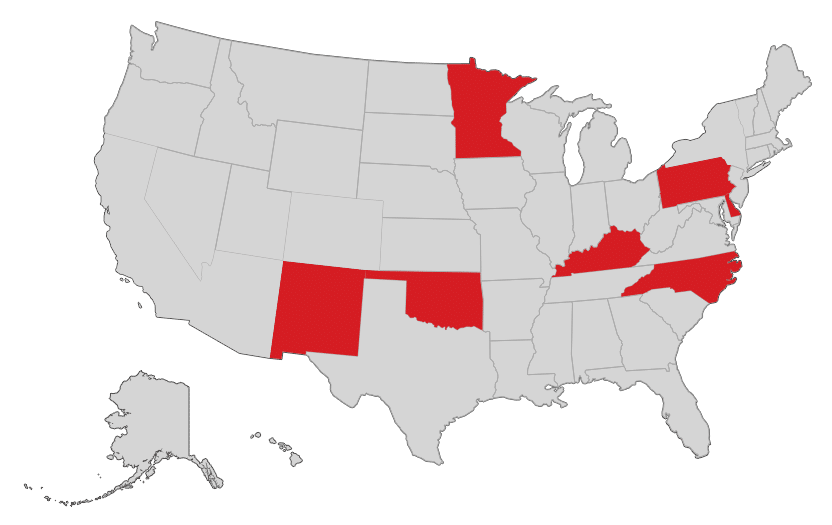 Who Needs SR-22 Insurance?
Every state sets its own SR-22 requirements. That means the surest way to understand exactly how an SR-22 requirement affects you or someone you are close to is to consult with your state DMV. They are the best available source for accurate, up-to-date information.
In general, however, any driver who has proven themselves to be a risk on the road is required to file an SR-22 form. Here are some common examples:
Other instances may apply depending on the state. But the purpose of this program is the same across states – to verify that risky drivers are financially responsible. It is logical that anyone found to be driving unsafely once is more likely to do it again. And if they are going to pose a demonstrated danger to other persons or property they must be able to bear the cost. SR-22 is a burden for the drivers who are forced to file it. But it helps to ensure the roads are safer for everyone else.
How Do I Get the SR-22 Form?
The process starts once a person is mandated by the court to file an SR-22. Until that document is filed, driving privileges are usually suspended.
The first step is to seek out an auto insurer that offers SR-22 auto insurance. Not all of them do, and if you have liability coverage with a company that does not offer it you must cancel that policy and seek out a new one.
Once you find an insurer they will be able to walk you through the form, the policy details, and the filing process. They are also a great source of info about SR-22 requirements in your state. If you need to follow any extra procedures or meet any additional requirements your insurer will be able to inform you.
The form itself varies by state but is straightforward in most instances. Drivers enter some basic information about themselves, their insurer, and the details of the policy. It should take less than five minutes to complete and requires no supplemental documentation.
How Much Does SR-22 Insurance Cost?
It is worth reiterating at this point that SR-22 is not an insurance policy itself but just a document certifying that a driver has insurance. The specifics of the policy, including the cost, are entirely up to the insurer.
Since an SR-22 requirement is a sign of risky driving behaviors, these drivers almost always pay more for insurance. That has nothing to do with the SR-22 itself and everything to do with the fact that a driver has a DUI conviction or suspended license on their record. Even without an SR-22 requirement these drivers would pay more for insurance.
The other factor affecting the cost is the coverage minimums. In some states drivers are required to carry the same amount of minimum liability coverage as all drivers. In other states they must carry higher limits, and as a result those policies are more expensive.
It's also common for drivers to be required to pay for a full year of coverage upfront rather than on a month to month basis. This is to ensure that a policy does not lapse (intentionally or unintentionally) and leave a driver without the required liability coverage. Paying for a full year of coverage does not cost more overall, but the one-time financial burden can be significant.
The good news is that filing the SR-22 form itself is relatively inexpensive. Most insurers handle this process for you and charge between $15 and $50 with the average fee being around $25. Some companies will charge this fee once while others charge it every time you renew your policy.
How Do I File SR-22 Insurance?
Your auto insurer will file the form on your behalf. In most cases the process is done electronically. Then you will receive a paper copy of the form in case you are ever required to prove you have it.
The length of time that you must have an SR-22 on file varies between one and five years depending on the state. In most states the requirement is for three years. It is important to note when the time period starts. It may be from the time of the original offense, the time of the conviction, or from the time of your license being reinstated.
It is the driver's responsibility to renew the insurance policy as necessary and to stay in good standing with the insurer. If a policy is canceled for any reason, an insurer is required to file an SR-26 form with the state DMV. If this happens, the DMV will likely suspend your license or registration, effectively taking away your right to drive because you are no longer financially responsible for accidents.
What Do I Do After SR-22 Expires?
First and foremost, never cancel a policy unless you have been notified by the DMV. You will likely be tracking the SR-22 timeline on your own, but the DMV will contact you formally to let you know the requirement has expired. Once that happens, you simply need to call up the insurer and instruct them not to file the form any longer. This process should be easy and cost free.
It is now time to determine whether to stick with your insurer or seek out better policies/rates elsewhere. If you plan to continue driving you will still need to have the mandated minimums for liability coverage. And depending on what triggered the SR-22 requirement in the first place, you may still have to pay higher rates due to your driving record. But you also have more freedom to compare companies and seek out policies flexibly.
What is the Difference Between SR-22, SR-26, and FR-44?
We have covered SR-22 in depth at this point. And the SR-26 form simply designates that a policy with an SR-22-form filing requirement has been canceled. But in some states there is also a requirement to file an FR-44.
Florida and Virginia are the only states that currently have this requirement. And typically only drivers convicted of alcohol-related offenses are required. But since these drivers have shown themselves to be particularly reckless, they are forced to carry much higher limits on liability coverage. The FR-44 demonstrates that these coverage levels have been met.
At the time of this writing, Florida drivers with an SR-22 requirement had to carry $10,000 of bodily injury coverage, $20,000 of accident coverage, and $10,000 of property damage coverage. With an FR-44 requirement, however, those figures increase to $100,000/$300,000/ $50,000 respectively. Not surprisingly, the policies that are issued to drivers with a FR-44 requirement are far more expensive.
| | | | |
| --- | --- | --- | --- |
| Type | Bodily Injury | Accident | Property Damage |
| SR-22 | $10,000 | $20,000 | $10,000 |
| FR-44 | $100,000 | $300,000 | $50,000 |
Final Thoughts About SR-22
Having to file an SR-22 form is a burden, but drivers who understand how the process works can make it a lot easier on themselves. Here are some final thoughts to help you along the way.
The best way to avoid the hassle of an SR-22 requirement is to drive safely at all times. Never get behind the wheel after consuming intoxicants. Always follow the rules of the road and avoid moving violations. Finally, make sure you always carry the state's mandated minimums for liability insurance.
If you are required to file an SR-22, however, don't look it as the end of the world. The cost and consequence are rather minimal, and the burden goes away relatively quickly. Use the time to re-evaluate where, when, and how you drive. And rely on your auto insurance company throughout the process to provide you with information and assistance. With the right approach you will end the SR-22 requirement a stronger and more informed driver.