North Dakota is a Midwestern state known for its long winters, beautiful sundogs and for being home to Lawrence Welk. As the fourth most sparsely populated states, you wouldn't expect that many drivers. However, there were about 550,000 licensed drivers in North Dakota as of 2015, and all of these drivers need auto insurance to operate a vehicle on public roads. Learning the laws regarding car insurance in North Dakota can help you make the right choice when choosing an auto insurance company. Below is some information regarding North Dakota laws as well as tips on how to save money on your premiums.
Summary of Auto Insurance in North Dakota
North Dakota insurance companies will generally offer the same types of coverage, which include the following.
A deductible, which is the amount you must pay towards a claim before the insurance company pays, is included with comprehensive and collision coverage. You must pay the deductible for each accident or claim you make.
Requirements for North Dakota Drivers
North Dakota is a no-fault insurance state and all drivers are required to purchase basic no-fault insurance. Drivers are not required to carry all of the types of coverage listed above. Below are the types of coverage drivers are required to purchase to legally drive on public roads in North Dakota.
Drivers can choose to purchase collision or comprehensive insurance, although North Dakota law does not require these types of coverage. Lenders may require you to carry full coverage insurance if your vehicle is listed as collateral on a car loan.
Minimum Auto Insurance Requirements in North Dakota
Like all the other states, North Dakota has set limits in how much insurance drivers must purchase. These are the bare minimums they must have.
| | |
| --- | --- |
| Coverage | Minimum |
| Bodily injury liability | $25,000 per person |
| Bodily injury liability | $50,000 per accident |
| Property damage liability | $25,000 per accident |
| Uninsured/underinsured motorist coverage | $25,000 per person |
| Uninsured/underinsured motorist coverage | $50,000 per accident |
| Basic no-fault or PIP | $30,000 per person |
Are Any Auto Insurance Laws Specific to the state of North Dakota?
As stated above, North Dakota is a no-fault insurance state, which means that your insurance company will pay for injuries to you or your passengers from an accident regardless of who was at fault. The purpose of no-fault insurance is to reduce the number of accident-related lawsuits. However, victims of car accidents in North Dakota can still sue if they meet one of two conditions.
Drivers who are unable to purchase auto insurance through an insurance company because of their driving record can purchase insurance through the North Dakota Automobile Insurance Plan. Insurance companies do have the right to refuse to sell insurance to at-risk drivers, but these companies are required to participate in the insurance plan. Drivers can expect to pay higher premiums when they are forced to purchase insurance through the plan.
Individuals caught driving in North Dakota without auto insurance will receive a fine of at least $500. If they're involved in an accident, they'll also have 14 points added to their driver's license, which will result in a mandatory license suspension.
Ways to Lower Your Auto Insurance in North Dakota
Often two people wonder why one pays higher premiums than the other does when they're the same age, gender and drive similar vehicles. One could almost say that auto insurance premiums are "personal" because they're based on many personal factors. Here are some of the things that determine your insurance premiums.
After considering the above factors, insurance companies generally offer their services based on your needs. However, most insurance companies will offer you various discounts to try to lower your premiums. Below are some common discounts you may receive.
Discounts can be used as a great bargaining tool for getting the lowest possible rates. Each insurance company is different in terms of what discounts they do or do not offer, so don't be afraid to ask about possible discounts an insurance company may offer. Another factor to consider when comparing companies is the insurance they offer.
One company may appear to be cheaper, but it may also be offering lower coverage amounts, so always make sure the coverage amounts are the same when comparison shopping for car insurance. Because there are so many car insurance companies in North Dakota, it can't be emphasized enough how important it is to shop around before purchasing an auto insurance company.
Some vehicles are more likely to be stolen than others, and this puts them in a higher insurance category. According to the National Insurance Crime Bureau, these are the top nine most stolen
Are Requirements Different for Part-Time or Full-Time North Dakota Residents?
According to DMV laws in North Dakota, licensed drivers living in North Dakota must have a North Dakota driver's license and follow the state's laws regarding car insurance. If they're still temporary residents, they follow the laws from the state where they have their driver's license.
All states require auto insurance, but some states may vary in the amount of coverage they require. Therefore, the requirements are different from full and part-time residents of North Dakota because the part-time residents will have insurance from another state.
North Dakota Rates Compared to National Average
North Dakota car insurance rates are slightly less than the national average. The average annual cost for car insurance in North Dakota is $1,211, and the national average is about $1,669. Considering North Carolina's averages are $874 and Michigan's average annual rates are more than $4,000, it's easy to say that North Dakota ranks among the lowest states in terms of auto premiums.
Average Rates in Top Three North Dakota Counties
Below you will find auto insurance rates, both full coverage and the state's required liability, for a 45-year old married woman with a good driving record. These rates are from insurance companies in three different North Dakota counties. It's the perfect example of how North Dakota car insurance premiums can fluctuate from one to the next.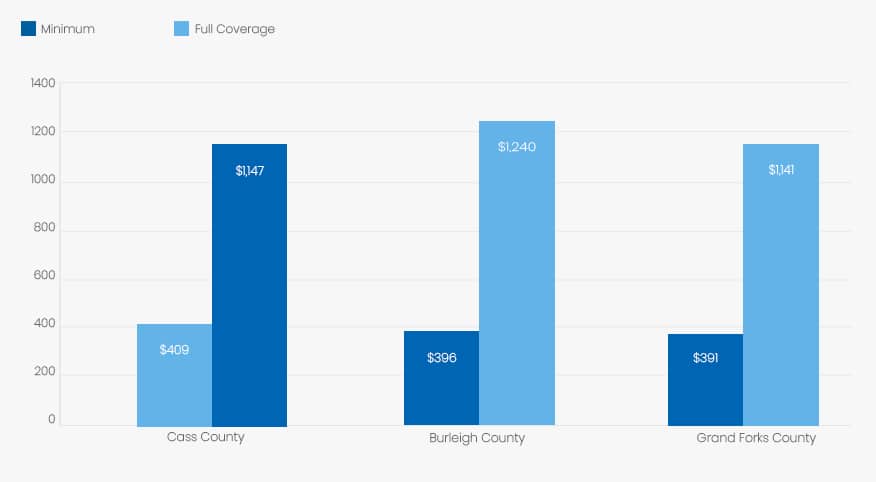 | | | |
| --- | --- | --- |
| City | Full Coverage | Minimum Coverage |
| Cass County | $1,147 for full coverage | $409 for state minimum liability |
| Burleigh County | $1,240 for full coverage | $396 for state minimum liability |
| Grand Forks County | $1,141 for full coverage | $391 for state minimum liability |
Conclusion
Knowing we need to purchase auto insurance because of the law does not mean we should be forced to pay high and outrageous costs. By shopping around for the best rates possible and focusing on being a good driver, you're almost guaranteeing the best premiums possible. Most insurance companies want your business and will do their best to offer you the best rates. Shop around and compare policies until you find the one that best meets your needs and wallet!